It's another day and another chance for us to be educated about body-shaming. Everyone, making fun of someone's physical appearance is rude, disrespectful, and demoralizing for the person you're "joking" about. Words do hurt people and can have long-lasting effects on their self-esteem, and more so, on their mental health. TL;DR: Body-shaming is serious and is never, ever going to be funny.
Almost everyone gets body-shamed, and some of the easiest targets for these kinds of comments are celebrities. 20-year-old ABS-CBN actress Vivoree Esclito was the subject of ridicule by It's Showtime host Jugs Jugueta on a recent episode of the noontime show. In the segment called "Hide And Sing," contestants are only revealed through various parts of their bodies, and for the first contestant, their arm was focused on-cam. Referring to the person's hairy arm, Jugs shouted, "Si Vivoree 'yan!"
After a few laughs from the other hosts, Karylle interjected and defended Vivoree by speaking up about being a hairy/balbon girl herself: "Jugs… ako, I'm a very balbon girl also. Ganun lang talaga."
Jugs then quickly apologized and said, "That was just a joke. I'm sorry."
After the clip went viral, Vivoree retweeted a post she wrote back in 2019 about the body-shaming she's been receiving: "ok so i've seen some comments about some people body-shaming me. it's fine with me po, none taken, but PLEASE do not do it to others. some people don't take it the same way I do. other's bodies are totally NONE of your business. be sensitive enough to know that"
Continue reading below ↓
Recommended Videos
On Instagram Stories, she posted a meme about not being ashamed of her body—body hair and all.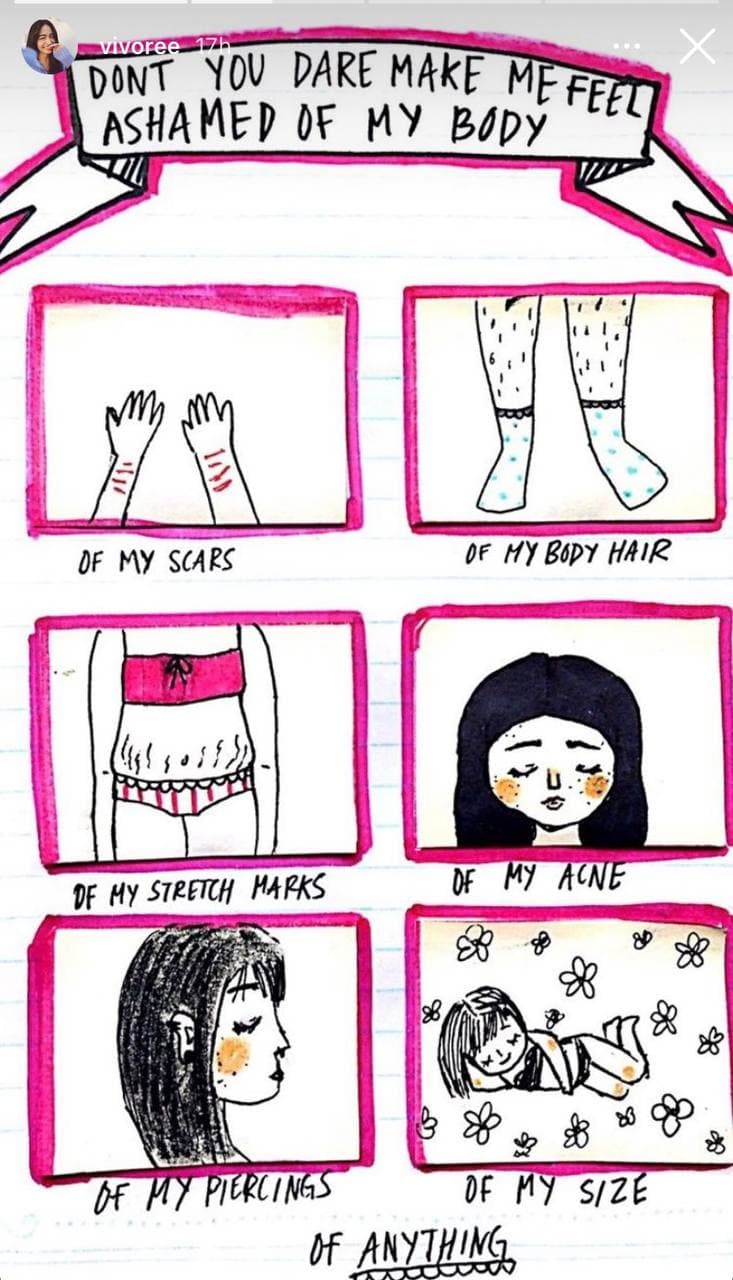 You see, Vivoree has been subjected to this kind of ridicule all her life and has been vocal about being against body-shaming even at the very start of her career. In a 2018 interview with Preview.ph, Vivoree talked about her insecurities, the bullying she experienced, and how she continues to rise above it: "Sobrang insecure ako [dati] sa sarili ko because of the way I look, and [the bullying I went through]. Pero ngayon, mino-motivate ko yung sarili ko na, 'Kailangan mag-survive ka sa mundong ito, kahit ang dami-daming negativity and ang dami-dami nang dahilan para sumuko, kailangan mo pa ring tumuloy.'
"I didn't let it get me down because I'm a survivor. I rose above the criticism and the judgment, and [I'd like to think] I became a person people could look up to. And [what I went through] honed me to be the person that I am today."
In 2019, Vivoree was also part of a self-love campaign, along with other BYS Cosmetics ambassadors, and starred in a music video that celebrated body positivity and self-confidence.
Keep thriving and loving yourself, Vivoree!
***
What does your zodiac sign say about you? Subscribe to Cosmopolitan Philippines and find out!
Follow Jacinda on Instagram.
EXPLORE COSMO