Source: Giphy
Thigh gap: The space between a woman's inner thighs when she stands straight with her knees together. If you've ever seen a Victoria's Secret model (one of them even has a Twitter account dedicated to this body part), then you know what we're talking about.
No thigh gap? Blame genetics. It's not because you're fat—you just have low hip bones. Let's make something clear, however: possessing space between your thighs doesn't make you sexier or more beautiful. We at Cosmo are all for fitspiration, not thinspiration.
So if you want to have fit and toned legs, here are a few exercises you might want to give a shot. And for those genetically blessed with high hip bones responsible for the space between one's thighs, you can use these workouts as (gap) maintenance.   

Continue reading below ↓
Recommended Videos
Source: Giphy
1. Run regularly.

The American Council on Exercise debunks the myth that you can spot reduce or spot train a specific body part.  Expend enough energy, and you will burn calories all over your body.  

A cardiovascular workout like running is still the best way to trim down and remove excess inches on your thighs (and the rest of your body).  Grab a pair of running shoes and hit the road for at least 30 minutes, three times a week and see visible results.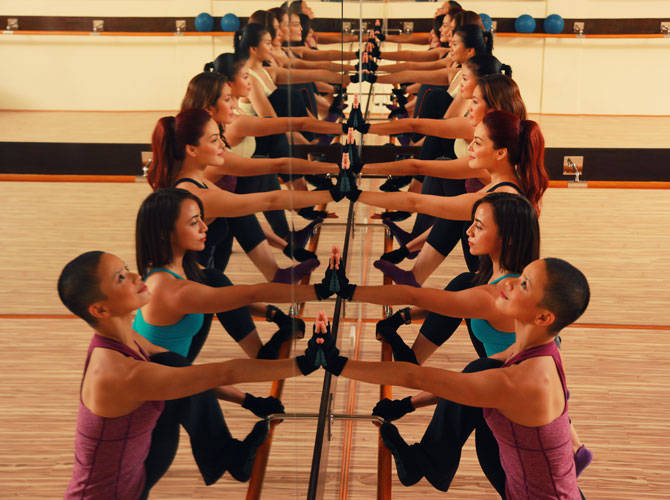 Photo courtesy of Plana Forma
2. Join a Plana Forma or yoga class.

These two exercise classes focus on giving you long, lean, and sexy muscles.  Plana Forma uses a combination of ballet, pilates, and yoga to create a workout that gives you a lean and toned physique.

Plana Forma trainer Mitchi Kawpeng says that the class focuses on "sculpting one's form and shedding the fat, and also making it significantly stronger."  Thigh-busting moves performed at Plana Forma are the full plié and squeezing a medicine ball between your knees.  (For more info, read this blog entry.)
 Image source: Tumblr
3. Jump rope.

According to Michael Olajide Jr., owner of Aerospace gym in New York City, "Skipping rope annihilates more than 10 calories a minute while toning every inch of your body." 

You can bet that this workout, done by boxers and other elite athletes, will give you maximum results—fast! Grab a jump rope and start by creating circular motions with your wrists, without activating your upper arms too much.  Jump once for every turn of the rope.  Eventually, you can pick up speed, do double unders, and even run in place while jumping rope to give your inner thighs maximum burn.

 
Image Source: Fitness Women Tumblr

4. Try interval/circuit training at Crossfit Manila.

This sport is a combination of explosive and high intensity movements that combine plyometrics, kettlebell, gymnastics, track and field, and weight lifting.  It incorporates total body movements that will tone your whole body.  

"Air squats, barbell back squats, front squats, and any kind of lunging movement performed at Crossfit will tone your thighs," says Crossfit MNL coach, Tanner Shuck.  He adds, "Running 200 and 400-meter sprints is the best thing you can do to get your legs toned." (Visit Crossfit Manila's official website for more info).
Video from Blogilates
5. Do squats and lunges daily (Watch the exercise video above for demos by fitness instructor Cassey Ho!)

Celebrity trainer Matt Townsend recommends a variation of squat and lunge exercises that can be done right at the comfort of your home.  Although cardio activities will reduce the fat, you'll need weight training as well to firm up and tone those thighs.

Squats: Stand shoulder width apart and squat until your hips are parallel to the floor.  You can carry weights or simply use your body weight for this exercise.

Front lunges: Hold one dumbbell in each hand, and proceed to lunge one leg forward. Make sure that your knee is directly above your foot, forming your leg into a right angle. Alternate sides.

Side lunges: Step to the right with your right leg, while keeping your back straight. Lower your body to a squat, leaning on the right side. The opposite leg should be kept straight.  Alternate sides.

Repeat these exercises 12-15 times.
Good luck, ladies! And remember:
Image from: Tumblr