For these 10 women, getting fit was never just about gaining a bikini bod. For some, it was a way to practice self-care despite work stress; for others, it formed part of their struggle against health problems; for others still, it served as a helpful distraction from heartbreak. But among all of them, one thing is constant: Getting fit led them to love themselves better.
Read about their inspiring fitness journeys below, and prepare to head out the door and into your nearest gym shouting, "How do I sign up?"
When her husband left her for a younger, sexier girl, Kimberly Laya knew she had to get back her pre-pregnancy weight and take back control of her life.
"After I got pregnant and gave birth, my weight increased to over 300 lbs. This caused an ACL tear in my left knee and I couldn't walk anymore. I was often sad and irritable, and I couldn't even buy clothes because nothing fit me. I guess I was no longer the pretty, happy girl my husband married, because last year, he left me for a younger, sexier girl.

Continue reading below ↓
Recommended Videos
I begged him to come home to our son and me, and promised him that I would be the person he married again if he'd only give me a chance. He said it was too late because he loved the new girl already. After a month of begging, I realized that I needed to be happy for me—not for anyone else.
I started eating healthy and exercising. I cut down on carbs and did boxing and weight training. I still cried almost every day, but by then it was because of a mixture of missing the love of my life and missing Jollibee Chickenjoy.
It was a long journey, but I made it. I've lost over 100 lbs. and I still have a few pounds to lose, but right now, I can say I'm at my happiest."
California-based Charlene Dipaola was diagnosed with PCOS and at risk for diabetes. Thanks to a keto diet and her love for dance, she turned her health around.
"My family has a long history with diabetes. I learned from my aunt that she had gestational diabetes which turned into type 2 diabetes. My husband and I plan to have kids, so I became very aware that this could happen to me, too. Furthermore, I was recently diagnosed with polycystic ovarian syndrome (PCOS). I've always worked out regularly but never really considered what I ate, and knowing the health risks I faced made me decide to change my diet.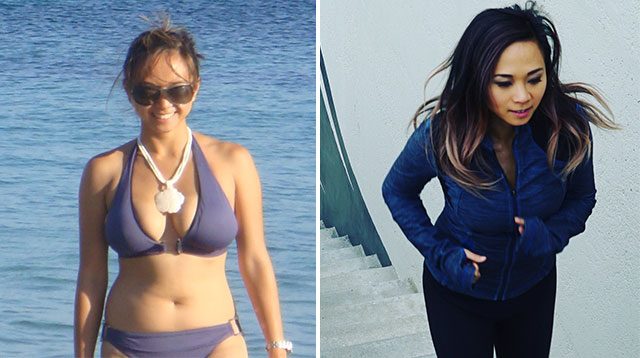 I started a ketogenic diet, which is a low-carb, high-fat, high-protein diet. It's hard to stick to the keto diet as someone who grew up in the Philippines, but what has helped me is having a lot of carb substitutes. The ones I use often are cauliflower rice instead of real rice, shirataki noodles instead of spaghetti, and I make my own bread using almond flour.
The idea to launch hipshakefitness.com, an online dance workout studio, came about as part of my fitness journey. It was really hard to find a dance class that fit my schedule, so I thought, wouldn't it be great if we could record all the classes we love and do the dance workouts at home whenever it's convenient?
Since these lifestyle changes, I have not had any migraines and I don't feel sluggish in the afternoon. I've also seen my weight go down and I've begun to look leaner. I'm so glad I made the decision to work out regularly and change my diet. I feel so much stronger now."
Upon discovering she was obese, Klymille Kim Rodriguez vowed to eat healthy and get active. Now, she runs races and works as a weight management diet planner.
"I decided to lose weight in December 2013 when I was told during a physical exam that at 5'4", I was already at stage 2 obesity.
One day, I was looking at photos from my birthday party and saw how big I had gotten. And, just like every time I looked at pictures of me through the years, I felt bad about how fat I was. I decided then that I didn't want to feel bad about myself anymore.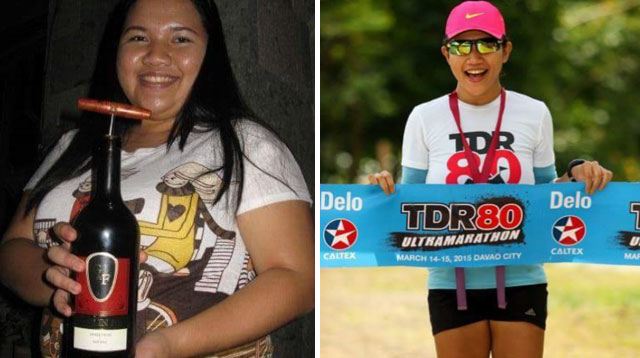 I started to eat healthy. I cut my food portions in half and avoided highly processed junk food. For a year and a half, I made good food choices, prepared my meals ahead of time, and kept track of my calorie intake in my food journal. I later put the things I learned to good use by creating weight loss meal programs for a health food store in Davao City.
I worked out regularly, doing mostly High Intensity Interval Training (HIIT) and strength training at home. I also got involved in running and became a member of Team Davao Runners. I was able to train for and finish footraces with distances ranging from 21 km to 80 km, most of the time finishing in the top category.
In less than two years, I've lost 85 lbs. naturally. Most importantly, I've gained confidence, self-love, and a boost in my self-esteem."
For Ana David, the end of her 17-year marriage became the catalyst for her newfound dedication to healthy living.
"When my 17-year marriage ended last year, I found myself severely overweight with multiple health issues such as high cholesterol and hypertension. My self-esteem was at an all-time low. Although I considered myself a foodie, I completely lost my appetite and hardly had any energy to eat anything.
On my 39th birthday in January, realizing I had one year left in my thirties, I got back on the scale and found that I had already lost 10 lbs.! It was the jumpstart I needed to get to a healthier, happier me.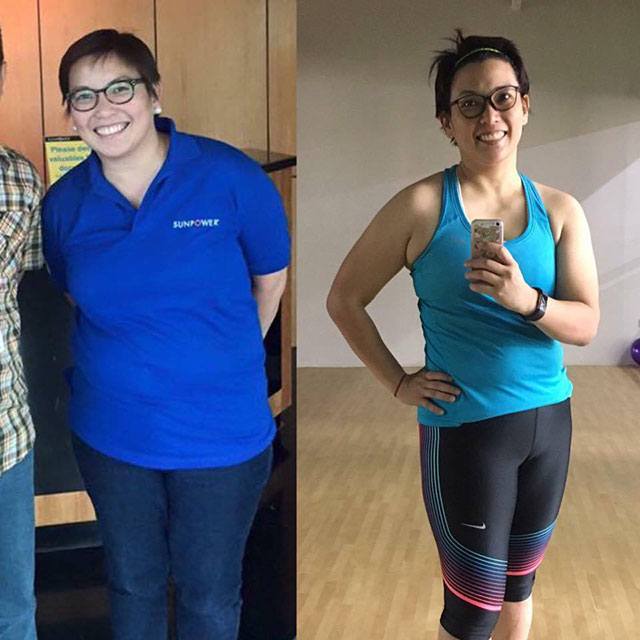 I began to limit my food intake to 1,300-1,500 calories per day, cut out all sugar and sweets, and avoided processed meat, junk food, and fast food. I started to work out thrice a week with a personal trainer who combined strength training and functional fitness into my routine. On other days I would do cardio workouts such as running, or join Zumba, yoga, or pilates classes.
After three months, I went for a complete medical check-up and was surprised when my test results came back normal. At this point I had lost 30 lbs. and had gone down from a size 16 to a size 10.  
Throughout my journey, I've been posting on my Facebook and Instagram accounts with the hashtag #strongisthenewsexy. I've had friends send me words of encouragement, reach out for fitness advice, and even tag me in their own workout posts to say that I motivated them to start their own journey to better health.
Almost six months into my journey, I am thinner, but more importantly, I am stronger, healthier, and happier."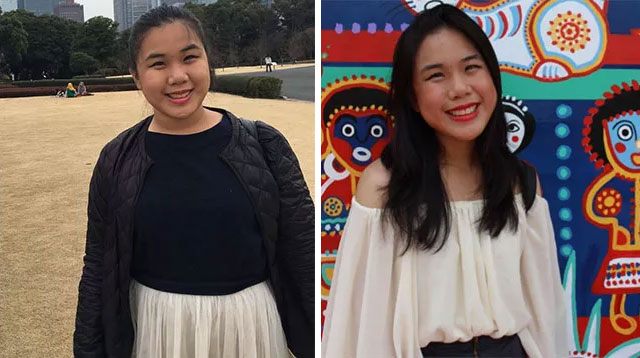 Barbie Candano was living a hectic life as a television production staff when she decided she could no longer push her health to the backseat.
"One year ago, I decided that I wanted to start taking care of myself. A lot of people in my industry were dying, and I was constantly sick. I recognized how unhealthy my lifestyle was and decided that if I were to thrive and survive in my line of work, I needed to help my body become stronger. Beyond just wanting to look good, this mindset keeps me motivated and enthusiastic about my lifestyle change.
I work out three times a week with a personal trainer. We do a mix of weight training and metabolical conditioning. Although 'exercise more, eat less' is what we have always been taught to believe, I've learned that it's important to allow your body to recover in between and that you should eat well to nourish and fuel your body.
Currently, I'm working on building muscle and improving my grip, shoulders, and core so that I can eventually lift heavier weights. With my hectic and unpredictable work schedule, it hasn't been and still isn't easy at all. But at the end of the day, it all boils down to committing to make time to love yourself more by taking care of your body."
Keina Rae Sabay was suffering from stress, anxiety, and eczema flare-ups when she began to find healing in hiking.
"I have struggled with stress and anxiety for as long as I can remember, but I was only forced to confront these issues head-on when I started having eczema flare-ups over three years ago. It was so bad that I couldn't do any physical activity and had to take a leave from work.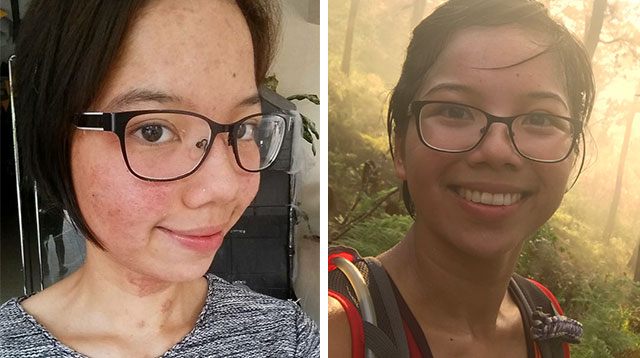 I found my way back to fitness when a friend invited me to hike. The thought of exposing my skin to the sun and different elements scared me, but I knew that my skin would hurt anyway even if I stayed home. Surprisingly, my skin felt so much better after the hike. I went on to climb more mountains, and every single time, I could feel myself heal and become stronger in more ways than one.
As my skin cleared up, I explored other physical activities like yoga and running. While overcoming disease and pain were my initial reasons to get moving, what made me stick to the plan was that I chose activities that gave me joy.
It's been a year since that first hike. My eczema is gone, but I continue to climb mountains regularly. I have also finished a few road and trail half-marathons, and I'm training to do a full marathon before the year ends."
A month after Michelle Hilvano was diagnosed with Interstitial Lung Disease, her long-term relationship ended. So began her journey to good health.
"In June last year, I underwent lung biopsy and was diagnosed with Interstitial Lung Disease. By July, my 12-year relationship with my partner ended; she felt I had no time for her because of the demands of my corporate job. I had to move out of our apartment within a couple of weeks from the breakup. That's when I decided I had to take charge of my life.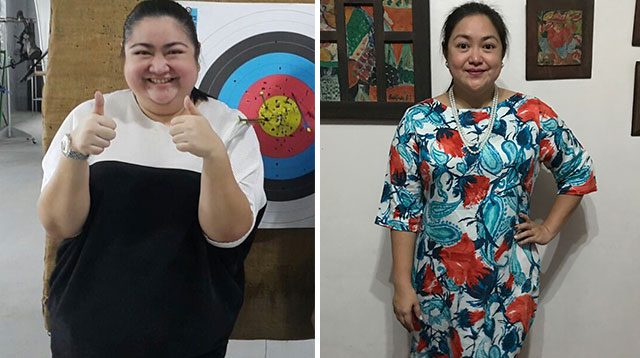 On high dosages of steroids prescribed by my pulmonologist, I started going to the gym to distract myself and regain my health. By November, I was getting better and stronger, and I had decided to quit my job to focus on my health. I was at the gym every day with a personal trainer who also helped me with a diet which required me to eat small meals every three hours within a 12-hour period. Within the same month, I was off steroids. I started boxing and later got into Muay Thai. I kickbox every other day, do toning exercises every other day, and swim on Sundays.
I was at 220 lbs. at the time of my biopsy; now, I weigh 190 lbs. I've fully moved on from the breakup, and I've never felt better about my body image. I have a long way to go to reach my goal, but it's amazing how much you learn when you're in the journey of finding yourself."
Katrina Angelica Albay grew up the chubby kid. Back-to-back personal crises in adulthood led her to CrossFit, and now she competes in national throwdowns.
"Since I was a kid, I was never the athletic type. I hated getting sweaty, and I grew up chubby.
Two years ago, with all the stress from pediatric residency, sleepless nights, and late-night studying, food became my constant companion and it showed in my figure. I weighed 72 kg. then, but I was happy.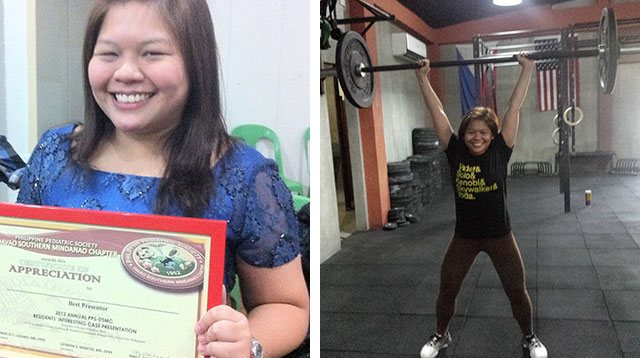 That same year, I was introduced to CrossFit by my cousin. She had opened a gym in Davao City, and I enrolled in support of her new business venture. But I didn't go regularly until I experienced back-to-back personal problems—a breakup being one of them. I needed a new hobby to keep me busy and distract me from all the heartaches I was experiencing.
I started going to the gym four to five times a week. I also did the paleo diet and got rid of all my vices. I felt lighter, stronger, and had more energy for my daily activities. I was doing so well that my coach started to train me as one of his athletes.
I joined my first-ever CrossFit individual competition last year in Manila, where I competed against other CrossFit enthusiasts in the country. Since then, I've joined three more throwdowns, and I'm not about to slow down anytime soon."
Anne Dimaculangan was a size 16 at below five feet. After overhauling her health and fitness habits, she now works as a wellness coach inspiring others to do the same.
"My whole life, even though I didn't particularly eat much, I gained weight easily. I had no idea what was speeding up my weight gain; my mom even sent me to a nutritionist to find out if I had a thyroid problem, but the result revealed that I really was just fat. At one point, I reached size 16 at a height of 4'11"!
A visit to a fitness coach who evaluated my body composition confirmed that my weight was a problem. By then, I no longer liked what I saw in the mirror every day and I had begun to get irritable about my appearance. I had to do something.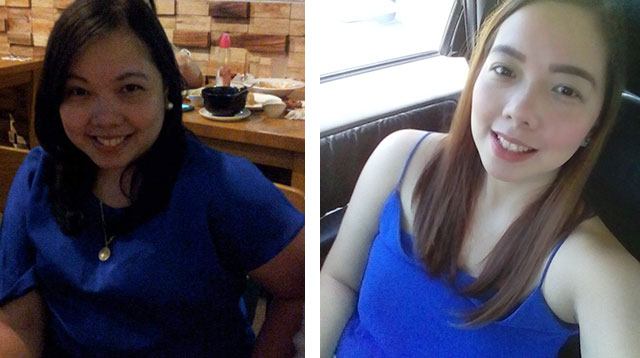 I started getting active with twice-weekly HIIT workouts and weekly strength training sessions. I began to take a special tea and supplements to boost my energy during workouts, and a high-protein recovery shake to aid immediate muscle build and maintain lean muscle mass. Eventually, I lost 35 lbs. and 6 inches off the waist.
Now, I teach circuit training weekly, and I offer wellness coaching services to individuals, companies, and barangays. Being healthy has become my lifestyle. To pay it forward, it is now my mission to help others along their health journey, too."
Bick Lloren had the kind of problem other women wish they had: She couldn't gain weight. Feeling unhealthy all the time, she decided to bulk up and get strong.
"I was encouraged to get fit by good friends who noticed that I looked pale and my clothes didn't fit me well. They would say, 'Sobrang payat mo. Magpalaki ka nga.' In addition, I was having health problems and was visiting a doctor every other month, taking medications, and was under observation since late 2014.
Last year, I enrolled in a combination program of strength training with weight management. It involved eating a lot (with proper proportions) while burning fat and at the same time building lean muscle.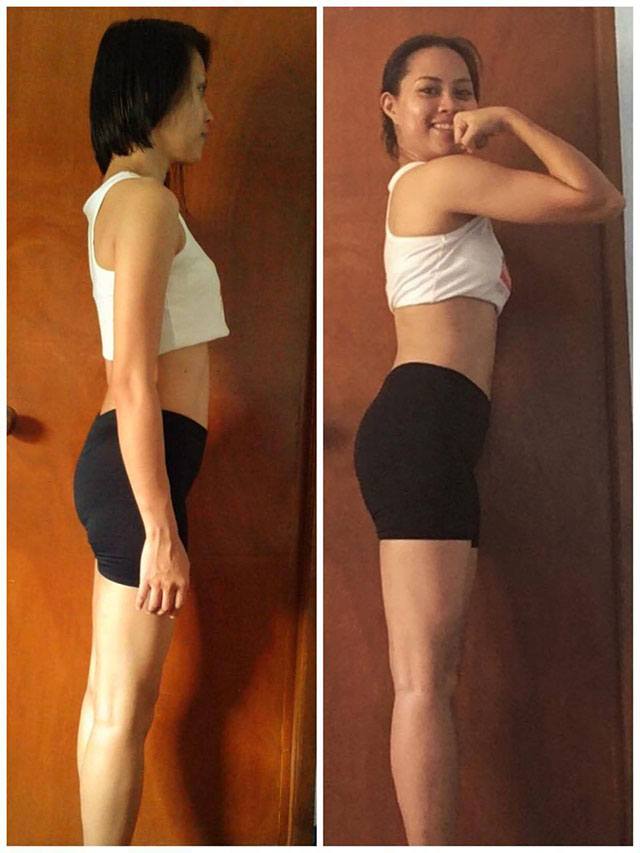 On my first few days at the fitness center, I felt self-conscious just looking at myself in the mirrors. I was 5'4", weighed 48 kg., and was under normal BMI. But I persevered with the motivation to be healthier and feel better inside and out. A month later, I was seeing great results. Three months later, I weighed about 52 kg.
Now, I weigh 55 kg. with an overall body score of 21 percent fat and 29 percent muscle, and I've stopped taking meds. I'm already out of the weight management program, and I just continue my strength training. My clothes fit better, and I feel happier—even my friends and family noticed it. I am proof that with commitment and desire, you can look and feel better."