Even before the start of the quarantine, I'm sure many of us—if not, all of us—have experienced the act of budol at least once. Whether it's your friends convincing you to buy that trendy item they saw on the internet, or ikaw mismo yung enabler, it seems like online shopping has really affected (read: taken over) our lives. In fact, now more than ever, it's as if clicking *add to cart* has been our band-aid solution to dealing with our emotions brought about by the pandemic.
According to Lizette Inocencio, a psychology professor at UP Diliman, "Shopping can be helpful because it can be a way for us to tolerate distress through distraction. This means that we use  shopping as a way to divert our attention from the negative emotions (anxiety, sadness) while waiting it out to wane." TBH, when I first read this I low-key felt attacked 'cause sobrang nakaka-relate talaga ako. Nothing beats the feeling of hitting that "checkout" button. And I'm not gonna lie, nowadays my favorite kind of good morning text is, "Your order has been shipped." It really is a different level of happiness, lol.
ADVERTISMENT - CONTINUE READING BELOW ↓
I'd like to believe that I'm usually a ~target~ when it comes to all things budol simply because I just love online shopping *so much*. You see, real friends would know that I have this "always game" attitude so most of the time, madali talaga ako kausap. If a friend were to ask me if I wanted to get matching tops, I'd gladly reply with, "I'm g naman!" Need someone to add to your order just so you can get that promo? I gotchu!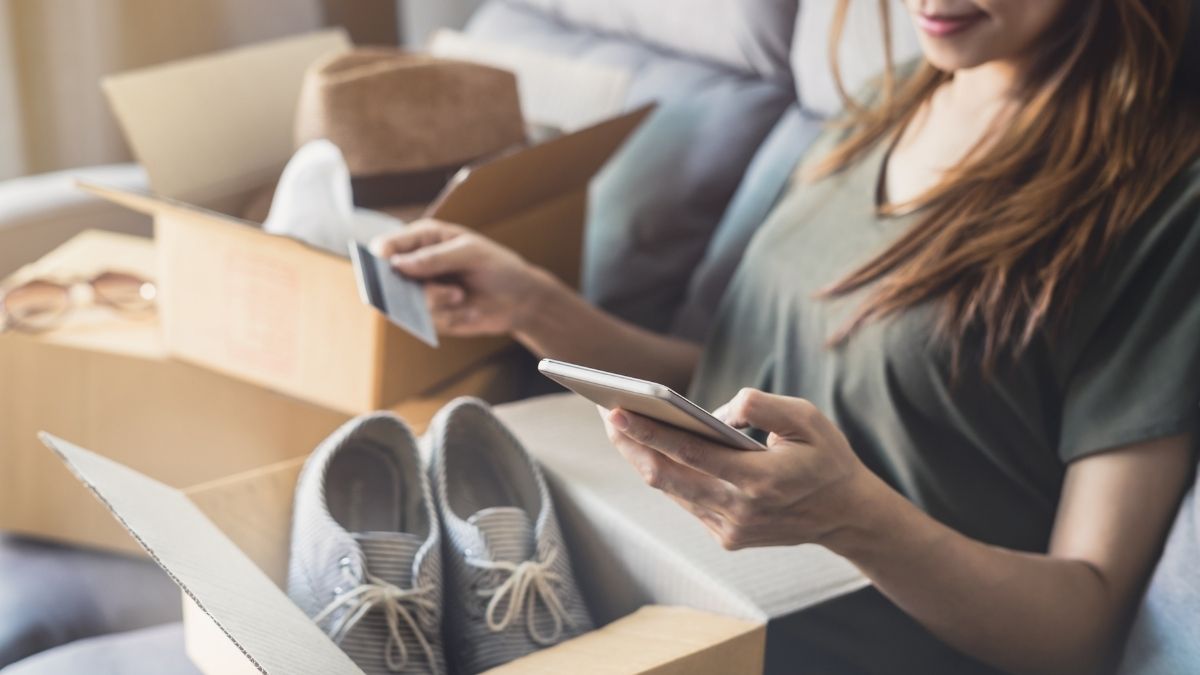 ADVERTISMENT - CONTINUE READING BELOW ↓
Recommended Videos
But okay, I do admit that sometimes I should take it down a notch. We're living in uncertain times and it's important to make wise decisions, especially when handling money. It's just that there are days when I get torn between wanting to save and wanting to treat myself, TBH. Figuring out how to strike a healthy balance between the two is definitely a work in progress, but I'm getting there! For starters, here are a few things I did to become a ~more conscious~ shopper.
I make sure to pay my bills and settle other important payments first.
Before I even visit e-commerce sites and Instagram online stores, I always check if my phone bill and subscriptions to streaming platforms have already been paid. It's really having that mindset of "pay now, para tapos na" so that I won't have to be worry about it at a later time.
ADVERTISMENT - CONTINUE READING BELOW ↓
I set a budget for myself whenever I go online shopping.
Every time my sweldo comes in, I allocate a portion of it (P1,500 to be exact) to ~fun money~. This is what I use to spend on items I wanna buy online and strictly for that purpose only. It really makes a difference because having a "quota" keeps me from overspending and from buying too many items. It takes a lot of discipline but it can be done!
Here's a quick breakdown of my P1,500 online shopping budget in the past:
Colored pens - P275
String lights - P400
Nail stickers - P75
Journal - P750
I ask myself if the item is a need or a want.
Do I really need another cute mug? While it may look #aesthetic, it's not really a necessity. It helps to create folders in your head where you can file a certain item under "needs" and "wants." Obvi, the mug is a want. Personally, my go-to rule as to whether or not I should buy a "want" is I sleep on it first. If I wake up the next day and find myself still thinking about it, then I consider it a go. If it were otherwise, then I'd take it as a sign that I didn't really care that much to get it.
ADVERTISMENT - CONTINUE READING BELOW ↓
I track my expenses.
Apps that help you monitor your budget and track your expenses are life-changing! It'll guide you to have better financial management, too. I'm currently using Spendee, but there are several other options which you can choose from!
I look back at the dates when I last shopped.
Okay, hear me out. Basically, it's online shopping in moderation by following a schedule I made myself. If let's say kakabili ko lang ng something today, I would train myself to make my next shopping day around two weeks to a month from now, or even sa susunod na sweldo na lang. That way, I'm able to ~recover~ and save.
From experience, managing personal finances is never easy. It's no doubt that we're all trying our best, especially at a time like this. What matters most is that we take control and make sure we're not spending beyond our means. So if like me, you're making a conscious effort to become a ~wiser~ shopper, give yourself a pat on the back. You deserve it! 
ADVERTISMENT - CONTINUE READING BELOW ↓
***
Cosmopolitan Philippines is now on Quento! Click here (Android, iOS, desktop) to download the app and enjoy more articles and videos from Cosmo and your favorite websites!
Follow Lou on Instagram.
EXPLORE COSMO