I'm letting you know ahead of time that this article is really just a tribute to my favorite vegetable of all time: broccoli. The best thing about this underrated veggie is the crunch! It adds a whole new dimension to any meal, but that's not all: Broccoli is really, really good for you.
As with any food, cooking broccoli changes its nutrient composition, but raw or cooked, it's a great source of Vitamin C! It's also a cruciferous vegetable, which can help protect you from certain types of cancer (breast, stomach, and kidney).
If you're interested in adding more broccoli to your meals, here are easy recipes you can try!
How To Wash Broccoli
Before anything else, make sure you're washing your broccoli correctly. Like cauliflower, broccoli has a lot of crevices—the perfect hiding spot for bugs and germs. Let your broccoli soak in cold water for a few minutes. Rinse it with water, then have it go through round two of soaking.
How To Cook Broccoli: Lemon & Garlic Broccoli Recipe
This is a recipe I follow when I just want something quick and painless (I'm not confident in the kitchen, lol). It tastes fresh and I almost always have the necessary ingredients in my pantry.
Continue reading below ↓
Recommended Videos
Ingredients:
Broccoli (in florets)
2 tsps fresh lemon juice
2 tbsps water
3 tbsps butter
2 garlic cloves (minced)
Salt, to taste
2 tsps lemon juice
1 tsp ground black pepper
Directions:
In a large pan over medium heat, place your broccoli florets. Combine two teaspoons of lemon juice and two tablespoons of water before pouring it over the broccoli. Cover the entire thing and let it steam until it's more tender. This usually takes 10 to 15 minutes.
While the broccoli is steaming, melt the butter and stir in the garlic and salt; the garlic should cook until you get a nice golden brown color.
Drain any excess water from the cooked broccoli. Add the remaining two teaspoons of lemon juice to the broccoli as well as the butter and garlic mixture. As a final touch, sprinkle some black pepper.
Source: All Recipes
How To Cook Broccoli: Broccoli Caesar Salad Recipe
When done right, Caesar salads can be absolutely delicious! This recipe by Bon Appetit adds a twist to the one you're used to 'cause the spotlight is on broccoli.
Ingredients:
Broccoli (1/2 pound or 2 medium heads)
1 garlic clove (thinly sliced)
1/4 cup fresh lemon juice
2 tsps Dijon mustard
Kosher salt
1 large egg yolk or 2 tbsps mayonnaise
1/2 cup extra-virgin olive oil
3 tbsps grated Parmesan
Napa cabbage (1/4 head)
Freshly cracked black pepper
Finely grated lemon zest (for serving)
2 oil-packed anchovy fillets (optional)
Directions:
If you have anchovies on hand, mash it with the garlic until the consistency is like paste. In a large bowl, combine the paste, lemon juice, mustard, and salt. Whisk until it's been thoroughly mixed. Add the egg yolk (or mayo) then whisk again.
Gradually add the oil, whisking until it emulsifies. The last step is to add the grated Parmesan cheese before, you guessed it, whisking again, lol.
The broccoli should be cut into florets, and then in even thinner slices (perfect for a salad). Cut the cabbage crosswise before adding it to the broccoli. Toss the vegetables in the dressing you just made until everything is evenly coated.
How To Cook Broccoli: Broccoli & Feta Pasta Salad Recipe
This pasta salad is perfect if you're super hungry but also if you want to keep your broccoli dish healthy. The flavor isn't overwhelming, too, so 'di ka mauumay.
Ingredients:
1 pound short pasta
Broccoli (1 medium head, cut into florets)
4 tbsps extra-virgin olive oil, divided
2 tbsps red wine vinegar
Freshly ground black pepper
8 ounces feta cheese
1 cup pitted olives (coarsely chopped)
Kosher salt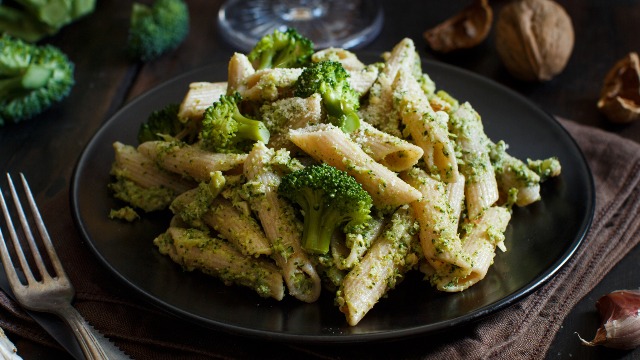 Method:
Cook pasta in a large pot of salted water. You can just follow the instructions on the package or based on your preference.
In a small bowl, combine three tablespoons of oil, vinegar, and some pepper. Whisk until it's mixed well before setting it aside.
Next, drain the pasta and then run it under cold water. Drain the water again.
Heat up one tablespoon of oil in a pan. Cook the broccoli for five to seven minutes or until it's a little bit crispy and tender. When it's ready, add it to the bowl of pasta.
Add the olives and feta cheese to the pasta. Toss until everything is evenly coated. Feel free to season with salt and pepper. Keep it in the ref until it's time to eat!
Source: The Kitchn
***
What does your zodiac sign say about you? Subscribe to Cosmopolitan Philippines and find out!
Follow Ysa on Instagram.