Whether it's the internet-famous Dalgona coffee or the K-drama favorite egg drop sandwiches, we can always rely on South Korea to introduce new food trends. If you have a sweet tooth (and you're an ARMY), you're going to love our new discovery which you can order online! 
Butter Bakery offers fatcarons and they're not your usual meringue-based confections—these Korean-style macarons are thick, extra indulgent, and a feast for the eyes. Unlike French macarons, what makes fatcarons different is that buttercream is used instead of ganache for the filling.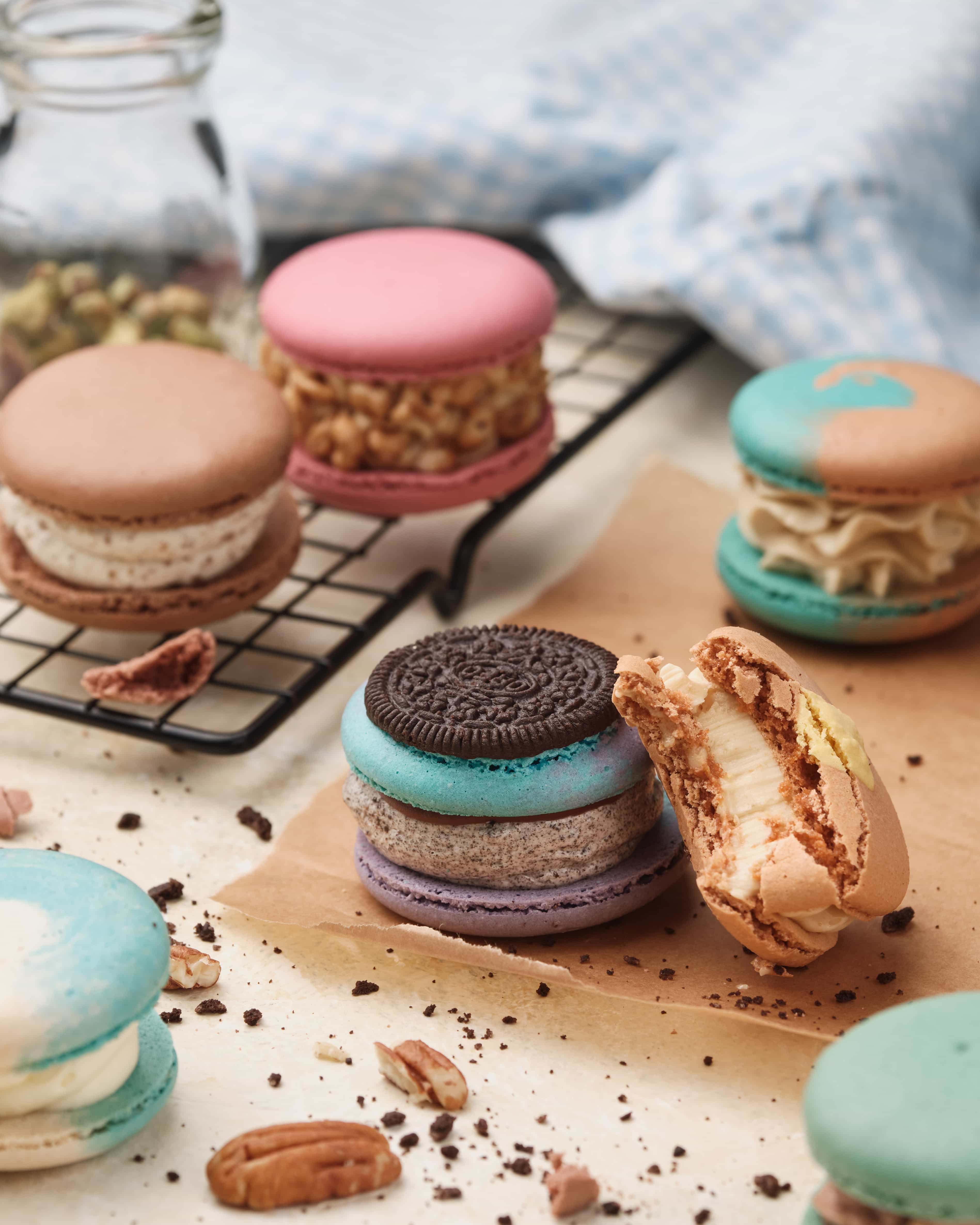 ADVERTISMENT - CONTINUE READING BELOW ↓
During our exclusive interview with Butter Bakery's owner, Yana, she mentioned how she started her business. Since baking has always been her hobby, she put up Kukki Bakery and began selling pastries during the first few days of the lockdown last year. She rode on the trend and sold ube cheese pan de sal, and later on switched to Japanese bread products like Hokkaido milkpan and castella cake. When the holiday season came, Yana said that she experienced the Christmas rush—this made her decide to close Kukki Bakery, especially that she's also a full-time engineer. 
While she was on break, Yana came across fatcarons on YouTube and she was immediately enticed by them, to the point that she bought everything she saw including the exact oven and mixing bowls: "They were just so colorful and the different fillings and toppings made them look so cute and playful. I just had to learn how to make them. They were not the sophisticated French macarons and they came in a thicker size, which I think makes them even more inviting." And that, everyone, was how Butter Bakery was born on March 2021.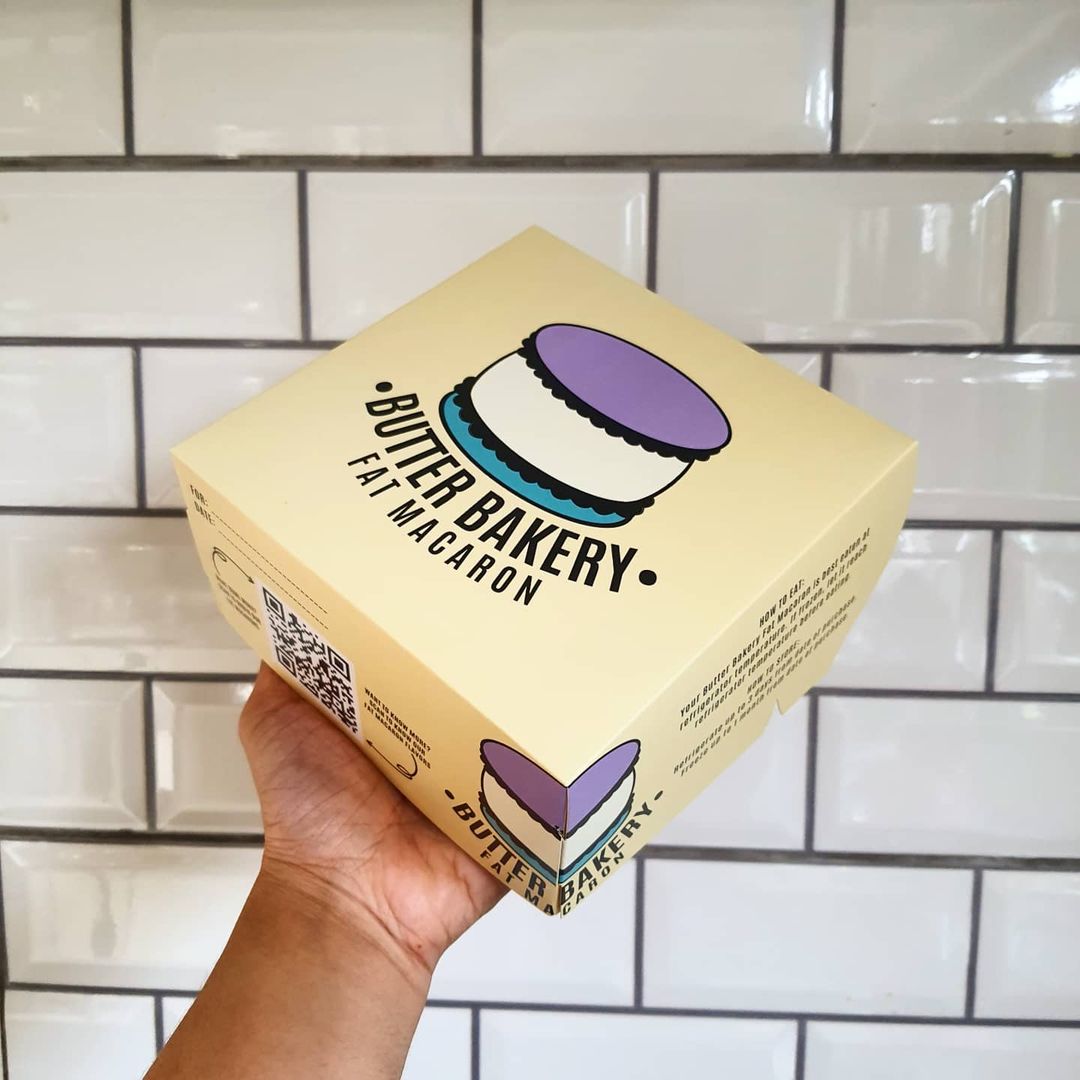 Butter Bakery has a lot of oh-so-pretty fatcaron designs, but our eyes are fixed on their BT21-inspired ones. According to Yana, this specific line was a request from a loyal Kukki Bakery customer. Although she's new in making macarons, she still tried designing the shells with the adorable characters created by BTS. " It was hard at first, but I enjoyed it. I was surprised at how people wanted the set so much," she said.
ADVERTISMENT - CONTINUE READING BELOW ↓
The BT21-inspired fatcarons come in eight flavors: First, we have the Koya fatcaron made of cream cheese buttercream and blueberry jam. Yum!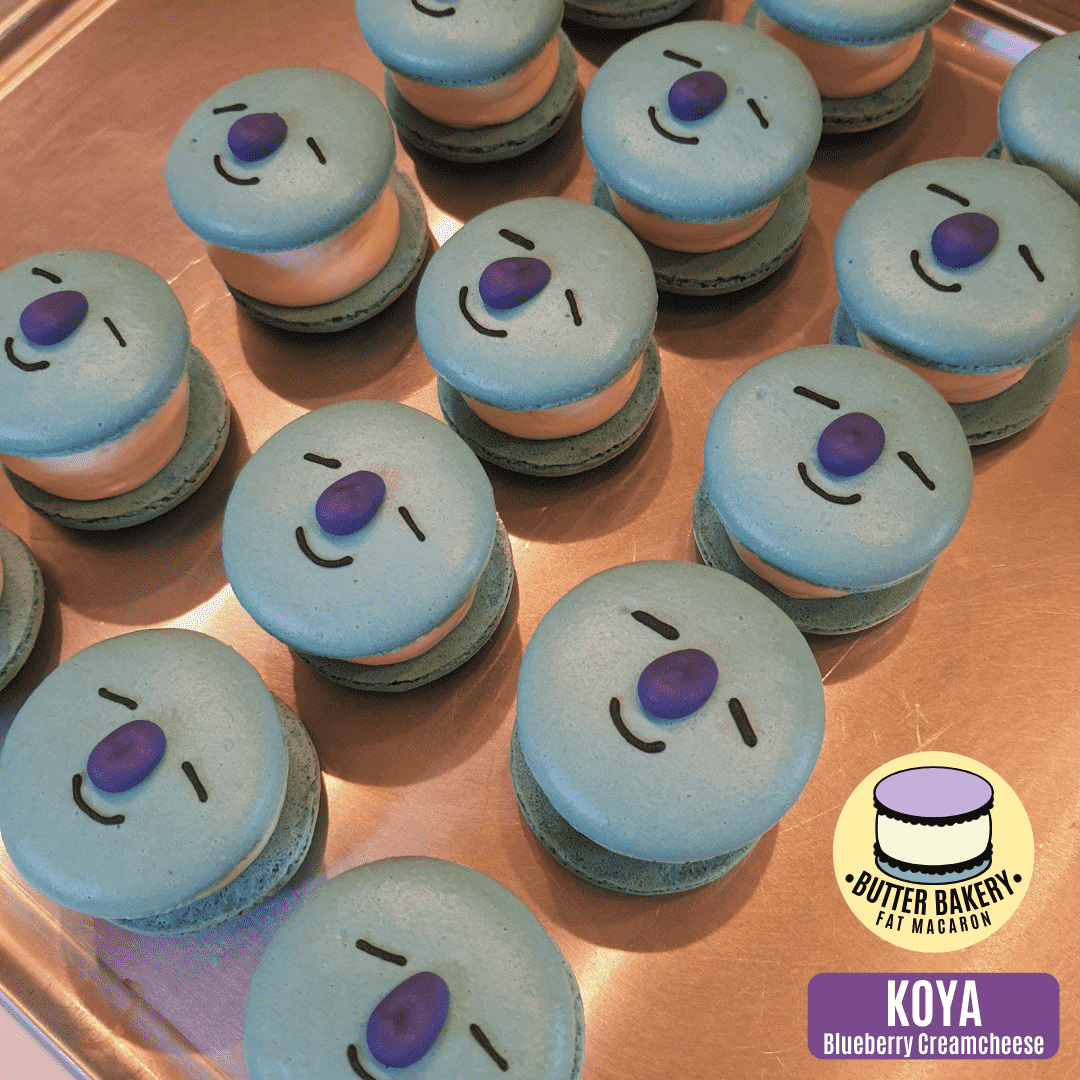 You'll be ~berry~ happy with this Tata fatcaron that has strawberry-flavored milk buttercream.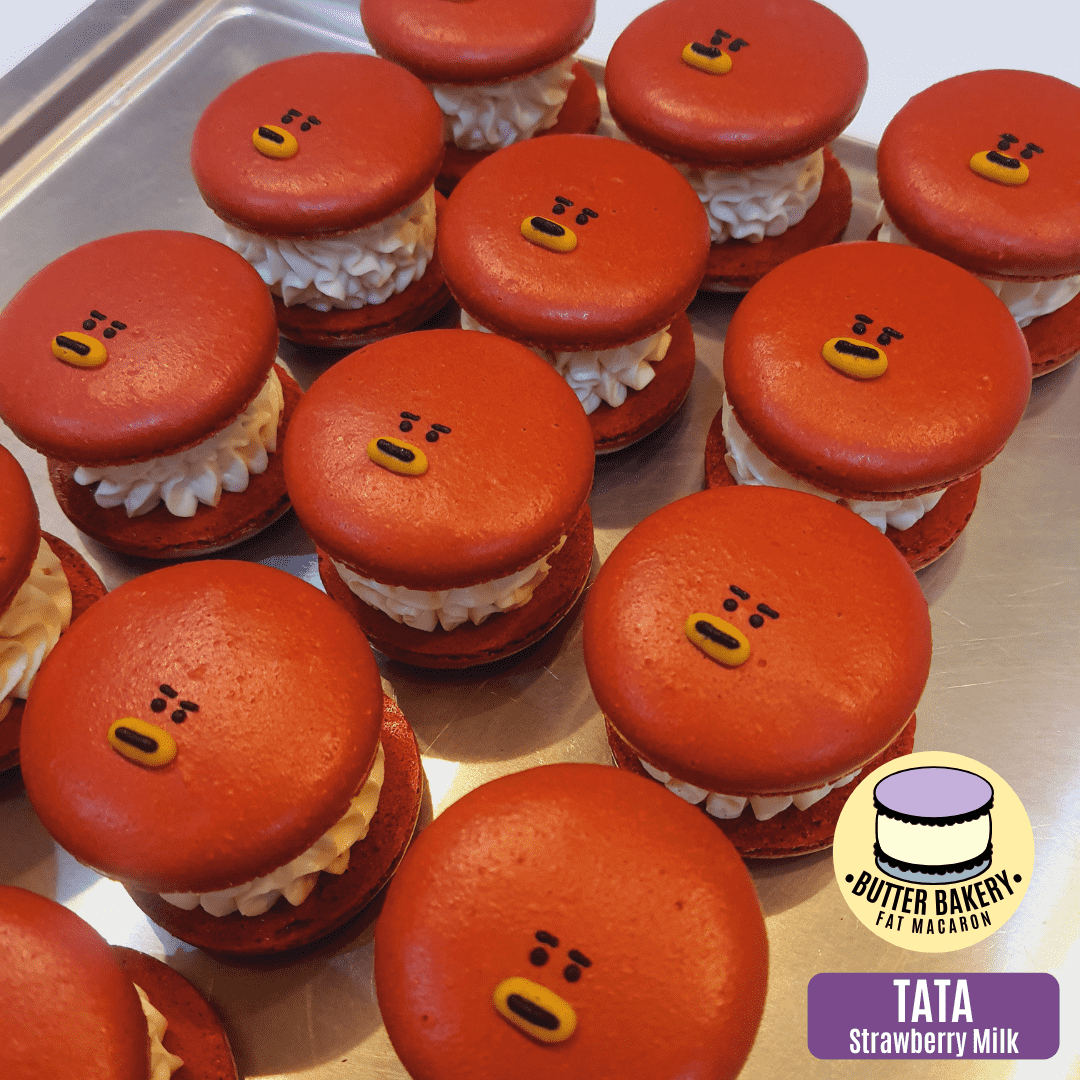 ADVERTISMENT - CONTINUE READING BELOW ↓
We're definitely nuts about this Mang fatcaron that has Nutella buttercream and a Nutella and hazelnut center!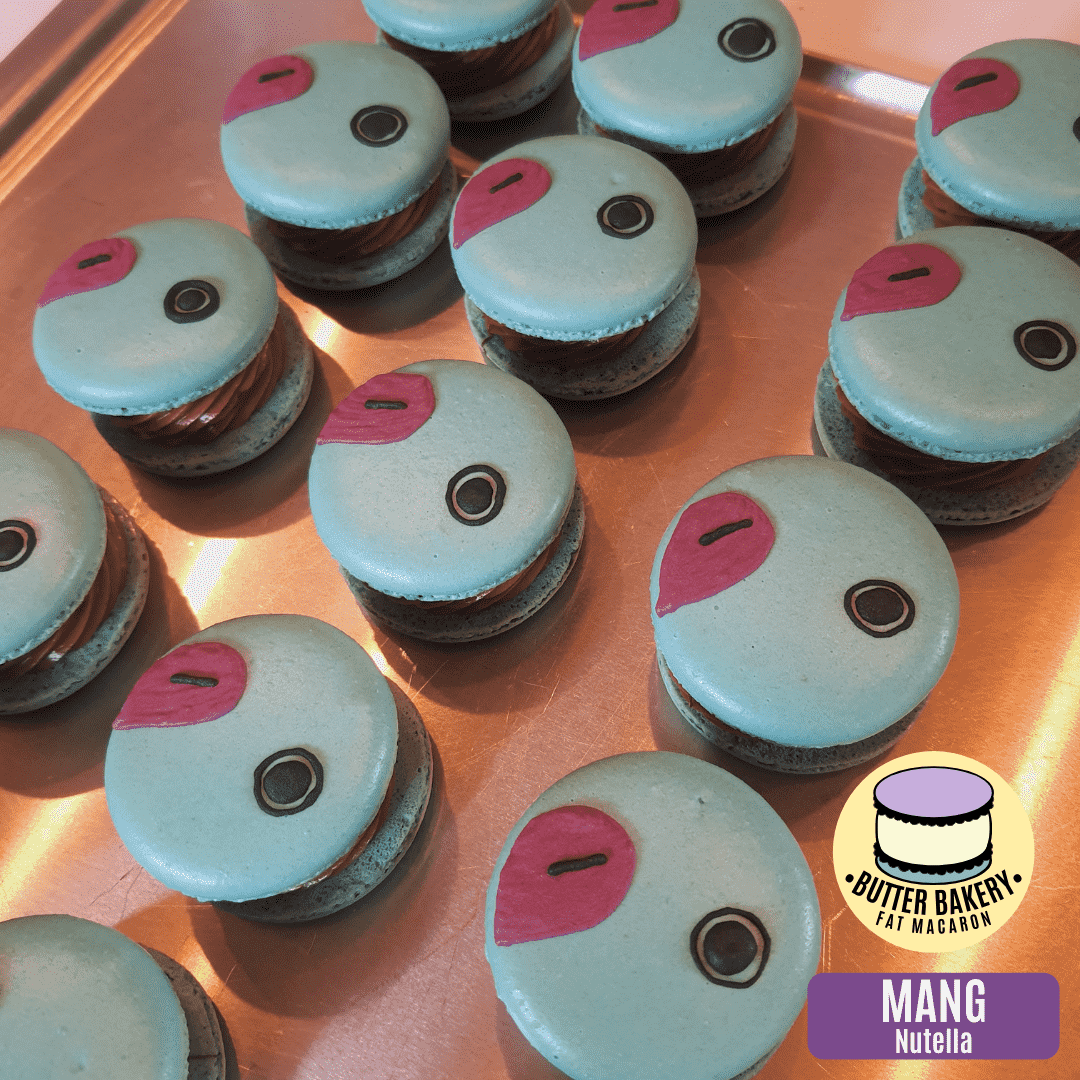 Want to try something new? This Shooky fatcaron's buttercream is made of the popular wheat Korean snack, Jolly Pong, and tastes like our own ampao!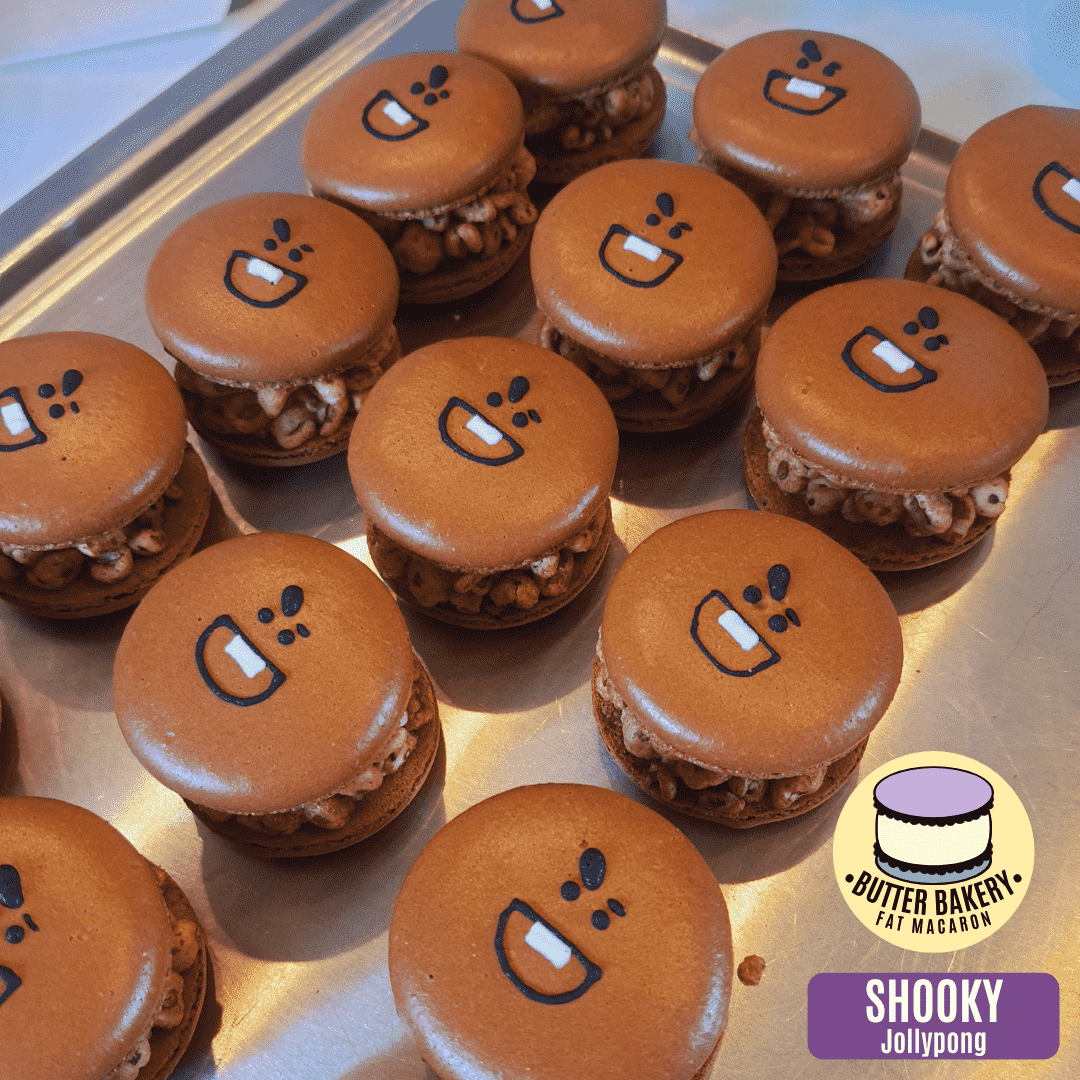 ADVERTISMENT - CONTINUE READING BELOW ↓
The Cooky fatcaron has Uji matcha-flavored milk buttercream and we love it so matcha!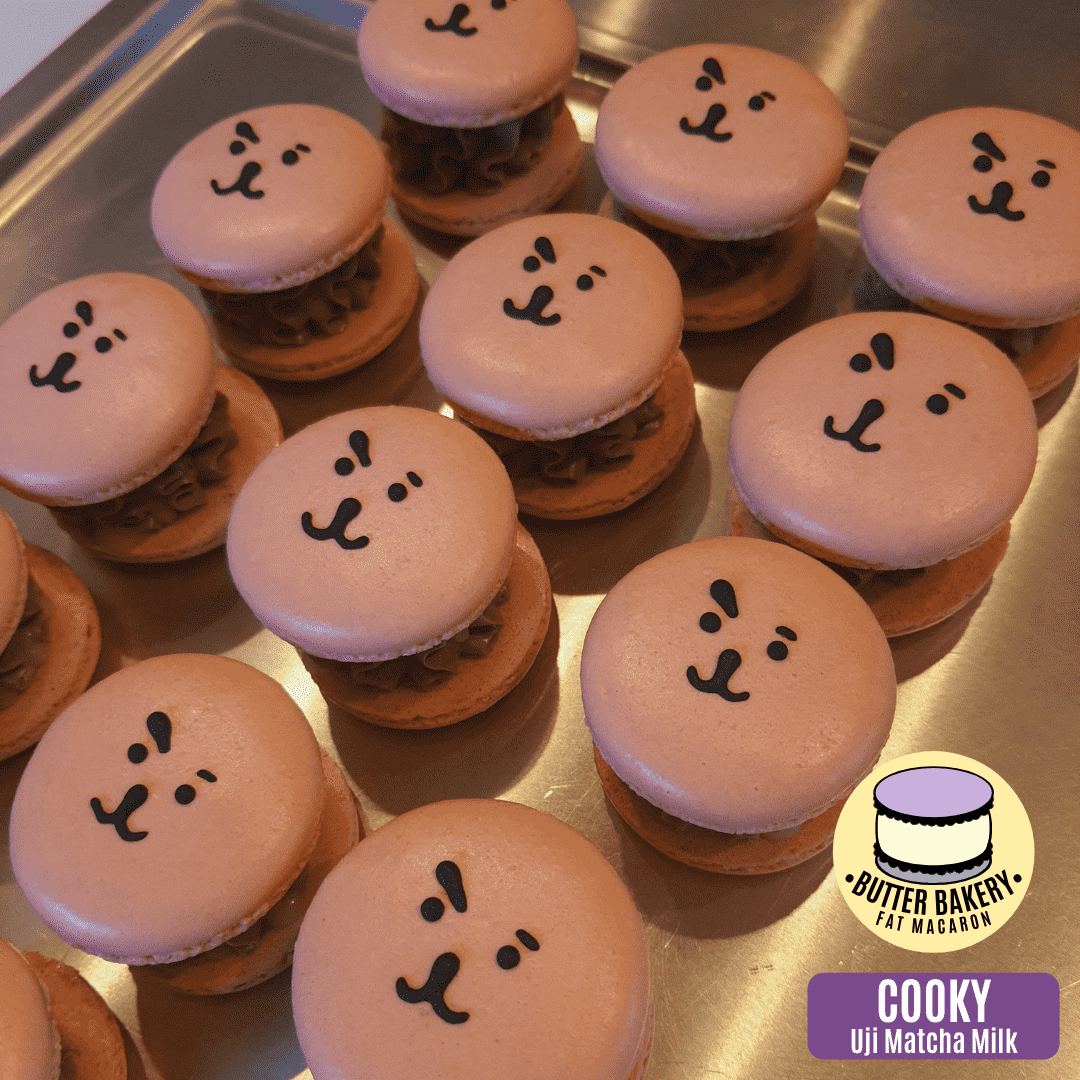 If you're craving cookies, be sure to order the RJ fatcaron that has Lotus Biscoff cookie buttercream and a cookie center.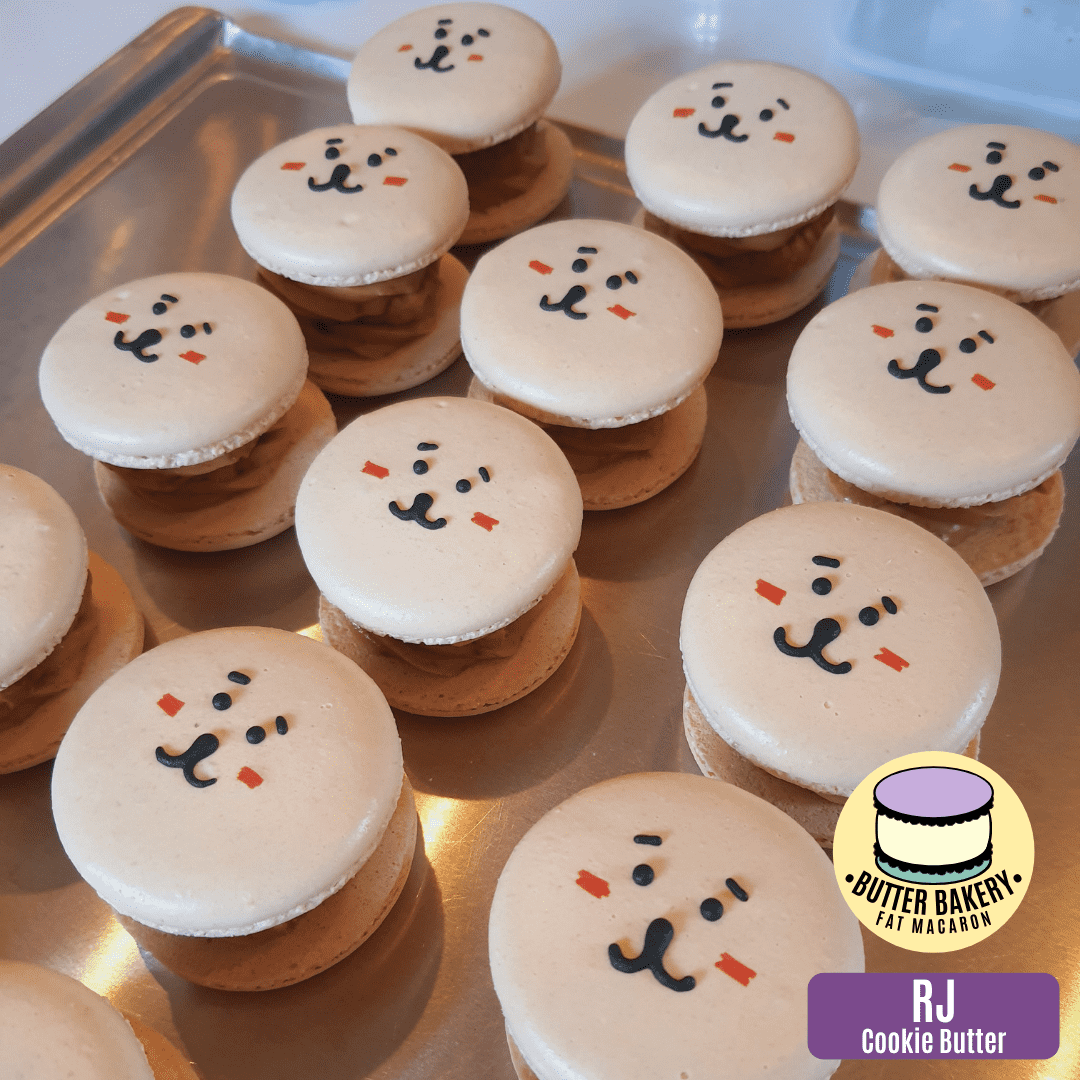 ADVERTISMENT - CONTINUE READING BELOW ↓
The Chimmy fatcaron is what our childhood dreams are made of and has Milo buttercream!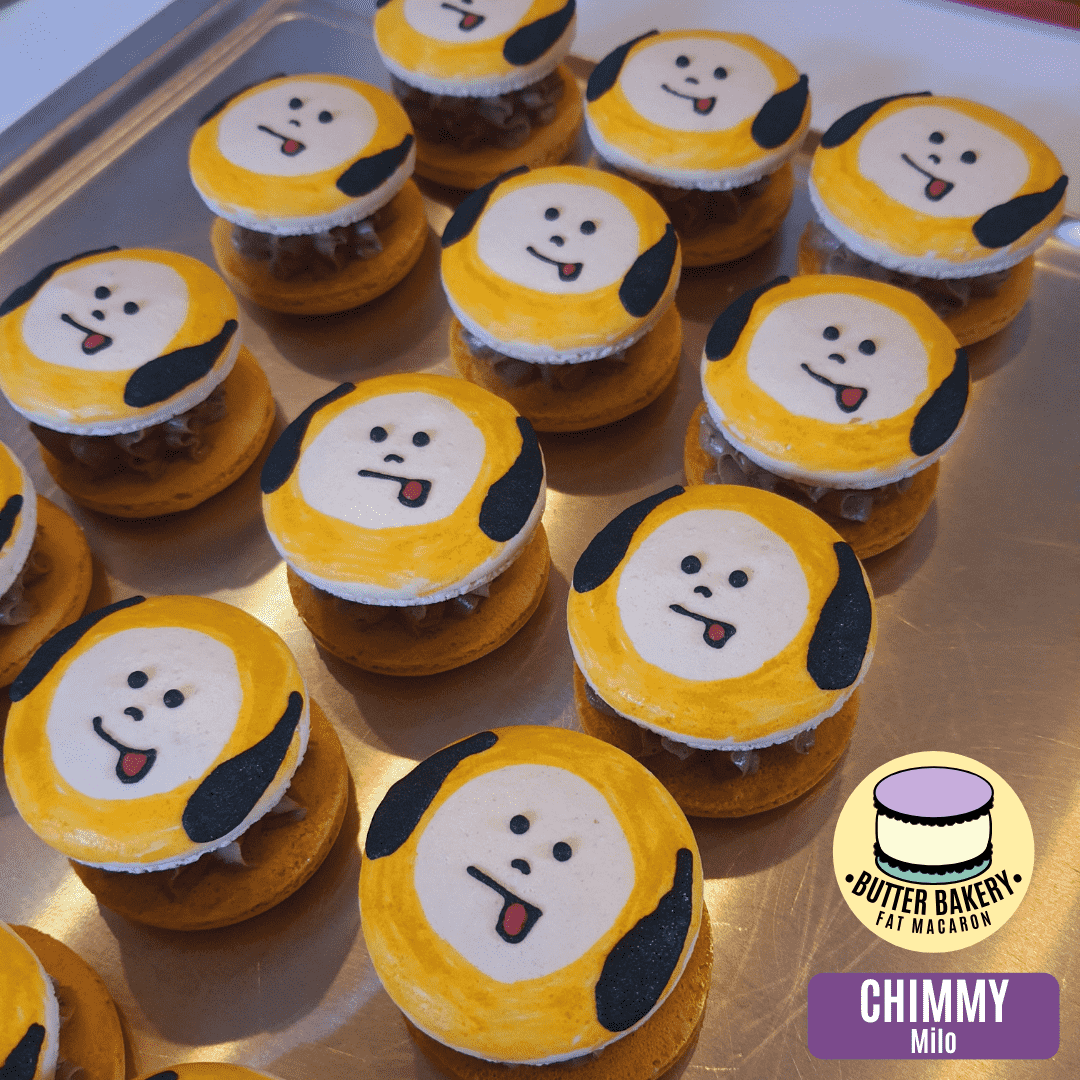 Oreo fans, the Van fatcaron is for you! This design has an Oreo cookie center and Oreo buttercream filling.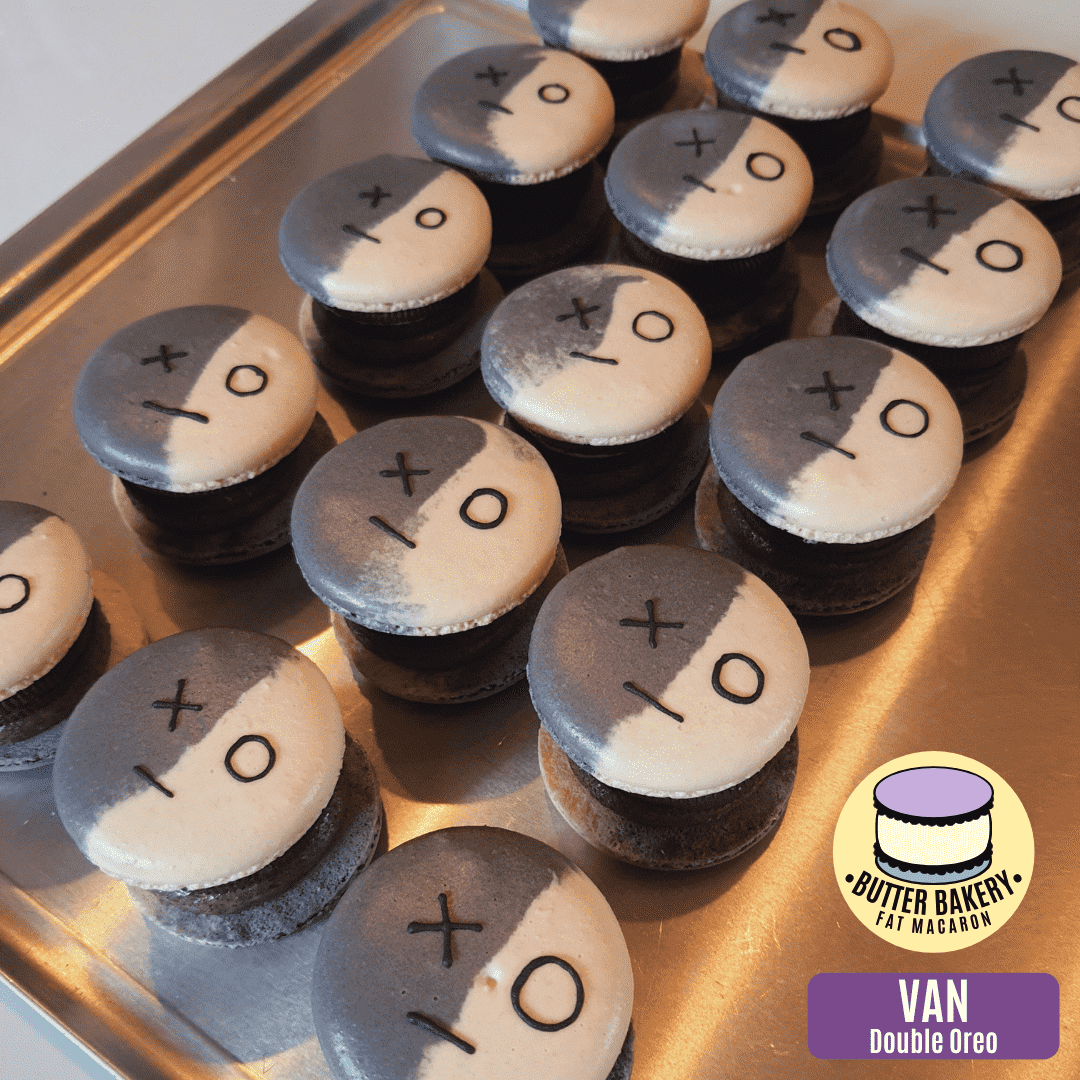 ADVERTISMENT - CONTINUE READING BELOW ↓
We'd also like to add that Yana's BTS bias is our worldwide handsome Jin, and her favorite song from the boys is..."Butter!"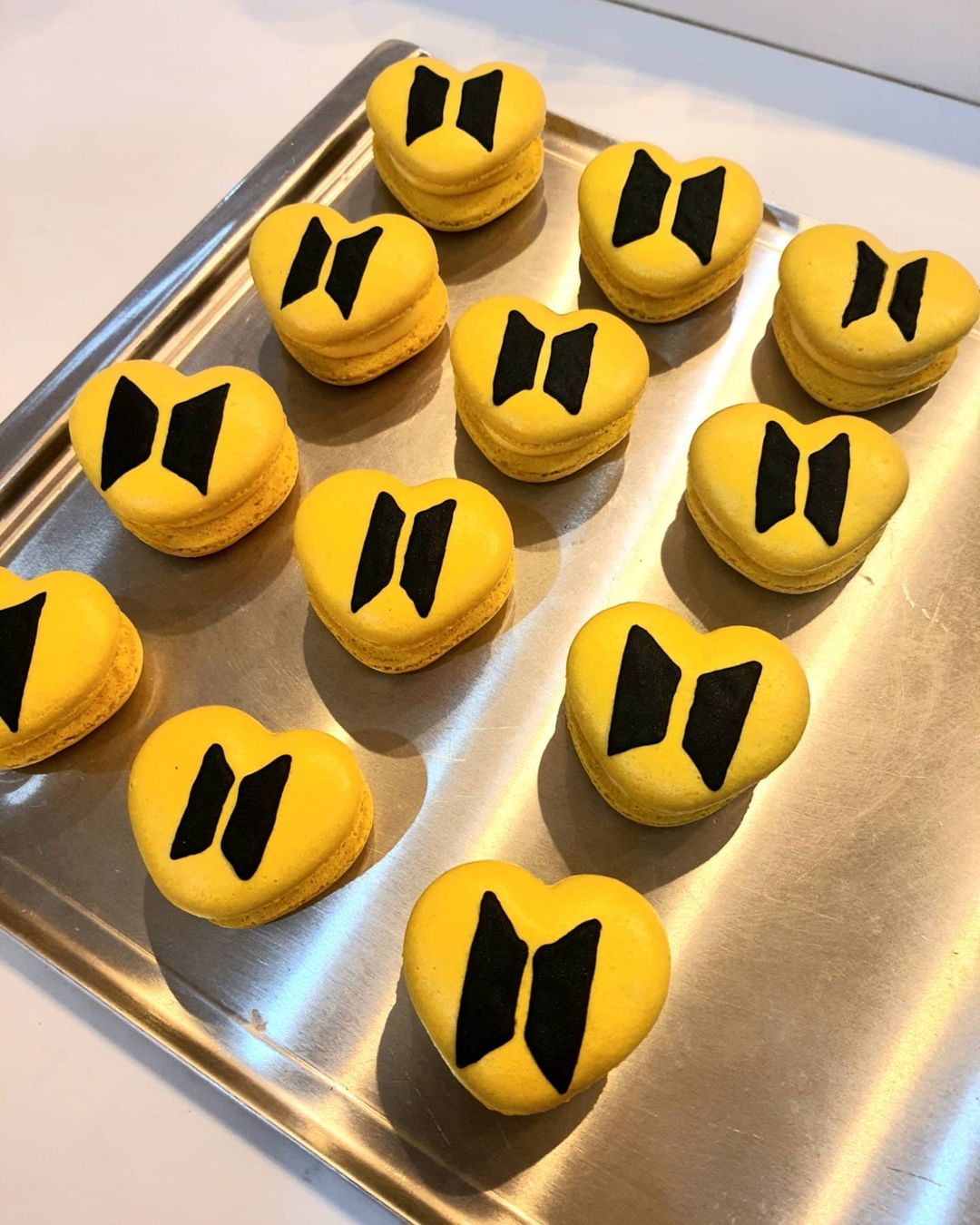 Ready to indulge in these treats? Go ahead and order the BT21-inspired fatcarons via Butter Bakery's Instagram account. Enjoy!
Answers have been edited and condensed for clarity
ADVERTISMENT - CONTINUE READING BELOW ↓
Follow Hanna on Instagram. 
MORE KOREAN FOOD TRENDS WAITING FOR YOU:
Get Egg-cited: Where To Buy Uju's Fave Egg Sandwich From 'Hospital Playlist' In Manila
Get A Taste Of Authentic Korean Rice Cakes From This Online Store!