Park Shin Hye has been busy this year, having starred in two Netflix movies: In September, the zombie flick Alive was released, and then recently, the psychological thriller The Call made it to the list of the most-streamed films and shows in the Philippines. (Because of that film, our stomachs now turn whenever we hear the phone ring!)
But even with her busy schedule, Shin Hye is one active girl on Instagram and often updates her fans with gorgeous pics. She's undoubtedly one of the most stylish celebs out there—we can't get enough of her cute outfits and hip designer bags! In fact, we're so obsessed that we've decided to decode some of Park Shin Hye's cutest IG outfits and bags and how much they cost:
1. INSTANTFUNK Square Neck Long Dress in Beige
In this mirror selfie, Shin Hye dons a dress from INSTANTFUNK, a Korean brand "created and launched by stylist Jihye Kim" that highlights her curves. Her exact beige outfit is now sold out (that's what you call the #ParkShinHyePower) but you can also purchase it in white or black.
ADVERTISMENT - CONTINUE READING BELOW ↓
View this post on Instagram
2. INSTANTFUNK Essential Logo T-Shirt
It's another INSTANTFUNK number! After doing some ~intensive~ research, we discovered that Korean celebrities really love the brand and have been wearing it during their stage performances or photoshoots. Here, Shin Hye takes yet another pretty selfie with a classic t-shirt.
View this post on Instagram
3. AND YOU POSITANO Bishop Short Sleeve Dress 
No one can deny that she looks blooming in this floral piece! AND YOU is also a Korean brand, and this Positano mid-length dress is a crowd-favorite with its dainty design and puffed sleeves.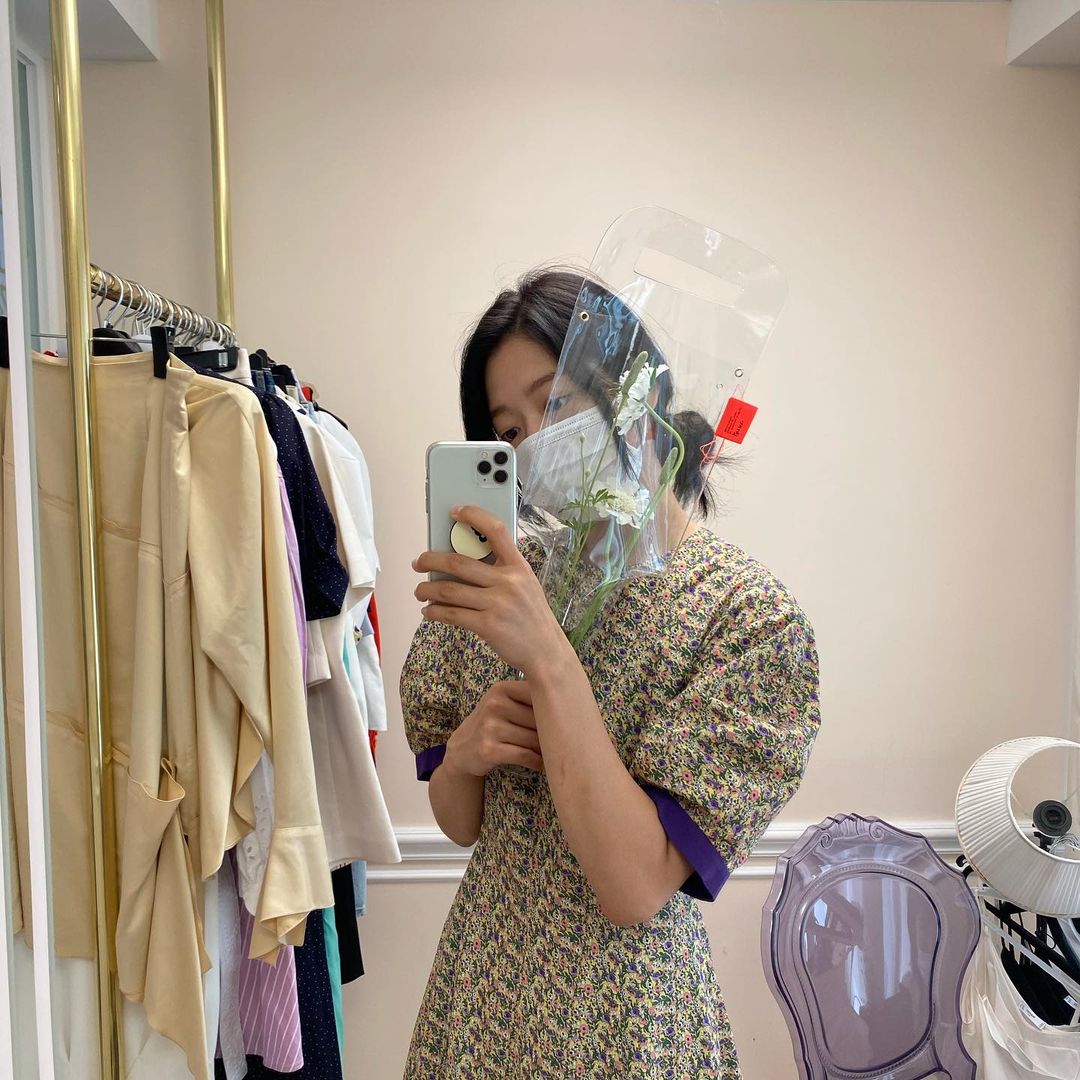 ADVERTISMENT - CONTINUE READING BELOW ↓
Recommended Videos
4. INSTANTFUNK Single-Breasted Denim Jacket
Can we all agree that the actress looks super cozy yet still so stylish here? She paired the denim piece with an all-black OOTD—classic.
View this post on Instagram
5. Roger Vivier So Vivier Bag Mini
Price: $2,495 (around P120,000)
Only the cutest bag for the cutest girl! This made-in-Italy leather bag is from the luxury brand Roger Vivier, known for its handbags that were featured in K-dramas such as Crash Landing On You and A World Of Married Couple.
View this post on Instagram
6. Valentino Small Supervee Calfskin Crossbody Bag
Price: $2,540 (around P122,200)
We love this classic black-and-white outfit on Shin Hye! In case you're interested and your bank account is willing, the designer bag with the signature V logo also comes in red and white.
View this post on Instagram
Follow Hanna on Instagram.
K-UPDATES