Hello there! It's that time of the year again when the Cosmopolitan Editors review hundreds of beauty and wellness products in the search for the *best* ones that are worth your hard-earned sweldo. This year's theme is mindful beauty—a movement that is focused on conscious consumption. This means that every item you purchase should serve a purpose and ~spark joy~ in your life. With that, we made sure to only include items we genuinely think deserve a spot in your regimen.
We covered everything from skincare, makeup, haircare, and body care, as well as health and wellness products. Keep on scrolling for our top picks of 2021:

ADVERTISMENT - CONTINUE READING BELOW ↓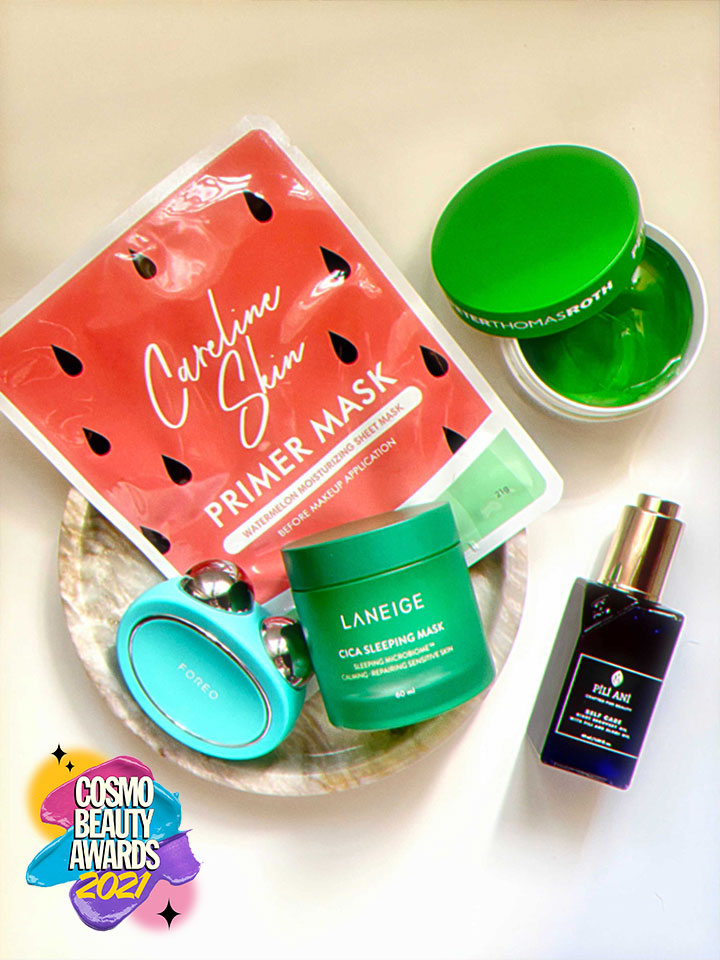 1. Best facial device: Foreo BEAR
One thing we absolutely miss about pre-pandemic life is getting facials—but thanks to the Foreo BEAR we can recreate that experience from the safety of our homes. Aside from keeping our skin in tip-top shape, this bear-shaped device also promises to sculpt and contour the jaw of your dreams!
Price:  P19,000
2. Best face oil: Pili Ani Self-Care Night Recovery Oil
ICYDK, a lot of skin issues arise from dehydration and this facial oil from Pili Ani is the key to solving that problem! This power-packed oil is perfect for nighttime use and helps repair and rejuvenate your skin while you catch your well-deserved Zzzs.
Price: P3,200
3. Best face mask: Laneige Cica Sleeping Mask
If you have sensitive skin, finding the right skin products—let alone face masks—can honestly get tedious. But fret not, because the search is over: The Laneige Cica Sleeping Mask guarantees to repair your skin through its unique patented formula. Centella Asiatica will help soothe tired, inflamed skin. Slap this on while you sleep and you'll surely wake up with plump and hydrated skin! 
Price: P1,900
4. Best sheet mask: Careline Skin Primer Mask Watermelon Moisturizing Sheet Mask
We'll let you in on a little secret: One way to guarantee your makeup looks fresh all day is by making sure you use a trusty primer. Apply this sheet mask from Careline before putting on makeup, especially on dry patches to get that glass skin, dewy finish.
ADVERTISMENT - CONTINUE READING BELOW ↓
Price: P90
5. Best eye patches: Peter Thomas Roth Cucumber De-Tox Hydra-Gel Eye Patches
Do your eyes look tired from all those late nights binge-watching? You have to get these eye patches! It's infused with cucumber extract that naturally soothes, hydrates, and de-puffs your skin. You could even wear these while you're working from home.
Price: P3,200

ADVERTISMENT - CONTINUE READING BELOW ↓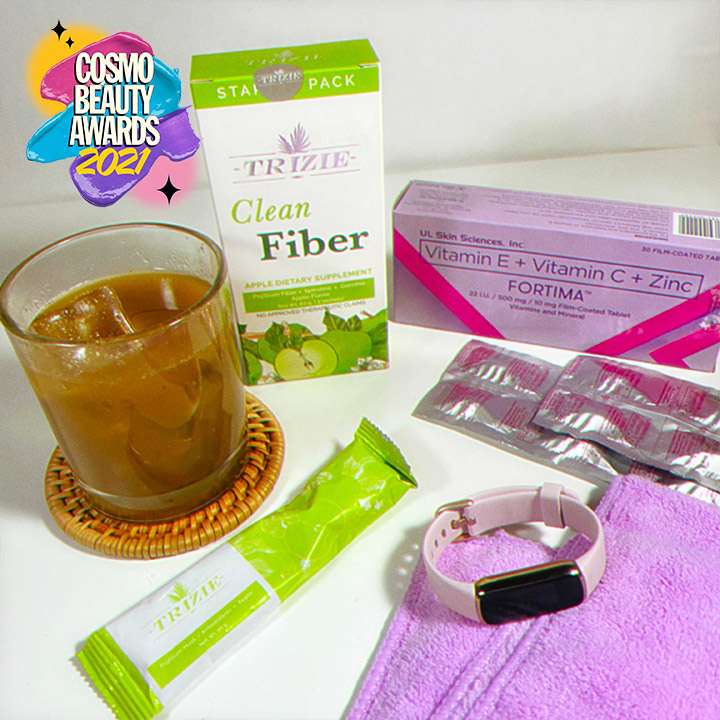 1. Best supplements for overall health: Fortima
With the current situation, it's best to take *extra* steps to care for your physical health. One way to do so is by taking the necessary vitamins that will make your—especially your immune system—stronger. With these multivitamins, you can get your daily dose of Vitamin C, Zinc, and Vitamin E to make your body stronger AND skin look healthier.
ADVERTISMENT - CONTINUE READING BELOW ↓
Price: P350
2. Best supplement for good digestion: Trizie
Say bye-bye to bloating with this natural fiber supplement! We totally get why this product is trusted and loved by many—it promotes faster metabolism and digestion, increases your energy, and keeps your gut healthy while maintaining a pleasant taste!
Price: P1,595/7 sachets
3. Best fitness gadget: Fitbit Luxe
Looking for a new smartwatch? This stylish armpiece is the one for you! It has all the things you need in a fitness watch and more—tracks your daily activities (i.e. steps, distance, calories burned), reminds you to move hourly (even marching in place counts!), and our favorite feature: Tracks your menstrual cycle.
Price: P12,990

ADVERTISMENT - CONTINUE READING BELOW ↓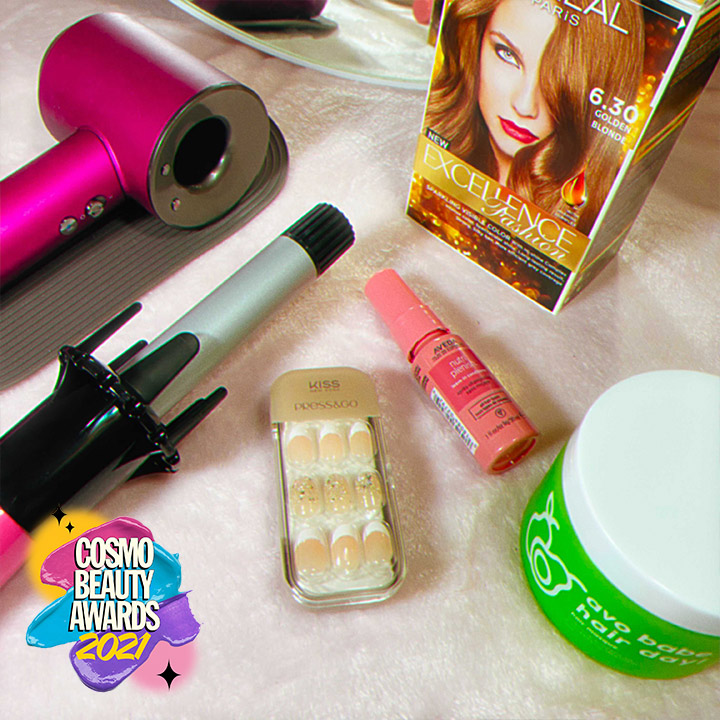 1. Best blow-dryer: Dyson Supersonic Hair Dryer
The hype is real with this internet-famous blow-dryer! It has multiple attachments that can style your locks in no time. And the best part? Without the extreme, damaging heat! Plus, it's engineered to keep the frizz at bay and make your hair extra smooth and shiny. This makes it the best choice for chemically-treated locks! 
ADVERTISMENT - CONTINUE READING BELOW ↓
Price: P24,500
2. Best curling tool: Kiss NYC Instawave Automatic Curler
In the mood to sport some curls? This fully automatic curler will help you achieve your dream 'do in no time! With this, you can achieve salon-styled curls at home with just a push of a button.
Price: P3,999
3. Best hair dye kit: L'Oreal Excellence Fashion
If you're planning to change up your look, grab a box of this dye that won't damage your luscious locks. It has a wide range of shades—ash, blonde, brown, and red—that will help you achieve the hair color of your dreams from the comforts of your own home.
Price: P449
4. Best hair mask for damaged hair: Babe Formula Avo Babe Hair Day! Hair Masque
Want to bring your damaged strands back to life? Soak them in this mask for at least 20 minutes and soon enough, you'll say hello to stronger, shinier, and silkier hair.
ADVERTISMENT - CONTINUE READING BELOW ↓
Price: P349
5. Best leave-in conditioner: Aveda Nutriplenish Leave-in Conditioner
Contrary to popular belief, caring for your locks doesn't end in the shower. Here's an extra step that's definitely worth it: Apply this leave-in conditioner from Aveda for instantly hydrated and detangled hair.
Price: P2,000/200ml
6. Best press-on nails: KISS NYC Press & Go Nails
You're not alone—we, too, miss getting our nails done. These press-on nails from Kiss NYC are easy to apply (and easy to remove, if you want to change things up) and will help you achieve the manicure you've been wishing for!
Price: P599

ADVERTISMENT - CONTINUE READING BELOW ↓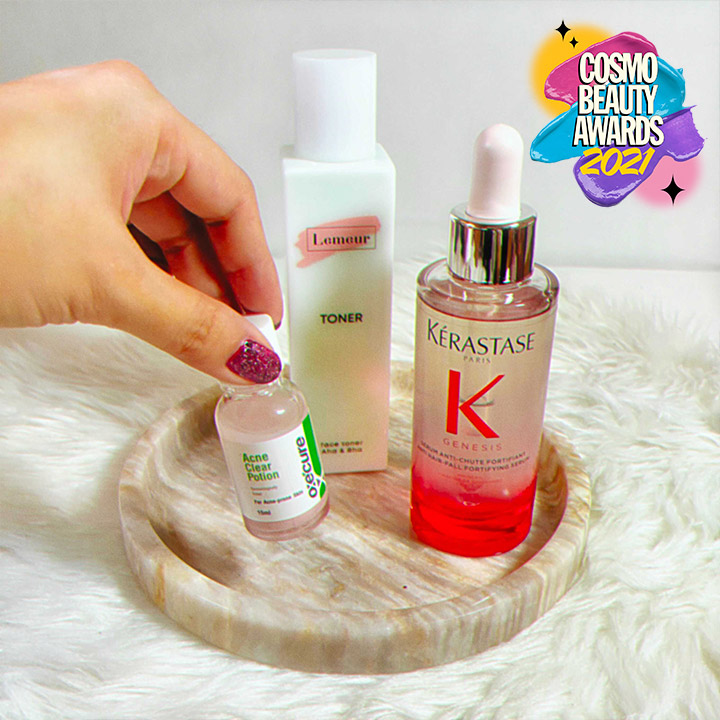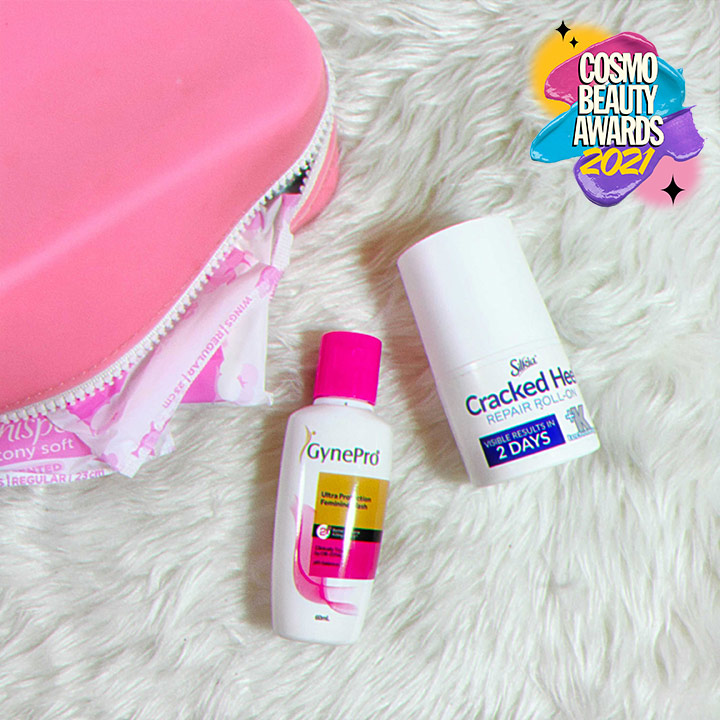 ADVERTISMENT - CONTINUE READING BELOW ↓
1. Best product for hair fall: Kerastase Anti-Hairfall Fortifying Serum
Losing more hair than usual? Add the Kerastase Anti-Hairfall Fortifying Serum to your hair care routine. It re-anchors your stands and promotes a healthier scalp so you can finally stop worrying about losing your luscious locks. Massage on the scalp and leave it overnight.
Price: P2,950
2. Best exfoliating toner: Lemeur Clarifying Toner
Grab a bottle of this exfoliating toner and you're well on your way to clear healthy skin. With regular use, this will help reduce the sagginess of the skin and prevent the appearance of fine lines and wrinkles.
Price: P950
3. Best treatment for dry, cracked heels: Silkia Cracked Heel Repair Roll-On
Dealing with dry, cracked heels? The Silkia Cracked Heel Repair Roll-On is the solution to your dilemma. This handy roll-on contains Jojoba oil and aloe vera leaf extract which are known to hydrate any area that might need extra moisture. You can also rub this to your elbows and knees to help with the dryness and pigmentation.
ADVERTISMENT - CONTINUE READING BELOW ↓
Price: P399
4. Best bundle for red days: Gynepro Red Day Bundle
Every Cosmo girl knows the struggle of red days but you can turn things around and make them bearable with this bundle! Aside from using breathable pads, you can also protect your feminine area by opting for a feminine wash that gently kills bacteria that can cause vaginal odor, itch, and irritation.
Price: P73
5. Best spot treatment: Oxecure Acne Clear Potion
Whether you're dealing with pesky zits or want to get rid of your dark spots, the Oxecure Acne Clear Potion is surely your next holy grail spot treatment! It's formulated with 2 percent salicylic acid and niacinamide which is the best combo to fight acne and prevent acne marks.
Price: P349

ADVERTISMENT - CONTINUE READING BELOW ↓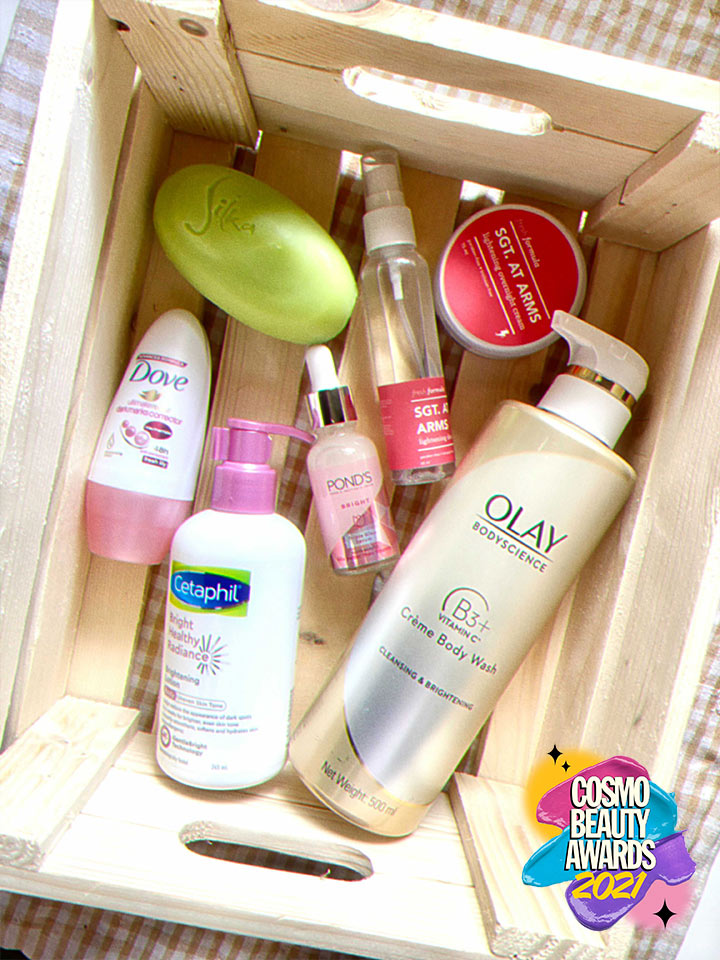 1. Best brightening serum: Ponds Triple Glow Serum
Ready to get that glow? Add the Ponds Triple Glow Serum to your cart! It has three essential ingredients that will help you get a radiant complexion—namely, niacinamide, hyaluronic acid, and Gluta-Boost-C. Use this morning and evening to accelerate your journey to healthy, radiant skin.
ADVERTISMENT - CONTINUE READING BELOW ↓
Price: P449
2. Best brightening deodorant: Dove Deo Dark Marks Corrector
Aside from providing 48-hour protection against sweat and body odor, this deodorant also helps brighten discoloration on the underarms. With daily use, you'll definitely notice smoother underarms in no time!
Price: P117
3. Best brightening body wash: Olay Creme Body Wash B3 + Vitamin C
Get radiant skin from head to toe with the Olay Creme Body Wash B3 + Vitamin C! Thanks to its niacinamide and Vitamin C contents, consistent use of this product will give you brighter skin all over. Plus, the fragrant notes will keep you smelling good all day long!
Price: P349
4. Best brightening soap: Silka Whitening Herbal Soap in Green Papaya
If you want to even out your complexion, this bar soap from Silka might just be for you. One of its main ingredients is Green Papaya Enzyme which helps eliminate dead skin cells for clearer, smoother skin.
ADVERTISMENT - CONTINUE READING BELOW ↓
Price: P48
5. Best brightening lotion: Cetaphil Bright Healthy Radiance Brightening Lotion
Much like all Cetaphil products, this brightening lotion addresses your most pressing skin issues without being harsh on your complexion. We absolutely love the hypoallergenic, fragrance-free, and non-greasy formula that instantly illuminates your skin.
Price: P990
6. Best brightening duo for underarms: Fresh Formula Sgt. At Arms Lightening Duo
Hands up if you want bright underarms! When regularly used together, this deo spray and brightening cream duo will help you combat odor and sweat without the need to sacrifice comfort and nourishment.
Price: P399

ADVERTISMENT - CONTINUE READING BELOW ↓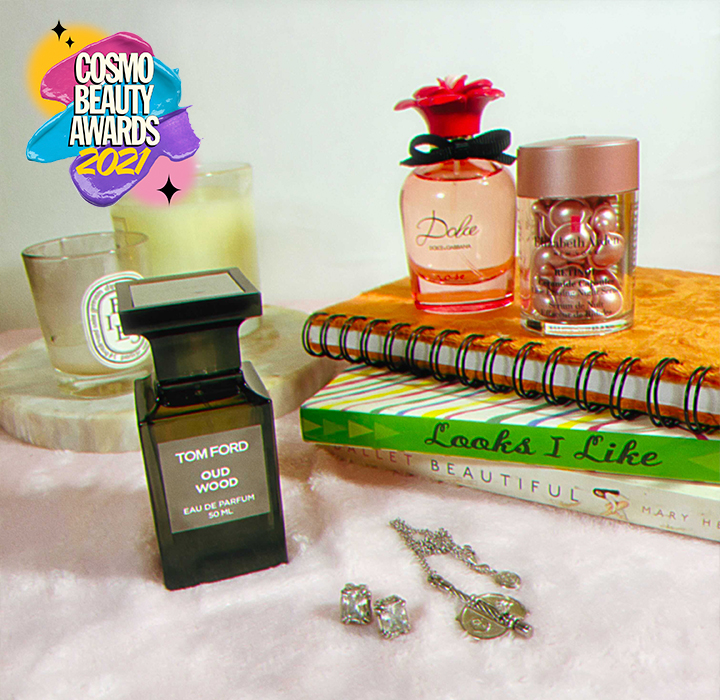 1. Best fragrance: Dolce & Gabbana Dolce Rose Eau de Toilette
If you're a fan of floral and fruity scents, you'll love Dolce Rose. It's a light perfume that you can wear any time of the year. Its first whiff is a rosy scent then it gradually settles to a sweet, clean, and fruity fragrance.
ADVERTISMENT - CONTINUE READING BELOW ↓
Price: P4,750
2. Best luxury serum: Elizabeth Arden Retinol Ceramide Capsules Line Erasing Night Serum
We're big fans of retinol, thanks to its ability to *increase* cell turnover and stimulate the production of collagen. Elizabeth Arden's retinol serum comes in capsule form that keeps light and air out and potency in. It's also more portable—no more spills!
Price: P3,800
3. Best unisex fragrance: Tom Ford Oud Wood EDP
For a more unisex scent, you can't go wrong with Oud Wood. Spritz it on in the morning, and you'll still be able to smell hints of it way into the night—all thanks to its EDP formula.
Price: P12,600
Where to get: Rustan's

ADVERTISMENT - CONTINUE READING BELOW ↓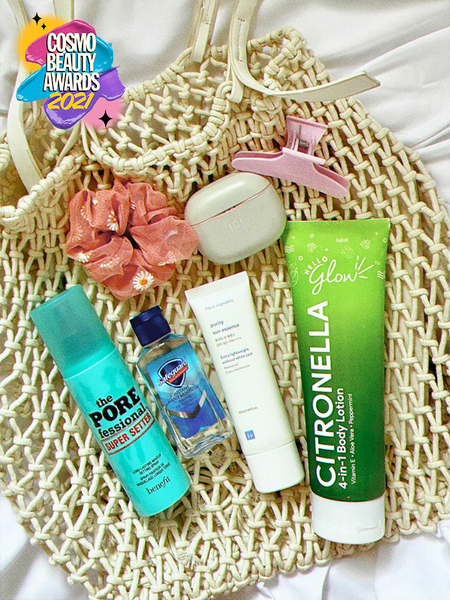 1. Best multipurpose lotion: Hello Glow Citronella 4-in-1 Body Lotion
ICYDK, Citronella is an ingredient that keeps pesky mosquitoes away from your skin. Aside from adding extra protection against dengue, this lotion also makes your skin moisturized and soft.
ADVERTISMENT - CONTINUE READING BELOW ↓
Price: P250
2. Best face sunscreen: Face Republic Purity Sun Essence
Here's your daily reminder to put on your SPF! Whether you're staying indoors or braving the great outdoors, sunscreen is essential and this one, in particular, is made to be clean and mild enough for daily use. It doesn't have a white cast, too, making it perfect for selfies and Zoom calls. Plus, it's reef-safe so you can use it for your *future* beach trips!
Price: P549
3. Best setting spray: Benefit The POREfessional Super Setter
This fine, lightweight mist will definitely lock in your makeup look for the whole day! Spritz this all over your face for a smooth, natural-looking, soft-focus finish.
Price: P1,950
4. Best hand sanitizer: Safeguard Instant Hand Sanitizer
If there's one essential everyone should have in their bags, it's hand sanitizer. This one in particular promises to effectively kill 99.9% of germs and has Vitamin E to keep your hands soft and smooth.
ADVERTISMENT - CONTINUE READING BELOW ↓
Price: P69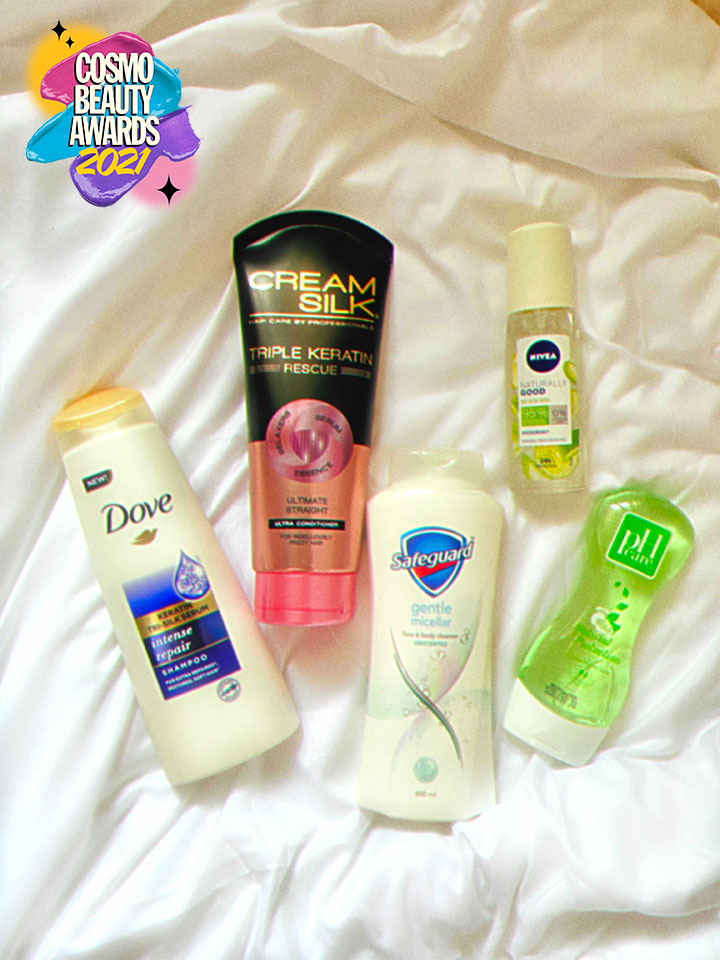 ADVERTISMENT - CONTINUE READING BELOW ↓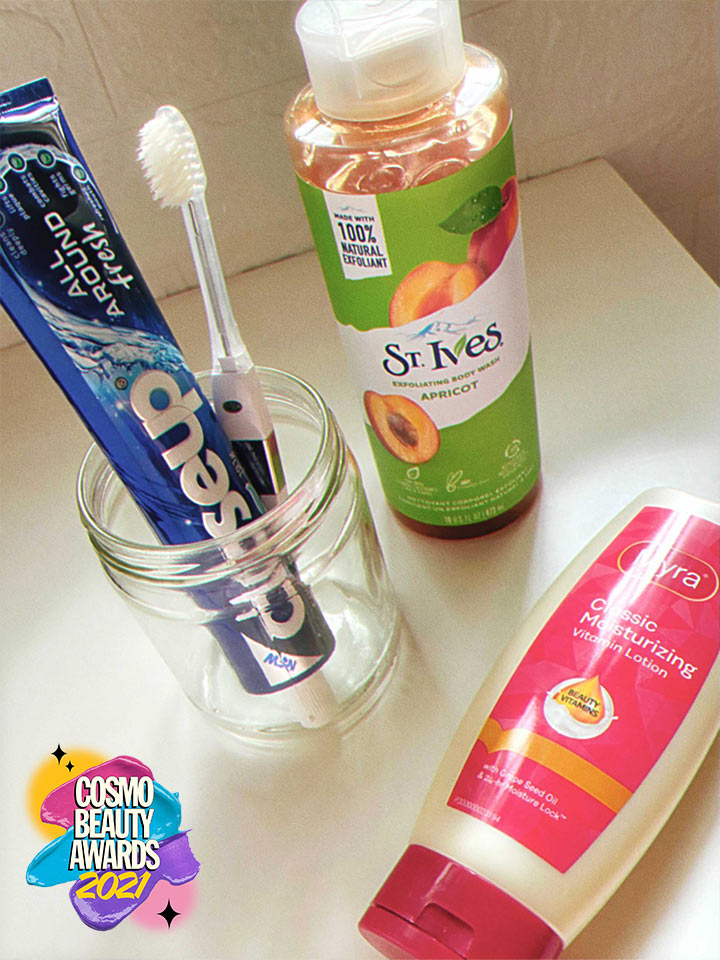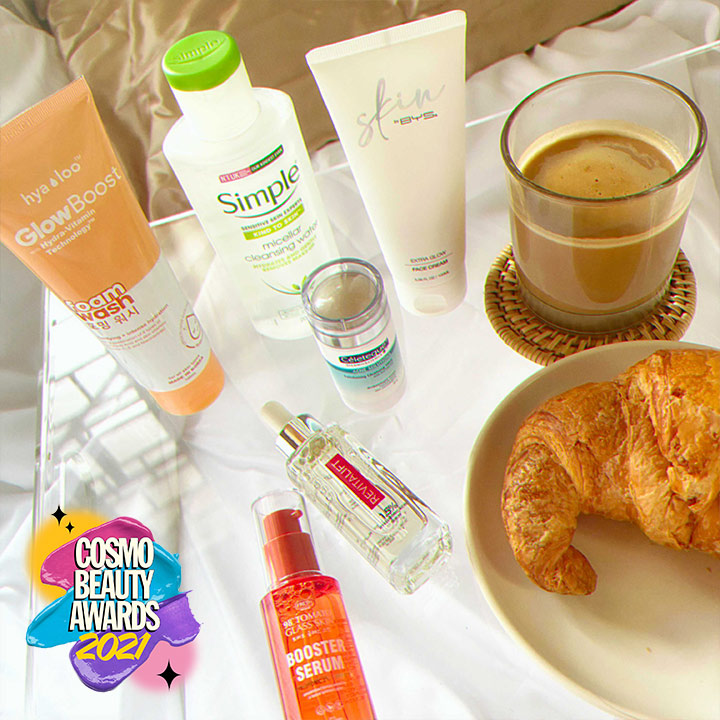 ADVERTISMENT - CONTINUE READING BELOW ↓
1. Best micellar water: Simple Micellar Cleansing Water
If you wear makeup, micellar water should be the first step of your nighttime routine. This one from Simple removes all the gunk from your face without being too harsh. It also preps your skin for the rest of your regimen.
Price: P219
2. Best daily facial cleanser: Hyaloo Glow Boost Foam Wash
ICYDK, a good cleanser is the backbone of any skincare regimen. This facial wash from Hyaloo contains four (!!!) types of hyaluronic acid for intense ~hydration~, coupled with vitamin C, E, and niacinamide to help brighten your skin.
Price: P285
3. Best exfoliating cleanser: Celeteque Exfoliating Cleansing Stick
Cleansing sticks are your new BFF if you want to streamline your regimen—they are essentially a facial wash in a compact, twist-up balm form! All you need to do is gently rub it all over your face and massage it on your skin with wet hands. This one from Celeteque contains tea tree oil and turmeric content, which makes it great for oily and acne-prone skin.
ADVERTISMENT - CONTINUE READING BELOW ↓
Price: P295
4. Best hydrating serum: L'Oreal Revitalift 1.5% Hyaluronic Acid Serum
Hyaluronic acid is the ingredient you need to look for in skincare products if you want baby-soft, glowing skin. This serum from L'Oreal has rave reviews, thanks to its ability to 1.5 percent pure hyaluronic acid content that smoothens the skin as well as penetrates it to hydrate it from within.
Price: P1,299
5. Best serum: Fresh Skinlab Tomato Glass Skin Booster Serum
Aside from hyaluronic acid, another skincare ingredient that can help you reach your ~*glass skin goals*~ is tomato extract. It brightens dark spots, exfoliates dead cells, and prevents fine lines and wrinkles! This Fresh Skinlab serum contains that, plus arbutin, glycolic acid, and glutathione, which makes it the perfect starter product.
Price: P399
6. Best moisturizer: BYS Skin Extra Glow Face Cream
Seal in all the other products you slathered all over your face with this lightweight moisturizer. It contains hyaluronic acid, niacinamide, and vitamin C to improve hydration, minimize fine lines and pores, and brighten dark spots.
ADVERTISMENT - CONTINUE READING BELOW ↓
Price: P599
7. Best toothbrush: Sparkle Ionic Toothbrush
This toothbrush uses ionic technology that loosens the bond between teeth and plaque to make it easier to brush away. To activate the negative ions, simply touch the metal band with a wet finger and make sure to continue holding it while you brush your pearly whites.
Price: P399
8. Best toothpaste: Close Up Cool Mint
Wake yourself up in the morning with this all-around menthol toothpaste that lifts plaque, combats cavities, fights germs, and refreshes your mouth.
Price: P150 (Pack of 2)
9. Best body lotion: Myra Classic Moisturizing Vitamin Lotion
This lotion contains everything we want in one product: It's light, non-greasy, moisturizes effectively, and is packed with vitamins that nourish and soften the skin.
Price: P135
10. Best feminine wash: pH Care Daily Feminine Wash - Natural Protection
If you've been searching for a feminine wash that's *safe* for everyday use, you'll like this one from pH Care. It contains guava leaf extract that provides protection from itch, odor, and irritation.
ADVERTISMENT - CONTINUE READING BELOW ↓
Price: P141
11. Best body wash: Safeguard Gentle Micellar Face & Body Cleanser (Unscented)
For a body wash that's safe to use for all skin types, go for this bottle from Safeguard. Its micellar technology helps lift germs, grime, and oil from your body without drying it out.
Price: P219
12. Best exfoliating body wash: St. Ives Exfoliating Body Wash Apricot
After a long week, treat yourself with a little pick-me-up in the form of an exfoliating body wash. This one from St. Ives is gentle enough to be used all over your body, include sensitive areas like your elbows, knees, underarms, and inner thighs!
Price: P280
13. Best shampoo: Dove Keratin Tri-Silk Serum Intense Repair Shampoo
This shampoo contains Keratin Tri-Silk Serum, a triple-action formula that deeply nourishes your strands, repairs damage, and protects them to the core. Plus, it smells sooo clean, too!
Price: P123
14. Best conditioner: Cream Silk Triple Keratin Rescue Ultimate Straight Conditioner
Dry strands will be a thing of the past with this conditioner from Cream Silk. It combines the benefits of three (!!!) keratin products: Keratin relaxers to tame frizzy hair; keratin serum to repair damage; and keratin essence to restore shine. 
ADVERTISMENT - CONTINUE READING BELOW ↓
Price: P273
15. Best natural formula deodorant: Nivea Naturally Good Bio Aloe Vera Deodorant
This deo spray is packed with bio aloe vera and glycerin to brighten the skin on your underarms and protect them from sweat and body odor. You'll notice smoother and brighter armpits with *daily* use!
Price: P154

ADVERTISMENT - CONTINUE READING BELOW ↓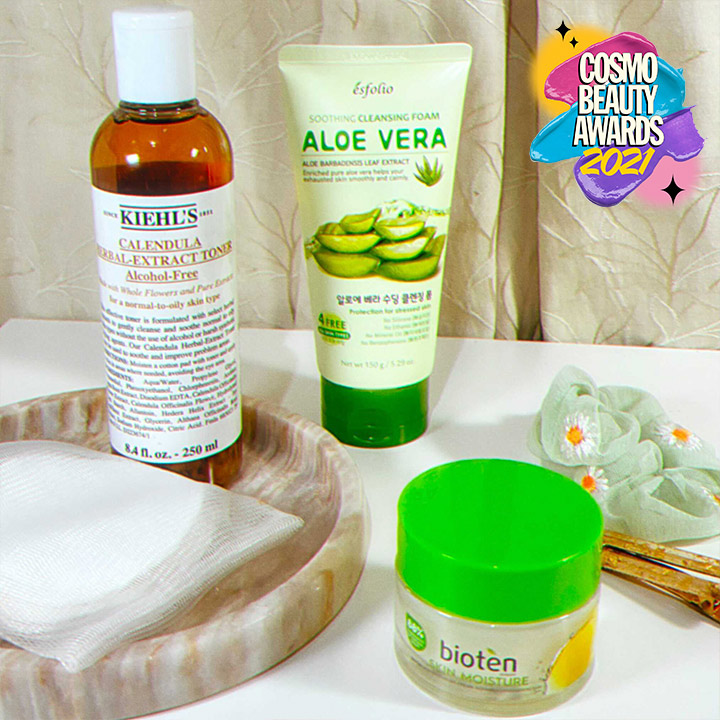 1. Best cleanser for sensitive skin: Esfolio Aloe Vera Soothing Cleansing Foam
Turn to this facial wash if you want to cleanse your skin without irritating it or making it feel taut after rinsing. It's packed with aloe vera, an ingredient that is known for its calming and soothing properties.
ADVERTISMENT - CONTINUE READING BELOW ↓
Price: P349
2. Best toner for sensitive skin: Kiehl's Calendula Herbal Extract Toner
This alcohol-free toner is a cult favorite for a reason—it reduces redness, minimizes the appearance of pores, and improves skin texture, thanks to its Calendula petals.
Price: P2,588
3. Best moisturizer for sensitive skin: Bioten Skin Moisture Gel Cream
This moisturizer from Bioten has a gel-like consistency that makes it the perfect product to use, especially during the summertime. It's loaded with Quince extract and prebiotics that preserve the moisture levels of the skin and nourish the growth of ~beneficial~ bacteria.
Price: P349

ADVERTISMENT - CONTINUE READING BELOW ↓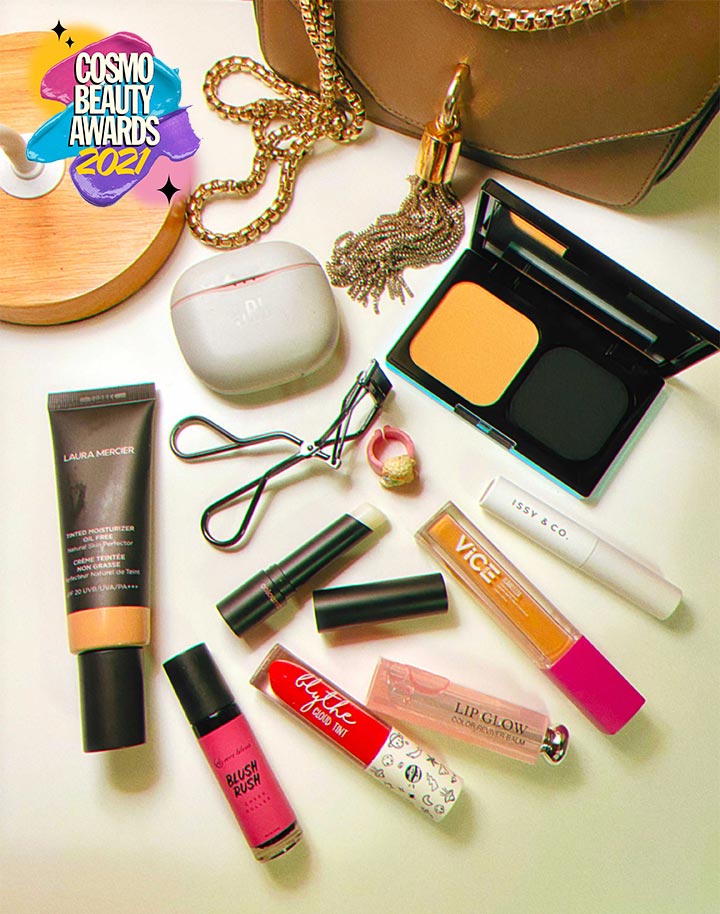 1. Best tinted moisturizer: Laura Mercier Tinted Moisturizer
Nowadays, we prefer wearing a lightweight base that would let our skin breathe underneath a mask and face shield. This OG tinted moisturizer has never failed us! The oil-free formula keeps the shine away while delivering a second-skin finish. No one would guess you're wearing makeup at all! This base has also been our go-to to make us look presentable during Zoom meetings.
ADVERTISMENT - CONTINUE READING BELOW ↓
Price: P2,595
2. Best brow gel: Issy & Co Brow Refiner
Whether you've got full or sparse brows, this tinted brow gel should be part of your kilay routine. The formula magically ~*fattens*~ each brow hair, making your arches look fuller and feathery. BTW, it lasts even on a hot sunny day!
Price: P349
3. Best tinted lip balm: Dior Addict Lip Glow (001 Pink)
The first time we tried this, we were in awe because each of us had a unique shade of pink. The color-adapting formula reacts to your body chemistry so you'll get the best and most flattering shade of pink on you. We also don't mind wearing this under a mask!
Price: P2,100
4. Best concealer: Vice Cosmetics Flawlezza
There are days when we *need* conceal a spot or cover the dark circles, and this creamy concealer is your girl. The Pinay-friendly shades and blendable formula will make camouflaging blemishes ultra-easy. BTW, the pink packaging makes it a great element for your IG shelfies!
ADVERTISMENT - CONTINUE READING BELOW ↓
Price: P245
5. Best lipstick: Blythe Cloud Tint
In the past years, we've been obsessed with multipurpose tints, and this one from Blyth has been our fave lippie. This particular shade looks great on Pinay skin tones and leaves a subtle tint after a few hours of wear.
Price: P195
6. Best lip and cheek tint: Ever Bilena Blush Rush Cheek Roller
No kikay kit should ever NOT have this cheek roller! The shades look great on Pinay skin tones, aka "lakas maka-fresh!" We also find that this lasts long on our complexion.
Price: P155
7. Best powder: Maybelline Fit Me Oil Control Powder Foundation
If you plan on wearing face powder, reach for a product that works as setting powder and foundation. The Fit Me Oil Control Powder Foundation gives a velvety finish when applied with a brush, and superb shine-free coverage when worked with a sponge.
Price: P349
ADVERTISMENT - CONTINUE READING BELOW ↓
8. Best lip balm: Colourette Blur Balm
This lip primer and balm in one is a must if you want to bring out your lippies' vivid hue while keeping your put enveloped with moisture.
Price: P349
9. Best eyelash curler: Shiseido Eyelash Curler
Never worry about the eyelash curler pinching your skin because the Shiseido eyelash curler has Asian eyes in mind: The shape conforms with the curve of small, hooded eyelids! It's no wonder this has been a cult favorite of many since it was first released.
Price: P1,400
***
PRODUCED BY: Cheska Santiago, Ira Nopuente
PHOTOGRAHY: Ira Nopuente
ART DIRECTION: Cyrille Calderon
***