If your goal is to finally achieve dewy skin, look no further. Here is your ultimate guide to getting that healthy glow, whatever your skin type is.
What is dewy skin in the first place?
The term "dewy skin" has been around for decades. It has even evolved to these trends the world has been obsessed with in recent years: glass skin and honey skin. These three terms all depict a well-hydrated complexion that glows when the light hits the face. The skin looks and feels both soft and supple. It's shiny but not to the point that it appears greasy.
TL;DR: The skin looks healthy—like you drank the recommended daily water intake and you ate lots of fruits and veggies. 
How do I get dewy skin?
The primary goal of getting dewy skin is to have the proper oil-moisture balance and overall radiance. Revisit your skincare and makeup routine and check out this list of tips and tweaks you can try. Take note of the changes you can make to reach your skincare goals.
ADVERTISMENT - CONTINUE READING BELOW ↓
Go for brightening ingredients like vitamin C, niacinamide, and AHA.

Look for these ingredients in the labels of the skincare products you'll be getting: Vitamin C, niacinamide, and AHA (or glycolic acid). These add-ons switch on your skin's natural glow, even out discoloration, and fade dark spots and acne marks. I highly recommend you get vitamin C and niacinamide in serum form so your skin can benefit from a potent formula. As for glycolic acid and AHA, they work best as toners.

(Ed's note: If you've got existing breakouts, it's best to treat the pimples first (especially if it's severe acne) before getting to this step. This guide will help you achieve this. It's also highly recommended that you consult a dermatologist if you have recurring skin concerns like dryness and acne.)

Jumiso All Day Vitamin Brightening & Balancing Facial Serum, P1,200, Go Bloom Glow

ADVERTISMENT - CONTINUE READING BELOW ↓

Recommended Videos





Good Molecules Niacinamide Serum 30ml, P375, BeautyMNL

Cleanse with gentle facial wash.

To get dewy skin, you must maintain proper oil-moisture balance so you must avoid these two mistakes: Washing with a cleanser that leaves your skin dry and taut. (This means it's too harsh for your needs). Over-washing your face may also lead to damaging your skin barrier.

Go for a cleanser that doesn't contain sulfates or one that says pH balancing on the label. These will get rid of the dirt beneath the pores without stripping away your skin's natural moisture.

BYS Skin Skin Extra Gentle Milk Jelly Cleanser 100ml, P499, Watsons

ADVERTISMENT - CONTINUE READING BELOW ↓





Bio-Science Bio-Water Foamy Cleanser for Sensitive Skin 100g., P319, Lazada

ADVERTISMENT - CONTINUE READING BELOW ↓

Prep with a hydrating toner that's made for your skin type.

Some may think of skipping this step, but if you're serious about getting dewy skin, you better listen: A hydrating toner will prep your skin to take in all the active ingredients from your serums and creams. Pat the toner on your face with clean hands to wake up the blood circulation and gently hydrate the skin. Think of this as a splash of water for your skin.

Hada Labo Hydrating Lotion 170ml, P685, Lazada

ADVERTISMENT - CONTINUE READING BELOW ↓





Kiehl's Rosewater Toner - Limited Edition Rose Hydrating Toner 230ml, P2,425, Lazada

Know the difference between hydrating and moisturizing products.

This one is a bit tricky because we've interchanged them all our lives. According to dermatologist Dr. Maika Stalensek, "Moisturizers are made of oil-based ingredients, including occlusive agents." She said that these act as a seal on the surface of the skin that prevents water from escaping. They also make the skin feel smoother and less dry. Basically, moisturizer sits on top of the face to "trap" the moisture. Products with petrolatum or mineral oil and emollients like esters and plant oils are commonly found in moisturizers.





A'pieu Madecassoside Cream, P725, BeautyMNL

ADVERTISMENT - CONTINUE READING BELOW ↓

Hydrators, on the other hand,  have ingredients called humectants. These "absorb water from the atmosphere or your skin and hold it in place on your skin," Dr. Maika explained. Look for products with glycerin or hyaluronic acid if you're into hydrating products.





(Great for Oily Skin) Isntree Hyaluronic Acid Aqua Gel Cream 100ml, P1,000, BeautyMNL

ADVERTISMENT - CONTINUE READING BELOW ↓

(Great for Brightening) Happy Skin Hyaluronic + B3 Boost Water Cream 50g, P999, Lazada

Exfoliate with acids.

To get a smoother skin texture and even skin tone, it's essential to exfoliate your face with acids. AHA (or glycolic acid) is a wonderful ingredient that gently peels away layers of dead skin cells and fades discoloration. (It does a glow job so well!) Another option would be lactic acid, a gentler formulation that can also micro-exfoliate skin.

Keep in mind that you should ease into using these ingredients to prevent redness. These are micro-exfoliating components, aka they slowly renew the skin. Remember to always wear sunscreen in the morning to prevent irritation.

COSRx Refresh ABC Daily Toner - AHA BHA Vitamin C (150ml), P790, BeautyMNL

ADVERTISMENT - CONTINUE READING BELOW ↓

Ole Henriksen Glow2OH™ Dark Spot Toner, P1,770, Spehora

ADVERTISMENT - CONTINUE READING BELOW ↓

Learn to love facial massages.

Having a healthy complexion means the blood properly circulates on the face. You can ~*activate*~ your rosy glow by doing face massages! You can use your hands, jade roller, or gua sha—whatever appeals to your lifestyle. This practice also helps prevent the skin from sagging prematurely.

Use makeup with skincare benefits.

Dewy skin habits also extend to your makeup routine! You're so lucky because there are a lot of brands that release makeup products enriched with skin-loving ingredients like hyaluronic acid and plant extracts, Wearing skincare-makeup hybrids are look and feel good on your skin!

Choose skin tints, tinted moisturizers, and water-based foundations.

Lightweight bases like skin tints, tinted moisturizers, and water-based foundations create a second-skin finish: It looks natural and it makes the skin even-toned and supple.

Issy & Co. Active Skin Tint SPF 35, P499, Lazada

ADVERTISMENT - CONTINUE READING BELOW ↓





Laura Mercier Tinted Moisturizer Natural Skin Perfector, P2,595, Rustan's

Never underestimate the power of creamy highlighters and blushes.

The fastest way to look like a glazed doughnut is by using creamy highlighters and blushes! The best blushes that can fake a post-workout glow are in the shades of pink, berry, and red (yep, I'm not kidding.).





3CE Take A Layer Multi Pot For Lips, Cheeks & Eyes, P1,100, Shopee

ADVERTISMENT - CONTINUE READING BELOW ↓

Don't forget your lips!

Girl, dewy skin must be a complete package. Your lips, like your skin, should be pillowy soft, too! Choose lipsticks with hydrating formulas or go for tinted lip balms and glossy lip tints.

Instagram/colourette_cosmetics

Colourette Colourbalm, P299, Colourette Cosmetics

ADVERTISMENT - CONTINUE READING BELOW ↓

Always have a face mist handy.

To reboot your skin midday, spritz a hydrating face mist on your skin. This will refresh your complexion that's exposed to heat. Easy peasy, right?

Mario Badescu Facial Spray With Aloe, Herbs, and Rosewater 4oz, P595, BeautyMNL

ADVERTISMENT - CONTINUE READING BELOW ↓





January Labs Restorative Tonic Mist 4oz, P865 (Original price: P1,442) Sigla Shop
Short and sweet answer on how to get dewy skin
How to get dewy skin: Skincare essentials
Incorporate products with brightening ingredients in your skincare routine. Exfoliate with acids, use the right moisturizer for your skin type, and always wear sunscreen.
ADVERTISMENT - CONTINUE READING BELOW ↓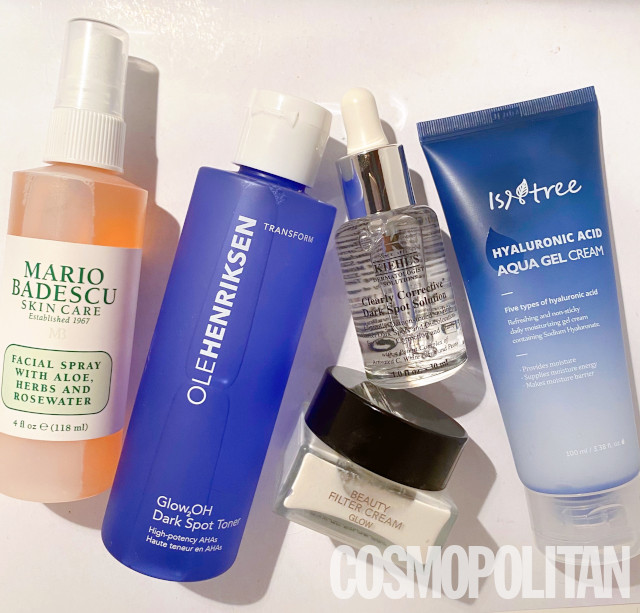 How to get dewy skin: Makeup essentials
Go for lightweight bases for a second-skin finish. Choose creamy highlighters and blushes for a healthy glow. Make your lips look pillowy soft with hydrating lipsticks. A juicy pout is also a good move to get the dewy theme going! Glossy lip tints and tinted lip balms are your best bet!
ADVERTISMENT - CONTINUE READING BELOW ↓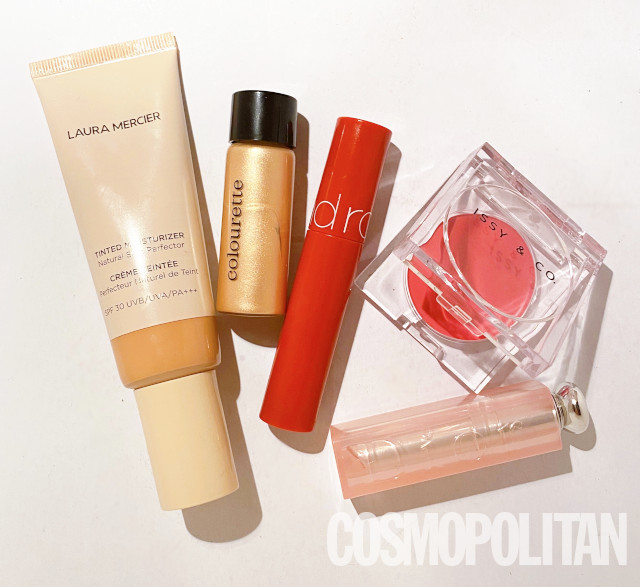 Follow Ira on Instagram.
***
Cosmo is now on Quento! Click here to download the app for iOS, Android, and desktop and enjoy more articles and videos from Cosmo and your favorite websites!
ADVERTISMENT - CONTINUE READING BELOW ↓
EXPLORE COSMO