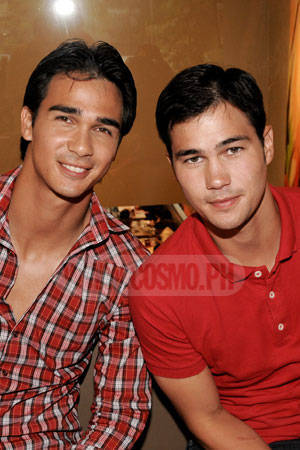 Phil Younghusband is always a celebrity to swoon over, whether it's because of his ongoing romance with actress Angel Locsin; his moves on the pitch for the ever-popular national football team; or his forays into coaching, public speaking, and mall and school tours to promote the sport that he loves.

Besides championing sports on and off the field, another advocacy Phil pushes for is healthy eating, which he does as a Kenny Rogers Roasters endorser.

"Eating right and choosing the right food is a choice that everyone can and should make," Phil explains. "Health and fitness are so important and we want to show that despite being busy, it's still important to balance your life by eating right and exercising regularly."

Along with brother and fellow Azkal Phil, James Younghusband continues to enjoy growing celebrity status in the Philippines through his football skills and his commitment to empowering Filipinos through sports.

Older by 11 months than his brother, James is often seen as the quieter one, although he came to local attention earlier than Phil when he arrived from the UK to play for the national football team in 2005. James shares more than his brother's skill in sports; he's also all for healthy living, joining Phil as a Kenny Rogers Roasters ambassador last year.

"Living healthy [not only] makes you feel good. It can taste good, too!" he says with a laugh."Personally, with this lifestyle, it makes a big difference when I play football. I can run faster, and I feel stronger on the field," James adds.

Needless to say, the sporty siblings have us sold on a healthy lifestyle! If you, too, want to start eating right, head to Kenny Rogers Roasters and try their meals made especially for the health-minded diner: the Roast Chicken Sandwich--rotisserie chicken mixed with a special salad dressing on romaine lettuce in wholemeal bread; the Classic Healthy Plate--¼ Roast Chicken, Vegetable Salad, Fruit Salad, and Corn Muffin; and the Low Calorie Meal--Grilled Fish, Steamed Vegetables, Garlic Rice, and drink; along with a full assortment of healthy side dishes, salads, and desserts.

And if there's even a chance that we'll bump into these football pro bros at a Kenny Rogers Roasters branch, we are so there.

Launch the gallery to view snaps of Phil and James at the Kenny Rogers Roasters press conference! 
2219