*This set visit and interview was conducted in September 2019, prior to the COVID-19 pandemic.
Last September 2019, I flew out to Seoul to interview Lana Condor and visit the set of the To All The Boys: Always And Forever with a few other Asian press members. We were all told to keep it on the DL, so when friends would ask why I was headed back to Seoul, all I could say was that it was for a press junket. I couldn't even tell that one friend who's a die-hard TATB/Lara Jean/Noah Centineo/Jenny Han fan. But I really, really, really wanted to.
I've been sent to cover K-drama press conferences several times in the past, but I haven't covered a Hollywood junket in a long time. Press junkets for K-dramas have their idiosyncrasies, but I was used to them. I knew the drill.
The TATB junket turned out to be a little more relaxed: We didn't have to send in our questions ahead of time, and instead of a one-on-one on-cam interview, it was going to be a roundtable setup. We also had a free day in between the interview and set visit, which meant we had time to go around, which was nice. (I saw Madeleine Arthur who plays Lara Jean's BFF, Christine, in front of the hotel waiting for a cab on our free day. I was tempted to ask for a selfie, but was too shy to bother her on her day off.)
Continue reading below ↓
Recommended Videos
Mission 1: Lana Condor Interview
I was thrilled I got the chance to meet and interview Lana Condor but was secretly hoping that Noah Centineo would be in Korea, too. Alas, he had already wrapped filming and was not part of the cast that was shooting in Seoul.
On the afternoon of the interview, the Netflix people asked us to meet in the lobby of the hotel. It was a while before we finally headed up to what I shall call the secret celebrity floor, where Lana—and we later found out, Amber Valletta—was staying. Pakkee, our press friend from Singapore spotted Amber as she opened the door of her hotel room. I, sadly, wasn't wearing my glasses so I didn't recognize her and thought I just caught a glimpse of a pretty lady with blonde hair.
Lana, who proved to be charming and lively, was the dream interviewee. Even her habit of saying "You guys!" was endearing. You could tell she was interested in having as meaningful a conversation as one could have with 10 members of the press in the 30 minutes we had with her. Or at the very least properly articulate her passion for the project, Lara Jean, and her role in Asian-American representation in Hollywood.
She also made sure we knew how excited she was to be in Seoul. "I just got this jacket…" she said, referring to the very K-fashion oversized black denim jacket she had on that she nevertheless styled in a decidedly American way. She also mentioned having already gone K-beauty shopping and her experiences of running into Korean Lara Jean stans.
Relaxed as she was though, she was thoughtful throughout the interview. She took long pauses before answering our questions, taking her time and choosing her words carefully. 
After we were done, she was more than willing to take photos with each member of the press. When it was my turn, she looked at my outfit and commented on how I was dressed like Lara Jean! (I didn't do it on purpose, "you guys," but was nevertheless kilig she had noticed what I was wearing). I was also surprised by how much taller she was than I expected! Next to Noah, she always looked über petite. But she was wearing heels, so that may not be the most accurate observation.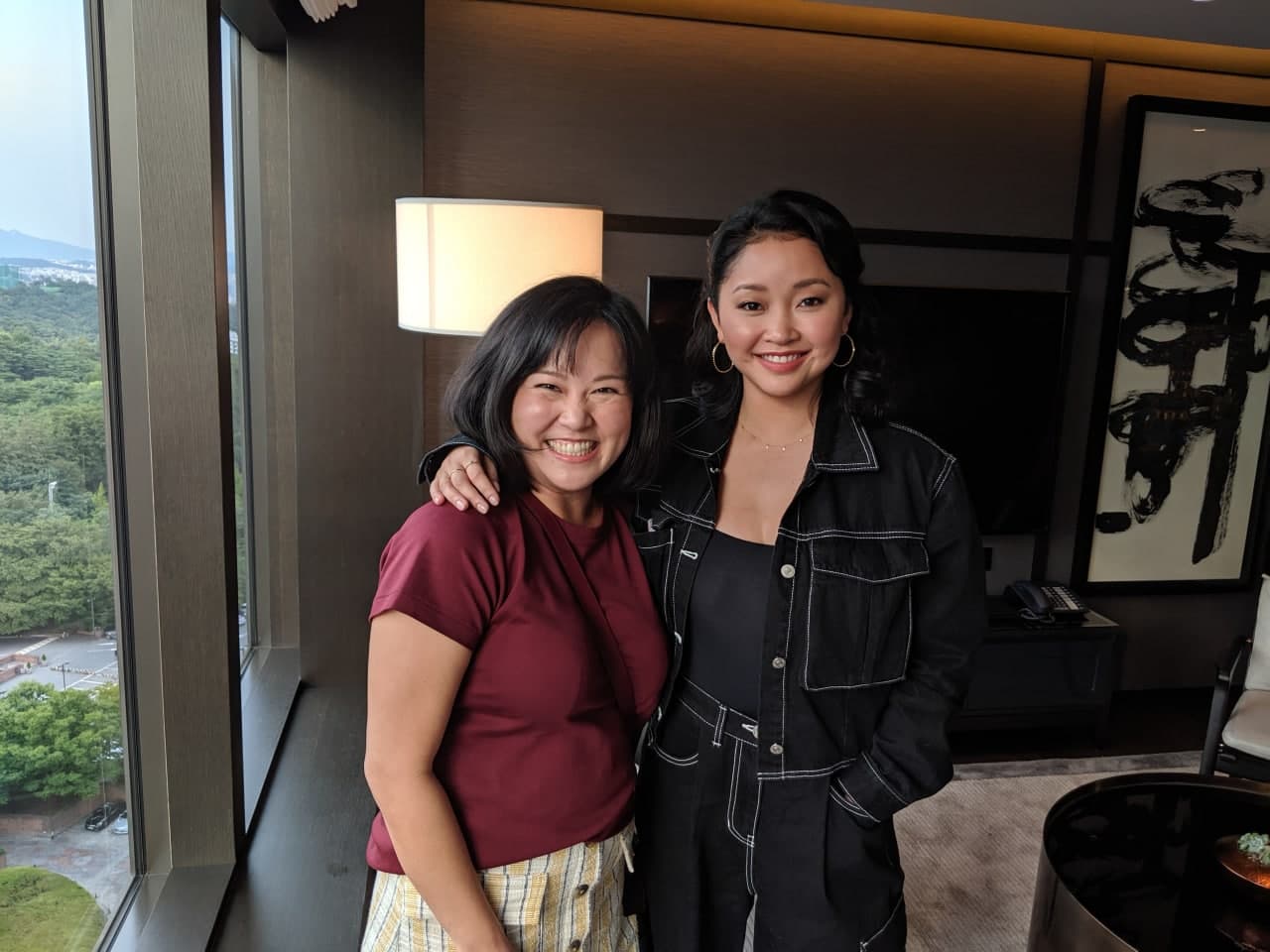 After everyone got their photos ops, she thanked us for spending time with her and waved goodbye the way you would to a bunch of friends you'd invited over to your house for dinner. She was just so gracious.
Then that was it for the day. The next time we saw her was during the set visit two days later.
Mission 2: Set Visit
Prior to the trip, we were sent the itinerary. The Netflix people asked us to keep the evening free on the day of the set visit and to dress accordingly since it was going to be an outdoor, night shoot. But the weather in Seoul was not cooperating, and rain was expected on that evening. So instead of sticking to the original plan, they decided to move the shoot indoors, at noon.
On the day of the set visit, we rode a rented bus to the location—Café Yeonnam-dong 239-20, the famous cartoon café located in one of the quieter neighborhoods of Hongdae. You've probably heard of the café or seen it on IG. It's so popular in fact that during the course of filming, we'd spy locals and tourists who'd come to visit the café, undoubtedly for the 'gram, be turned away by the film crew. (Sorry, guys!)
Because the café was too small to accommodate us (it barely had room to accommodate the cast and crew), we were led to a restaurant right across from it where, along with the soufflé pancake place downstairs, the production team had set up a sort of HQ.
On one side of the restaurant, there was a neat row of chairs in front of two monitors, on which we could see three Korean girls sitting at a table. The production assistant explained that they were the stand-ins for Lana Condor, Janel Parrish (Margot), and Anna Cathcart (Kitty).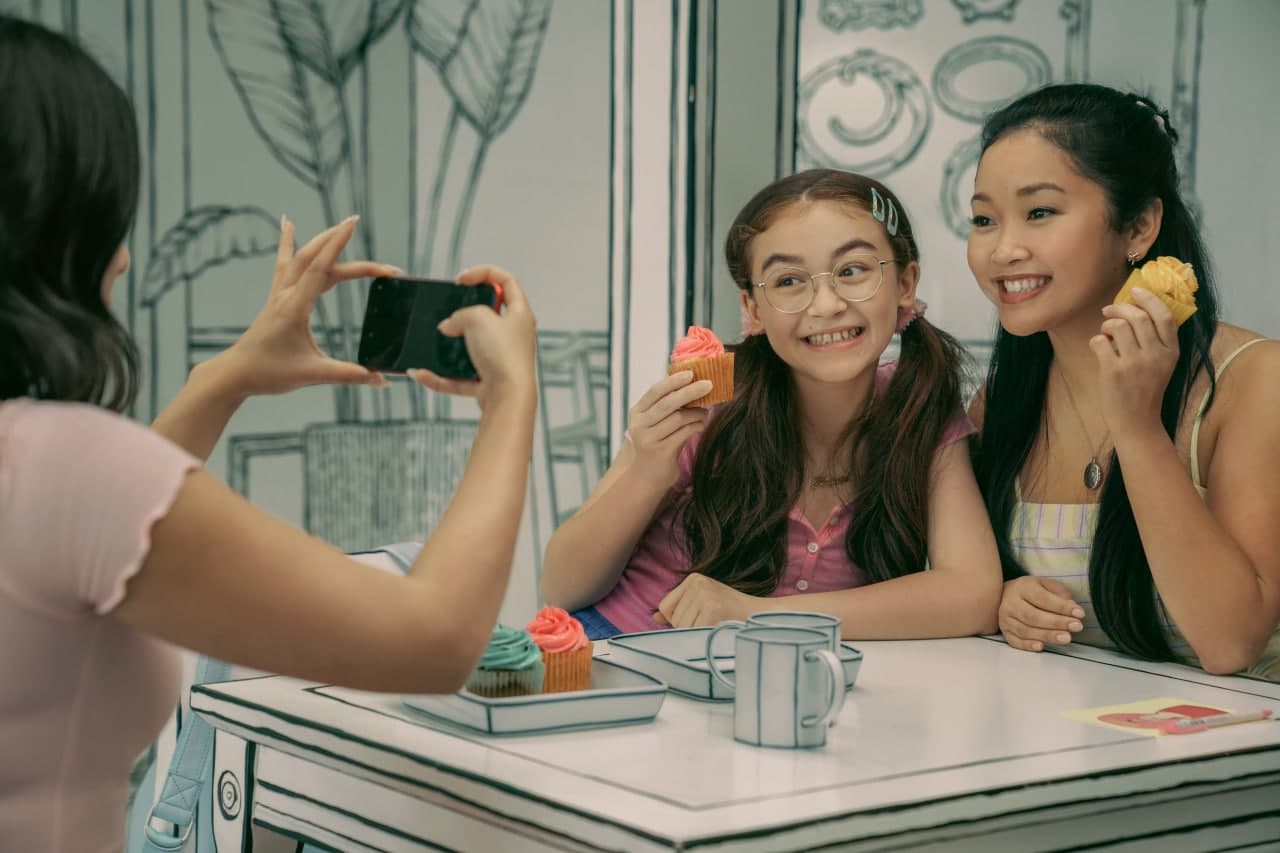 We would be watching a scene from the third movie where the Song-Covey sisters were bonding in a café in Seoul. Lara Jean would be writing Peter a postcard and Kitty would be giving her a hard time about being so sappy.
We were each given the perfect viewing snack. No, not popcorn. This is Seoul after all. Instead, we were served SoTteokSoTteok—skewered Korean hotdogs and rice cakes! It's must-try street food if you're ever in Seoul.
After a while, who should walk in but the TATB series author herself, Jenny Han?! We were all pretty starstruck and after making appropriately awed noises, we pretty much left her alone. I was itching to ask her some questions, but I didn't want to intrude. She was there for a set visit, too. They later told us that she'd been present for the entire filming of the sequel!
After the commotion brought on by the SoTteokSoTteok and Jenny Han's arrival, we were informed that they were ready to start filming. On the tiny screen, we could see that the three Korean stand-ins had been replaced by Lana, Janel, and Anna, in character as Lara Jean, Margot, and Kitty. The first thing I noticed was how much Anna Cathcart had grown since we last saw her!
There weren't enough headphones to go around, so we had to share one, taking turns listening in on the dialogue. It's a good thing film shoots are nothing but repetitive, so we all got a turn with the headphones.
The scene opened with Lara Jean writing Peter a postcard. We knew what she was writing to him via the director's disembodied voice. He was doing the voice-over for Lara Jean while filming, and would later be replaced by Lana Condor's voice-over.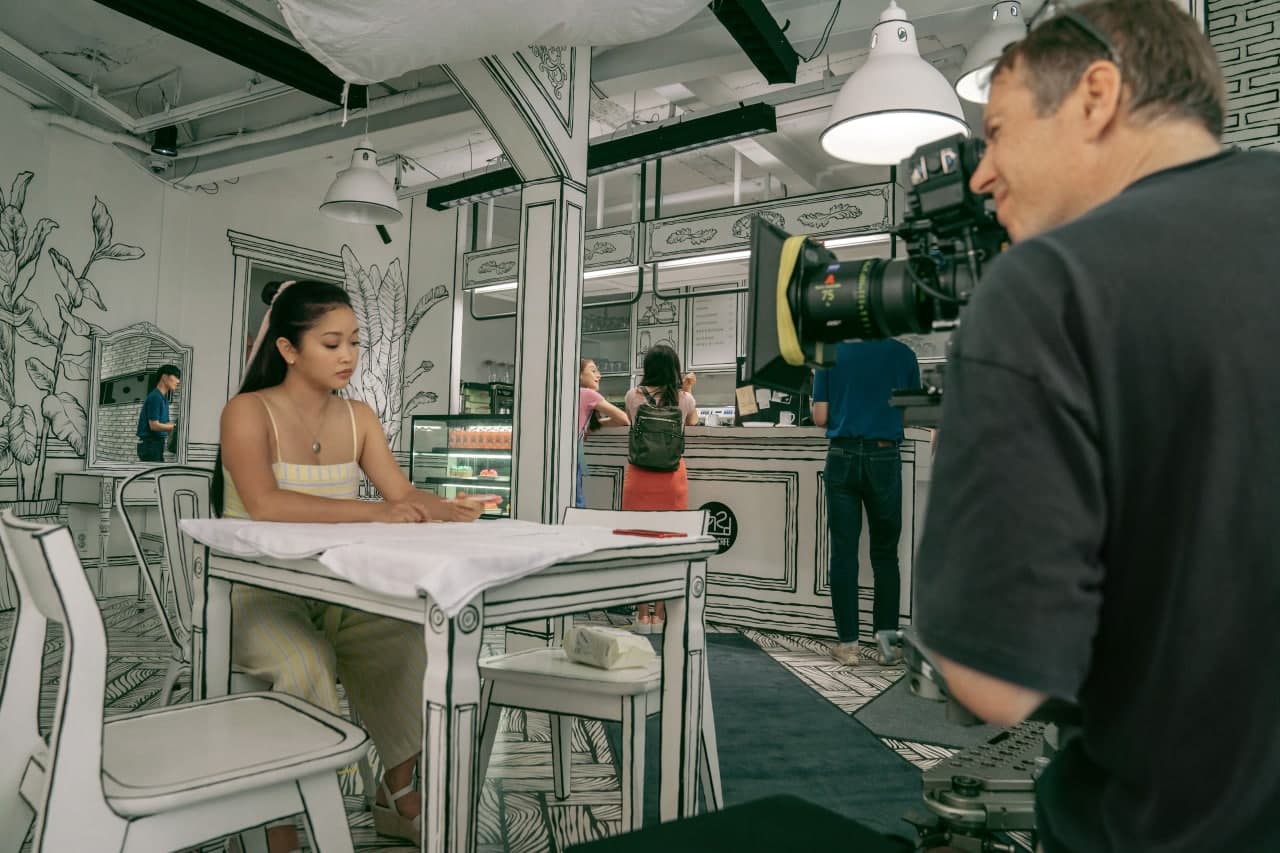 Kitty walks to the table, reads over Lara's shoulder, and sasses her for being so mushy. (Classic Kitty!) Margot then plops down opposite Lara and the three do some sisterly bonding over the most colorful cupcakes I've ever seen. End scene.
We watched as they shot the scene again and again and again. Sometimes the actors would change things up a bit, use the prop (I assumed they were props) cupcakes, without ever actually taking a bite out of them. They'd sniff it or dip their finger in the frosting, but beyond that, the cupcakes remained untouched. Made me wonder if they were even edible.
In between takes, they'd whip out the oil blotter and wet wipes, and there'd be a lot of costume adjustments, hair and makeup touchups, and yawning. Lots and lots of yawning, mostly by Lana and Anna. LOL! To her credit, I don't think I caught Janel yawning once.
During a particularly long break (I think they were setting up a new scene? I'm not sure), they brought us to the set three at a time. I didn't get to see much; there was a huge screen blocking my view, and the stars had been replaced by the stand-ins anyway.
Still, it was pretty interesting to see what goes on behind the scenes of a Hollywood production. It was as busy—and as tiny—as a beehive: There were people adjusting lighting, moving cables, bringing equipment in and out.
On the monitor from which we had been watching the scene, you couldn't tell just how small the space was. I was amazed they got everyone and everything to fit in there! That's movie magic for you, I guess.
We didn't get to see or talk to any of the actresses. We were told they wanted to come out and talk to us, but it was such a hectic set, plus they couldn't walk across to where we were in the rain because they'd get their hair, makeup, and costume wet.
We did get to talk to co-producer Aubrey Bendix before we left though. She stopped by to say hi and answer a few questions.
She talked about how impressed she was with the local crew, calling them phenomenal, how they were unaware they had so many fans in Seoul, and how the support of Netflix meant they could make the fans happier with the sequels and that more people will get to see the movies. 
She also shared that they'd be shooting in around 10 to 15 locations in Seoul, including Myeongdong, Dongdaemun Design Plaza, ChongGyecheon Stream, and Gwangjang Market. "We wanted to see the family outside their comfort zone," she said.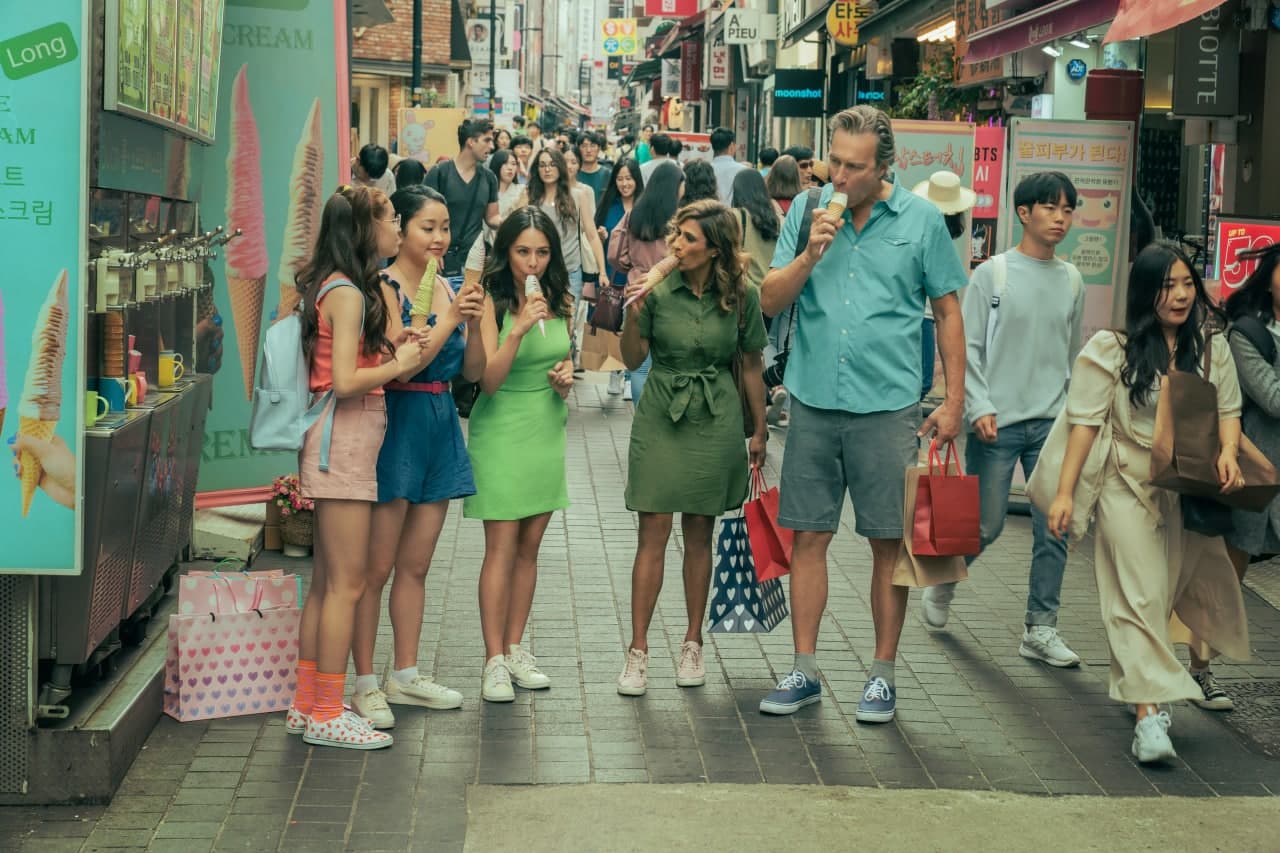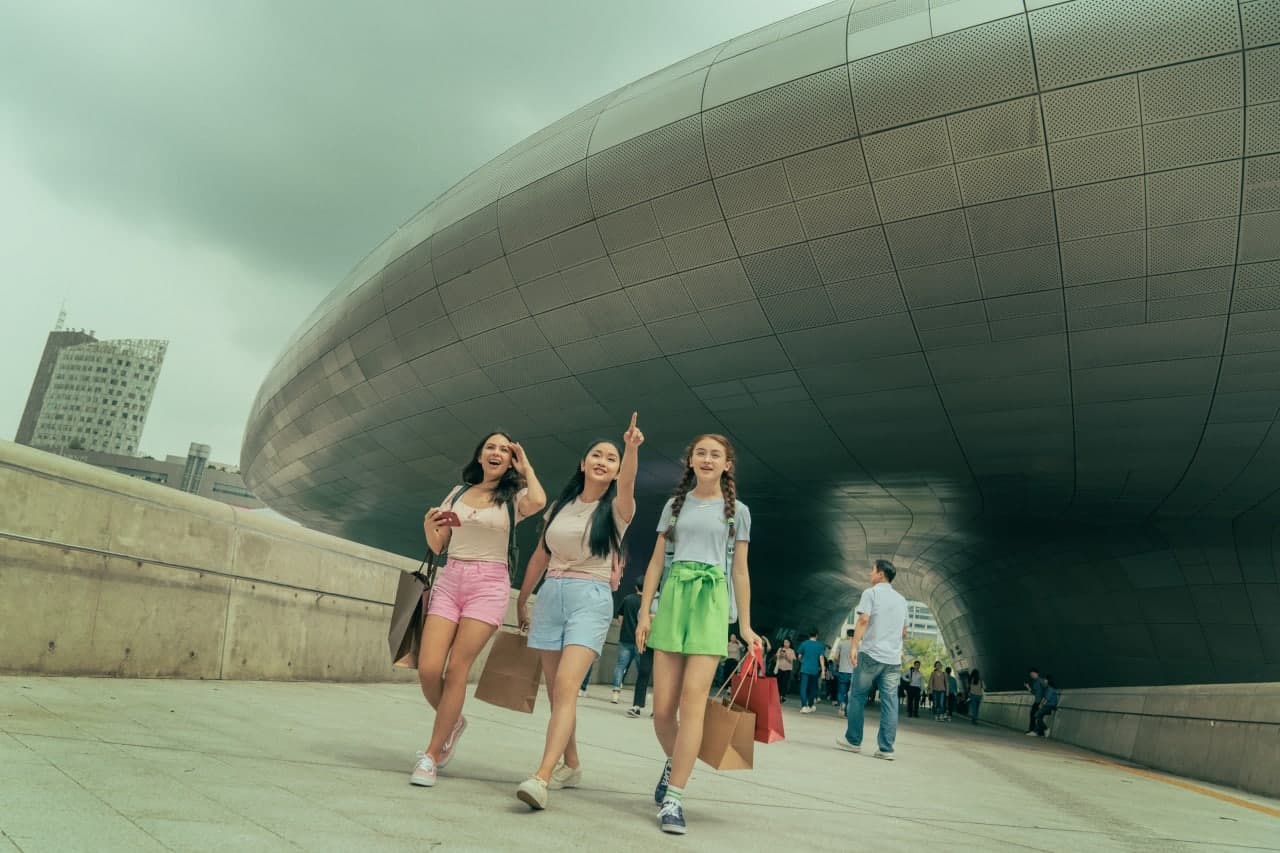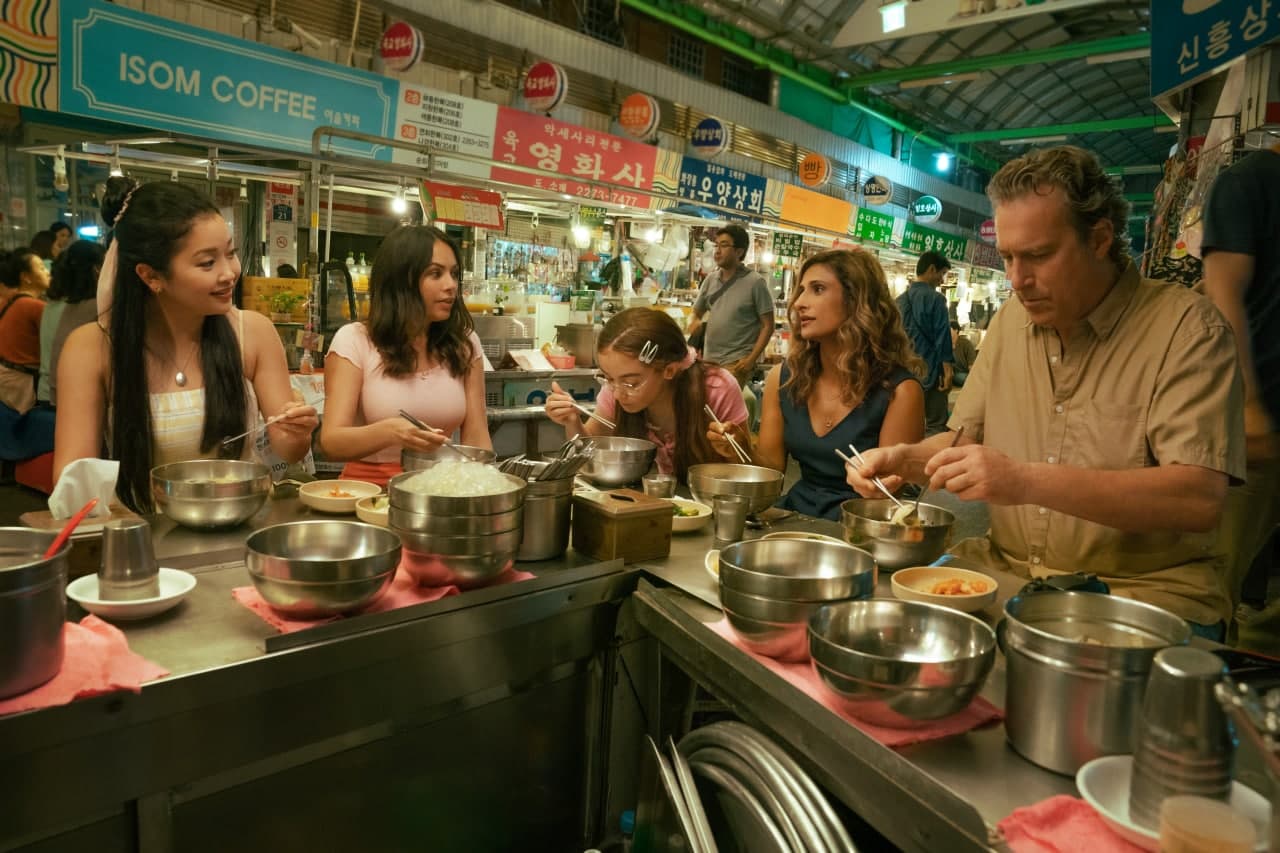 I love Seoul so much, I personally can't wait to see what they filmed and where in the city they went. And I can't wait to find out what happens next for Lara Jean and co.—but mostly what happens to Lara Jean and Peter K!
To All The Boys: Always And Forever is now streaming on Netflix!
Follow Maggie on Instagram.