The first time I had a mental breakdown was during my second year of college. I just came back to school from the Christmas break and my dad, who'd lost his job, told me they might not be able to afford the cost of my living in the dorms anymore. He reiterated it so many times, it seeped into my skin. Then a friend from my dorm, who I had a crush on and kissed the previous semester, got a girlfriend.
I suddenly felt an immense and unknown pressure build up inside me. Insomnia kicked in and I spent my nights roaming the halls of my dorm like a zombie. I stopped going to class and eating—even a banana felt like charcoal slithering down my throat. I thought I would never find joy again. I envisioned myself dropping out of school for the rest of the year and never leaving my bed. As tempting as that was, I sought the help of a therapist, started an anti-depressant, and with the help of friends, took baby steps toward healing.
ADVERTISMENT - CONTINUE READING BELOW ↓
The thing about being in an anxious or depressive spiral is that it feels endless. At 31, I have been through several periods of crisis, which lasted a handful of months to a year, but it's never been forever. No matter how many times my therapist, psychiatrist, hypnotist, family, or friends reassured me, I truly couldn't believe that things would change for me. Yet, little by little they did. One day a shower, the next a walk outside; the following one a yoga class, and so on.
The weirdest part of the pandemic has been that my OCD, anxiety, depression, as well as PTSD have made me well-suited for the life we've been living over the past year. The endurance sport of coping with these issues prepared me for this indefinite timeline that's almost identical to the life I had when I was depressed.
It's been more than a year and we're not sure when (or if) there will be some semblance of normality again—whether that means attending parties IRL, hugging, or going to the grocery store without two masks (which everyone should still be doing, btw). But certain strategies—and the right medication dosage—from the past have helped make the pandemic bearable. And they might help you too.
One of the best pieces of wisdom a psychologist imparted to me was journaling regularly. Every day for months, I wrote down what was on my mind until I started to feel like myself again. During COVID-19, I took that coping habit one step further by working on a book proposal. It's given me purpose, focus, and an outlet for creativity.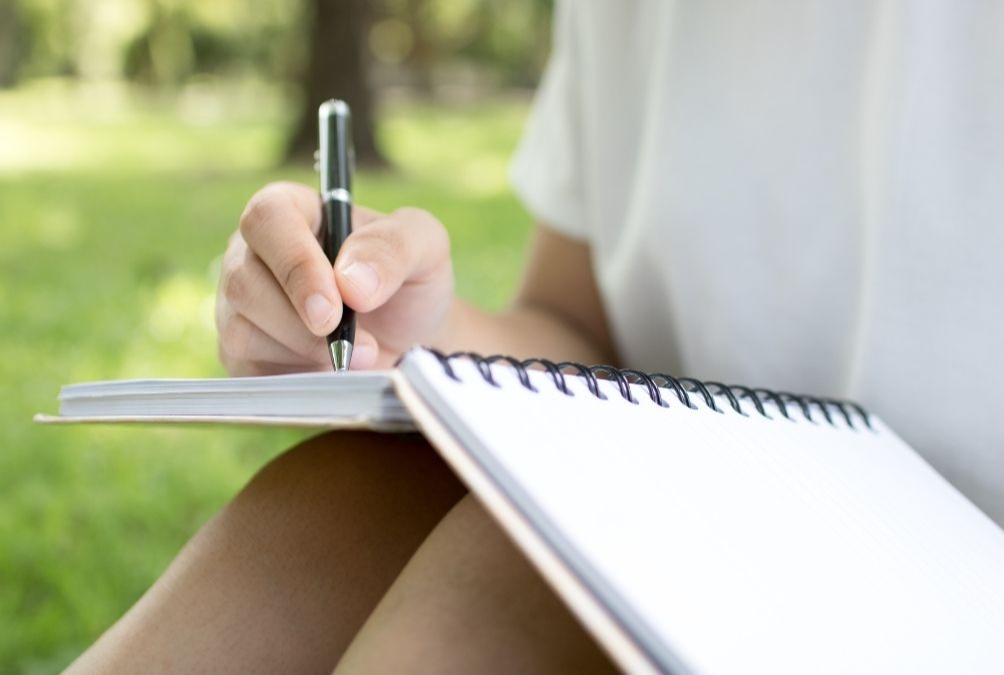 ADVERTISMENT - CONTINUE READING BELOW ↓
Hypnosis has also remained a key strategy for staying sane (something I've written about before). When I was in a time of crisis a few years back, I began doing hypnosis—two appointments per week. Those became more infrequent as I found balance over the years, but with the pandemic, I began doing virtual sessions and listened to recordings nightly to help improve my sleep and calm my anxiety.
In the past, forcing myself to regularly move my body with a 20-minute walk or a yoga class gave me purpose and helped my chemical imbalance. Sure, there have been days this past year where working out felt like genuine torture, but paying for a daily boot camp that requires posting "sweaty selfies" on Facebook for accountability has somehow improved my mood, sleep, and self-esteem. Go figure.
Escapism has also been integral for getting out of my own head. Leaning into hours of TV this past year made me feel like I'd watched every show on every streaming platform (yes, I've subscribed to them all). Still, rewatching my teen favorites like The O.C. and Dawson's Creek is the perfect kind of comfort nostalgia—but any aspirational TV shows that remind me of a more hopeful version of myself will do.
ADVERTISMENT - CONTINUE READING BELOW ↓
All that said, the past year has been a roller coaster of productivity: Some days, I'm going on walks, working out, and nailing a seven-step skincare routine. Others, I'm melting into my bed in a crushing depression.
But regardless of what I do or don't do, I try to give myself some grace. I don't feel that bad about ordering takeout instead of cooking on days when I just can't. And I'm totally fine with the fact that my style has devolved into a rotation of black leggings and my partner's oversizd tees collection (feeling as comfortable as possible is key no matter what happens).
I feel grateful just to know that all of ~this~ isn't permanent. Nothing lasts forever.
***
This article originally appeared on Cosmopolitan.com. Minor edits have been made by the Cosmo.ph editors.