The conversation started when I was 21. I wanted to move out of my parents' house. I don't know why. Maybe because, ever since, may pagka-independent na ako. I like to try new things consistently. So at that time, I asked my dad if I could get my own place, pero tinawanan niya lang ako. I remember we were having lunch when I asked him, and he turned to me, and just scoffed. I said, "Seryoso ako, Pa!" Tapos sabi niya, "Ano ka ba, wala 'yan sa kultura natin." So 'yun. I understood what he was saying. In our [Filipino] culture, it's unusual to move out before marriage. And in our family, we always obey our parents. So I knew I needed to give him time. But when I asked him again at age 23, he reacted the same way. 
Then, five years later, the pandemic happened. In March 2020, I had to start working from home. I was so stressed because, at the time, I had to share a bedroom with my brother and sister—and because we don't have much space at home, that room was also our office. After nun, I started to experience burnout and even depression. I was diagnosed in 2016 and dealt with it on my own. But one day, after some time in quarantine, I just started crying for no reason. And then, every morning after that, I started getting anxiety attacks. I'm very open with my family about how I feel—that's just how I grew up—so they knew what was happening. But they didn't know how to help me. My stress was creating a negative environment for my family, and at the same time I felt like I was choking.
Continue reading below ↓
Recommended Videos
After a few months, I started to think again na, "What if I move out?" I was browsing through Facebook Marketplace and saw that because of the pandemic, rent was lower than usual. I had to really think of my budget because I knew I wanted to keep contributing to my parents—who are one year away from becoming senior citizens—while paying for my own space. Pero as I thought about it, feeling ko, makakaya naman. I know it's good to plan, but at the same time, I think sometimes you just need to go out there and jump.
My stress was creating a negative environment for my family, and at the same time I felt like I was choking.
So in June, I decided to rent my own place. And with a heavy heart, my dad agreed.
I ended up choosing this apartment because it's very close to my family and my work—both of which are in Makati. One of the main reasons I chose to stay in this city is because I don't have a car. Rent is cheaper in other cities, but transpo is more expensive if you have to commute to Makati every day. And if ever matawagan ako sa work or we return to working in the office, I can save on transpo by walking.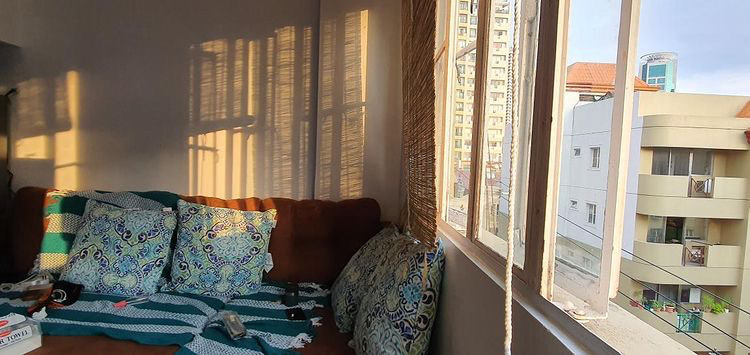 Also, in this situation, I can still visit and take care of my parents regularly. At the beginning of the pandemic, ang tigas ng ulo nila about staying inside. I volunteered na ako nalang yung lalabas ng bahay, but sometimes I would wake up and realize, namalengke na pala si mama. Or my dad would want to exercise outside. We really had to come up with a system to get them to stay in the house. Thankfully, we did. Now, living in my own place, I'm less stressed about exposing them to the virus when I have to go outside. And at the same time, I'm still close enough to be there for them.
Even though I sometimes feel lonely being by myself, especially since I haven't dated or seen a lot of my friends since before lockdown, this is a good situation for me. I am a natural introvert with high walls. Hindi naman sa mahirap ako makipagsama sa iba, but I prefer not to live with roommates because I want a place I can be completely comfortable. When I have a bad day, I can rant out loud without affecting anyone. Or I can cry it out by myself.
When I have a bad day, I can rant out loud without affecting anyone.
For me, this decision, and this apartment, is ideal. And it is for the long haul.
Moving out: Here is my monthly breakdown of expenses:
Rent: P18,000
This is a two-bedroom unit in Makati. So my parents can visit and stay in the guest room if they want to sleep here.
Association dues: P2,300
Phone: P3,700
Internet: P1,399
The hardest part of moving out was getting my internet connected. I rented my apartment in June, but the internet wasn't connected until October. So I couldn't live in my unit for the first four months.
Electricity: P1,000
I only turn on the air-con in the guest room when my parents stay over. Otherwise, I use my fan and windows only to save on electricity.
Water: P300
Groceries: P5,000
I only do one big grocery trip per month, after all of my other bills are paid. If I need to save money, it gets taken out of my food. But I have learned to save on groceries by buying frozen food that lasts a long time in storage, and also going to the palengke for fresh food since it's much cheaper there than a grocery store. I also had to learn to cook better so I don't eat out.
Hindi ako magaling sa advice, but my one tip for those deciding to move out is: Consider your budget and plan in advance. Kailangan mo alamin yung pagpasok at paglabas ng pera mo. I used to love shopping for new clothes. Or if I saw something online that I like, like a mug or a ceramic bowl, I would just buy it for myself without thinking about it much. But because I have more expenses now, I can't spend like that anymore. I have to resist things I want. And for things I need, I first ask my parents if they have something I can use. When you move out, you have to be prepared to always ask, "Do I want it, or do I need it?"
***
What does your zodiac sign say about you? Subscribe to Cosmopolitan Philippines and find out!
Follow Pauline on Instagram.