It's evident how BTS has taken the world by storm over the years: From their chart-topping songs, millions of YouTube views, sold-out concerts, and many more. We even learned that an ARMY would spend an average of P68,725 on BTS merch!
Because of their massive popularity, international brands line up to have their products endorsed by BTS. And what's the result once they partner with a certain brand? Interest (along with sales) will skyrocket, of course! Before we proceed to the Philippines' top BTS bias, let's first discuss the group's brand power in the country.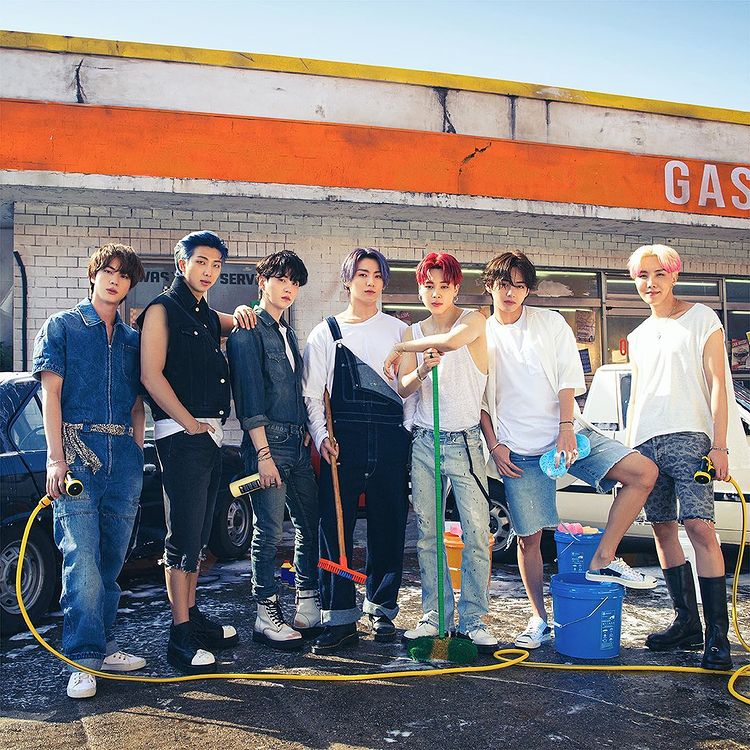 ADVERTISMENT - CONTINUE READING BELOW ↓
In the latest study of iPrice group, six of BTS' endorsements in the past three years made it to their list of influential brand collabs. This includes Tokopedia, Coca-Cola, Louis Vuitton, Fila, Mcdonald's, and Samsung. The study further added that "Google searches on a brand can surge more than 2x after a collaboration with BTS."
The septet's collaboration with Samsung in July last year is their most successful one to date, with a 73% rise in the brand's Google searches compared to 2019. This isn't a surprise since the stunning BTS edition of the Galaxy S20+ is definitely a collector's item.
Second on the list is BTS' most recent endorsement with McDonald's—which earned the fast-food chain a 47% surge in interest. It's also worth noting that Mcdonald's Philippines' Mcnuggets sales increased up to 1000% thanks to The BTS Meal!
The group's Coca-Cola and Louis Vuitton collabs also saw significant growth in interest, with 127% for the beverage company, and 65% for the luxury band. This is in comparison to the same period in the previous year.
However, BTS' partnership with Fila didn't see as much success. It did garner a spike in interest, but compared to 2018 when they released the Fila Disruptor 2, the search number is actually 54% lower.
Also included on the list is BTS' endorsement with Indonesian shopping site, Tokopedia, with an increase of 98% on Filipinos' searches. It also climbed by 255% in 2020. Here's a visual graph for your reference: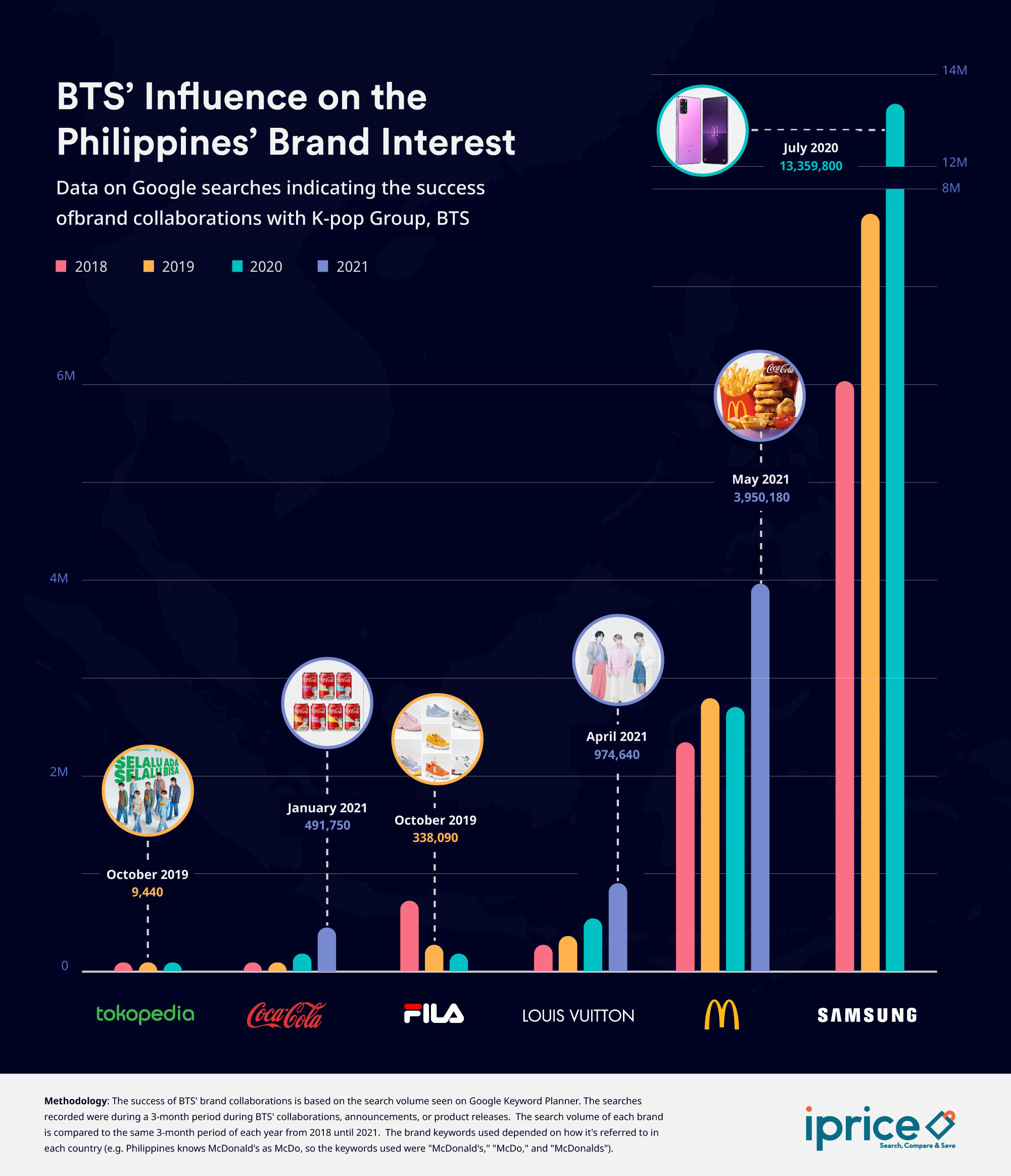 ADVERTISMENT - CONTINUE READING BELOW ↓
Now, for the moment you've been waiting for: The Philippines' top BTS bias. In case you're new to the fandom, a bias means your favorite group member. But...it's hard to choose one from our boys, right? Especially that each of them has their own unique charm!
iPrice's research says that our country's number one bias is...our maknae Jungkook! He's followed by V and Jimin. As for the entire Southeast Asia, Jungkook and V are at the top two, though they may switch ranks.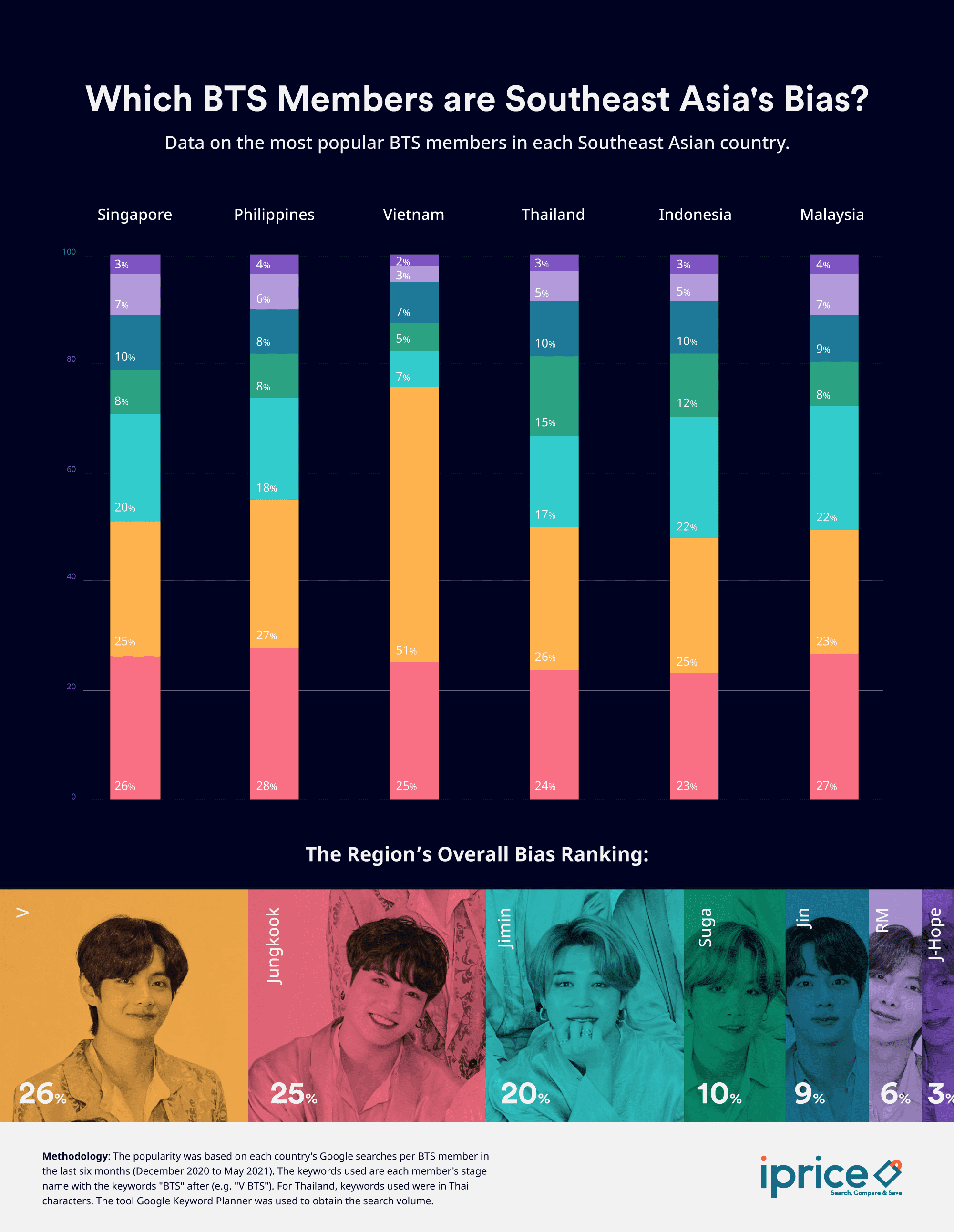 ADVERTISMENT - CONTINUE READING BELOW ↓
Who's your ultimate BTS bias? Let us know in the comments!
Follow Hanna on Instagram.