I have a confession to make: When I was assigned to write this article, my first thought was, "Who is Kim Ji Hoon again?" Thankfully, it didn't take too long for me to realize that OMG, we're talking about the *hot*, long-haired Adonis that is Kim. Ji. Hoon.
Admittedly, I have a lot of catching up to do on Kim Ji Hoon's filmography. I've only seen him in Flower Of Evil where his character was this very sinister antagonist. But I was drawn enough to look him up on Instagram and boy, was I in for a treat. Ji Hoon's long locks are totally a distinct feature that suits him super well! He's also one fit fashionista and his Instagram feed looks like a lookbook page straight out of a fashion magazine.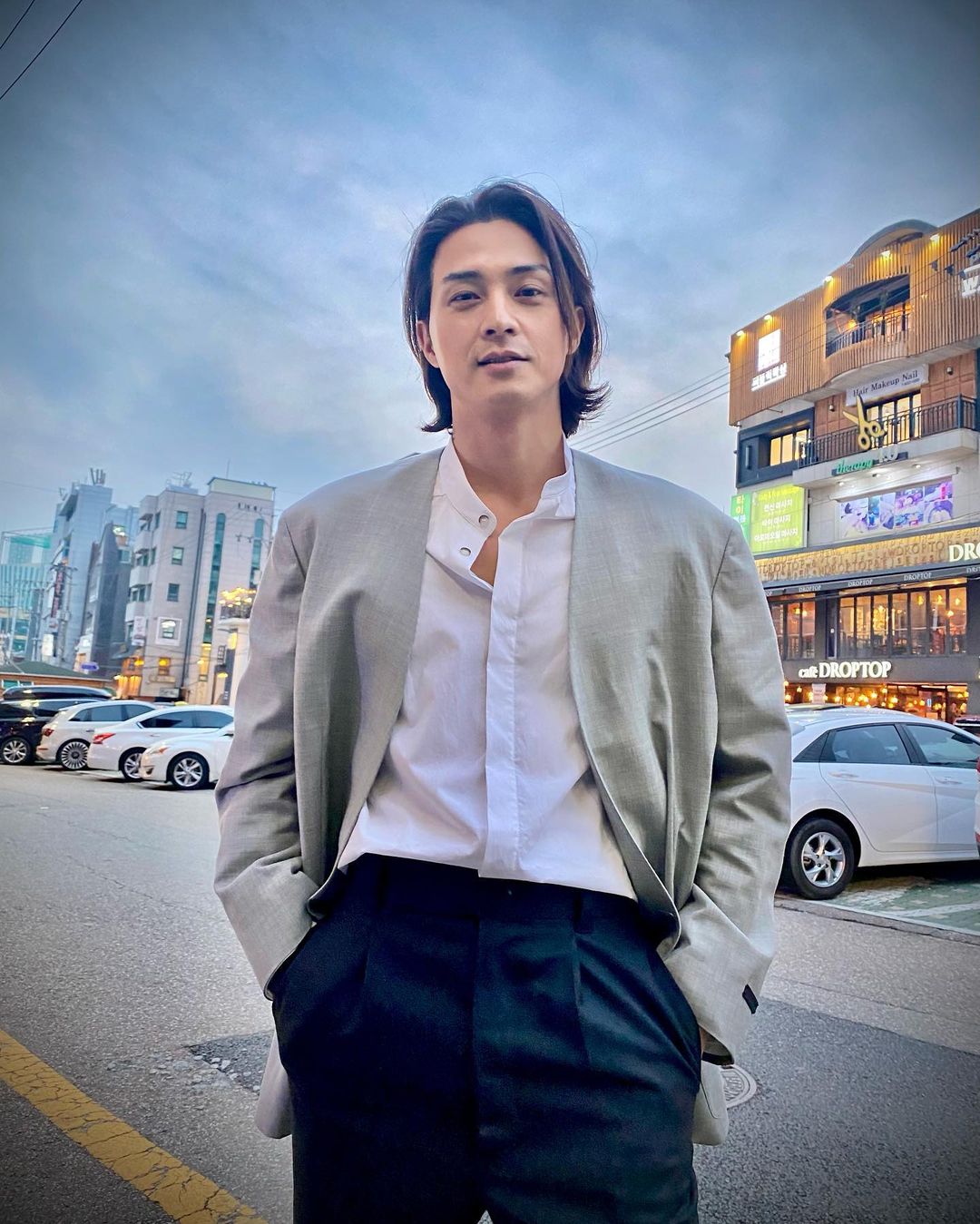 I've come to learn that this Taurean was once an SM Entertainment trainee poised to become an idol. Instead, he made his acting debut in the KBS series Loving You back in 2002. From then on, he has proven his acting chops and to date, he already has close to 30 TV series titles under his belt. His next project is the highly-anticipated Korean version of the famous Netflix series, Money Heist. So as we eagerly anticipate his acting comeback in Money Heist: Korea - Joint Economic Area…
Here are 5 Kim Ji Hoon dramas you should add to your watch list:
1. Daughters-In-Law (2007)
Who else is in it: Lee Soo Kyung, Lee Pil Mo, Seo Young Hee
Apparel company employee Jo Mi Jin (Lee Soo Kyung) marries Lee Bok Soo (Kim Ji Hoon) who is the son of a family that owns a 60-year-old jokbal restaurant. The show follows the life of Mi Jin as she now juggles her responsibilities as an employee and as the new daughter-in-law of an otherwise traditional family. As an only son, eldest child, and a Seoul National University graduate, we can only imagine the heavy burden of expectations the family also has on Bok Soo. We see how he and Mi Jin overcome their struggles together in this slice-of-life drama that earned them the Best Couple award and Ji Hoon his first-ever Best New Actor award at the 2007 KBS Drama Awards.
Continue reading below ↓
Recommended Videos
[Drama Trailer] Daughters-in-Law
2. Goddess Of Marriage (2013)
Who else is in it: Lee Tae Ran, Lee Sang Woo, Nam Sang Mi
Like everyone else, Ji Hye (Nam Sang Mi) dreams of meeting her soulmate. In the back of her mind, though, she couldn't help but wonder if her ideals will ever match up to reality. Well, she'll finally get to answer her own question as she meets Kang Tae Wook (Kim Ji Hoon), a prosecutor hailing from a moneyed family, as well as Kim Hyun Woo (Lee Sang Woo) who is an architect. Cue "Sino Ang Pipiliin Ko?" by KZ Tandingan, please.
Fun fact: For his role as Kang Tae Wook, Kim Ji Hoon bagged the Excellence Award for the actors in a weekend/daily drama category at the 2013 SBS Drama Awards!
TRAILER GODDESS OF MARRIAGE
3. Jang Bo Ri Is Here (2014)
Who else is in it: Oh Yeon So, Lee Yu Ri, Oh Chang Seok
Bo Ri (Oh Yeon Seo) hails from a family renowned for making exquisite hanbok. However, one fateful night changes everything and young Bo Ri is separated from her parents. She is taken in by a poor woman who begrudgingly raises her together with her own daughter, Min Jung (Lee Yu Ri). Years later, Bo Ri finally reunites with her own family and is bound to be the successor to their business but Min Jung is determined to take what is rightfully Bo Ri's. Kim Ji Hoon plays the role of Lee Jae Hwa, who is the childhood friend of Bo Ri. They lose contact due to the incident that night but end up meeting each other again as complete strangers years after. Ji Hoon's role in this rom-com/family drama earned him praises, most notable of which were the Excellence Awards from the 3rd APAN Star Awards and the 22nd Korea Culture and Entertainment Awards.
Fun fact: Due to the show achieving high viewership ratings, Kim Ji Hoon fulfilled a promise he made to fans and danced to EXO's "Growl." Looks like his SM training isn't put to waste after all these years.
Live with a ring in one's hand
4. Flower Of Evil (2020)
Who else is in it: Lee Joon Gi, Moon Chae Won, Seo Hyun Woo, Jang Hee Jin
Craftsman Baek Hee Sung (Lee Joon Gi) seems to live the perfect life. But when his wife Ji Won (Moon Chae Won), who is a detective, lands on one peculiar case, she starts going down a dark path that intertwines with her own trophy husband. Hee Sung, it turns out, has more to him than meets the eye. And as another Baek Hee Sung (Kim Ji Hoon) comes into the fray, one couldn't help but ask: Will the real Baek Hee Sung please stand up?
I kid you not when I say that Kim Ji Hoon's role here is eerily creepy. He's hot as hell, but freaking creepy too! He played the role so well that he earned a nomination for best supporting actor at the 57th Baeksang Arts Awards!
FLOWER OF EVIL Trailer | Lee Joon Gi, Moon Chae Won | Now on Viu
5. Money Heist: Korea - Joint Economic Area (2022)
Who else is in it: Park Hae Soo, Yoo Ji Tae, Jeon Jeong Seo, Lee Hyun Woo
The Professor (Yoo Ji Tae) is planning to execute the biggest heist in South Korea and he needs the best team possible for the job. Kim Ji Hoon plays the role of Denver. In the Spanish version, Denver is the son of Moscow who joined the team due to issues he was having with some drug traffickers. I'm curious to see how much of the original will be carried over to the Korean remake, but one thing is for sure: The role is so important to Ji Hoon that he spent most of 2021 focusing and honing his craft to make sure he gives Denver justice.
Money Heist: Korea - Joint Economic Area | Official Trailer | Netflix
MORE K-DRAMA ROUNDUPS FEATURING YOUR FAVORITE ACTORS:
8 Yoon Chan Young Dramas And Movies That You Can Stream Right Now
8 K-Dramas To Watch If You're A Fan Of Nam Yoon Su
8 Kim Sung Cheol K-Dramas To Watch Because We Know How Much You Love Him
K-UPDATES