Have you ever wondered whether or not you're on the right career path?
I've felt that way ever since I received my diploma in Communication. As a writer, I love how my work involves introspection and a creative process. (Not to mention, it pays my bills, too.) But I never realized how much I've tied my identity to work until the pandemic struck and ushered in all kinds of changes.
The biggest of them was my role: I hopped from copywriter and customer service rep, to community manager and project lead with high sales targets. Don't get me wrong; I was grateful for having a job, but I also felt I was moving further away from my goals. My anxiety spiraled out of control until I quit the job I loved for four years.
At 26, I had no solid plan, only time to reflect: Where do I go from here? How do I become a writer again? What if I was being redirected to another path? In my desperation, I prayed, and God answered me in the form of a strengths coach who specialized in workmanship coaching.
ADVERTISMENT - CONTINUE READING BELOW ↓
What is Workmanship Coaching?
Workmanship Coaching uses a strengths-based approach to provide people with a roadmap to self-awareness. Founder and Gallup-certified strengths coach Jjo Vicencio believes everyone has special talents for a specific purpose. And when you know what you can uniquely bring to the table and how to use them in ways that are meaningful to you, you can confront challenges and explore opportunities with confidence.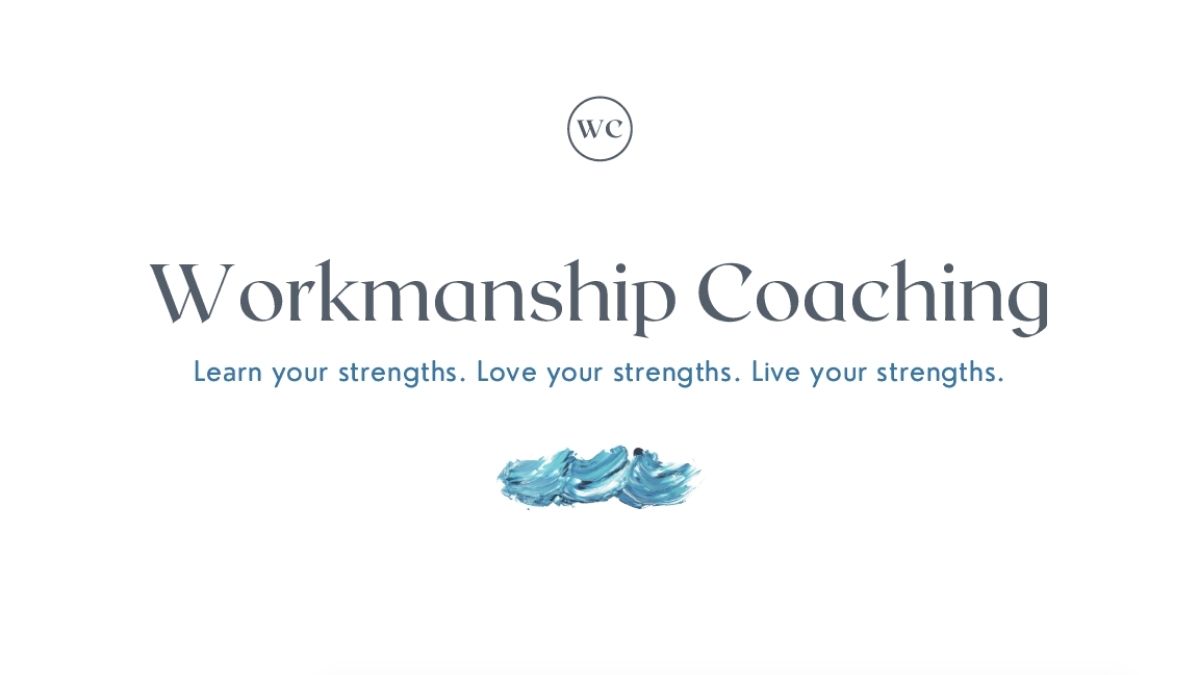 ADVERTISMENT - CONTINUE READING BELOW ↓
Recommended Videos
An honest review of my Workmanship Coaching experience
TBH, I've never done career coaching before because I didn't think I needed guidance. Jjo came to me at a time when I was lost and barely getting by. When she offered me to be one of her first coachees, I took it! Not long after, I began my journey with the four-session package called Foundational Four.
Because everyone has their own goals and profiles, the topics differ from person to person. Mine included a lot of visualization and identifying core values and career options. In general, you'll learn, love, and live your strengths using the Gallup CliftonStrengths framework.
Each Zoom-led session lasts 90 minutes and is scheduled two weeks apart, which gives coachees ample time to absorb, appreciate, and apply the lessons to everyday life. You can sign up for coaching through the inquiry form and request rates, which vary depending on clients' needs. Alternatively, you can follow the official Facebook page to get deets on other services, including packages for managers, teams, and a one-hour ~discovery session.~
ADVERTISMENT - CONTINUE READING BELOW ↓
What I liked most about Workmanship Coaching 
The science behind the assessment tool used is pretty convincing.
NGL, I was skeptical at first. It turns out that CliftonStrengths (formerly StrengthsFinder) has been around since the '90s and is backed by four decades of research in positive psychology. It's like a gimmicky quiz: You won't expect it to routinely go through psychometric examinations, but it does. The results not only describe your personality in more detail than Myers-Briggs but also present tips on how you can improve and capitalize on your top strengths at work.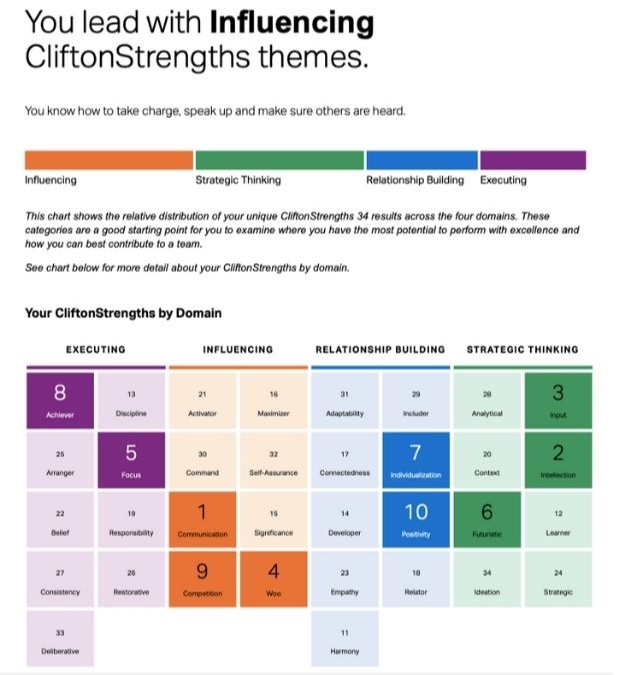 ADVERTISMENT - CONTINUE READING BELOW ↓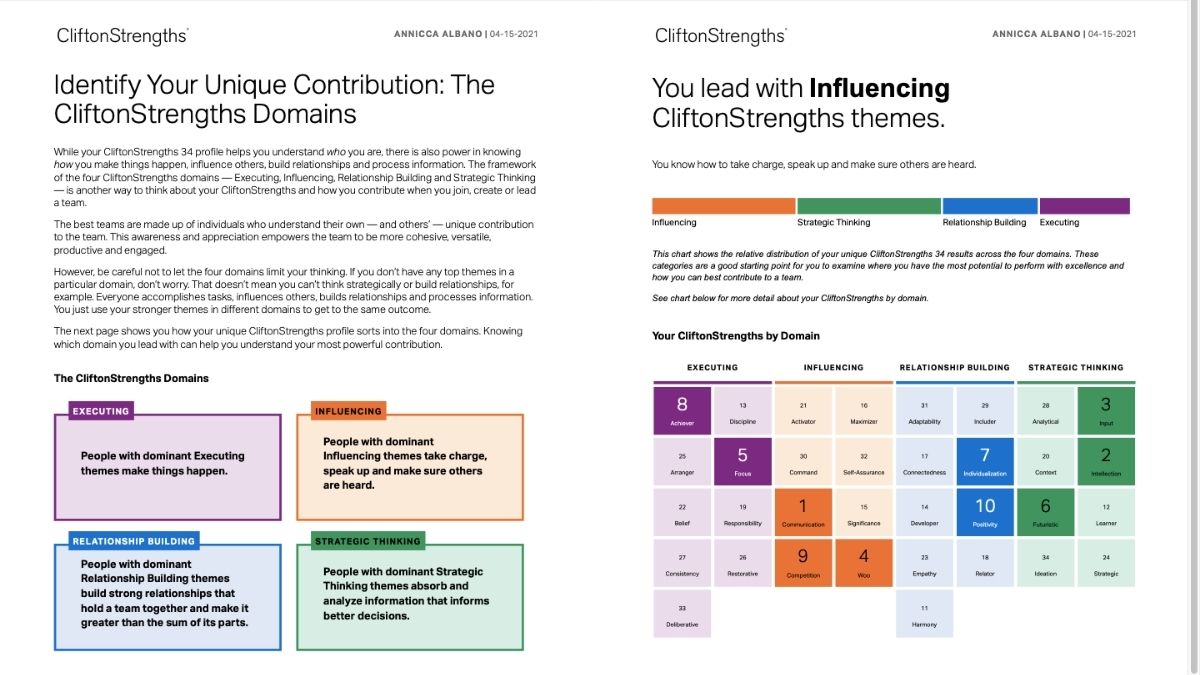 It proves how unique you and others are.
Fun fact: The odds that someone has the exact same top five strengths as you is one in 33 million! It's nice to know that the next time an interviewer asks me what my strengths are, I have an answer. But it's even more comforting to be reminded not to compare myself to others.
ADVERTISMENT - CONTINUE READING BELOW ↓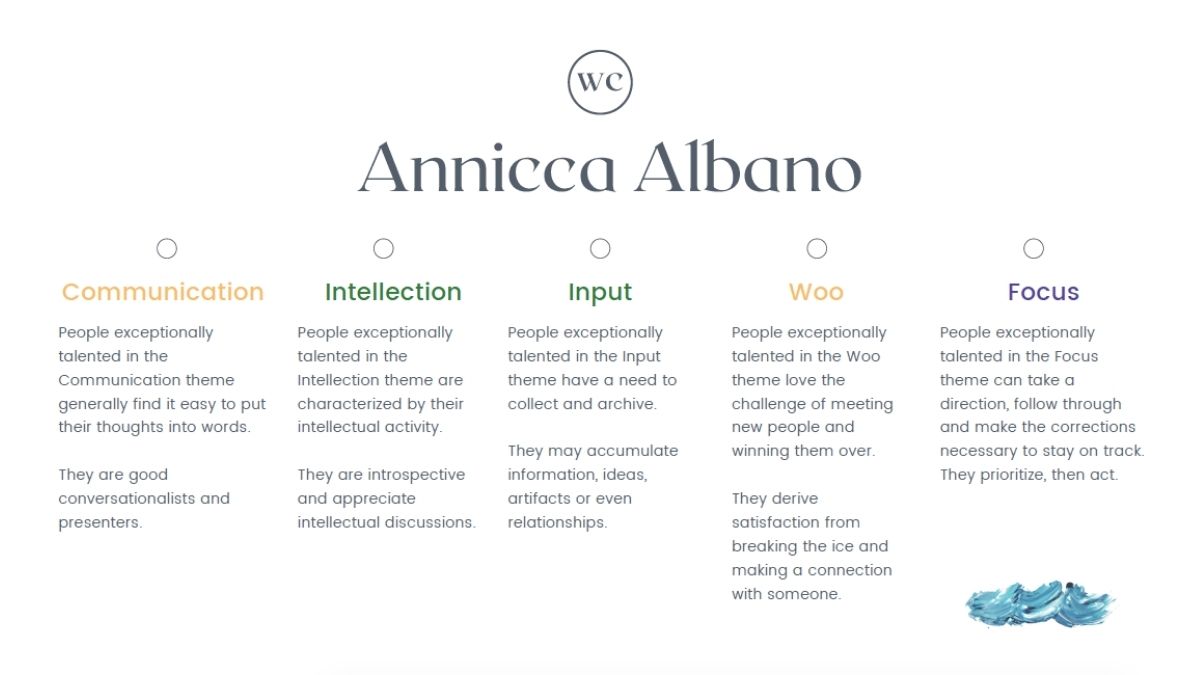 The content of the program is tailor-fit to what you're going through.
Before our first session, I accomplished a background form with questions about the job-related issues I currently face or am about to. I also provided my short-term goals. This allowed my personal coach to handpick activities that would be most beneficial to me.
ADVERTISMENT - CONTINUE READING BELOW ↓
It's nice to know that the next time an interviewer asks me what my strengths are, I have an answer.
You can sign up for continuous coaching.
Since your strengths can be applied in a myriad of ways in several seasons of your life (like promotions or major career shifts), you may schedule additional sessions as needed. There's no limit to the number of sessions you take—only a discount for those who go beyond eight!
The coach is committed to helping you excel in life and enjoy each session.
Even if that means referring you to a different Gallup-certified strengths coach if you're really unhappy. It hasn't happened so far, and it's probably because the first session is dedicated to establishing goals and setting expectations. 
My coach's warm personality and genuine interest put me at ease. Not once did I feel judged as I rambled about my work woes and worries. When I talked about my career aspirations and priorities, Jjo showed equal enthusiasm.
Strengths coaches undergo coursework before they can offer coaching. 
This definitely isn't a coaching scam! With 15 years of extensive experience in human resources, teaching, and training, Jjo can help anyone navigate tricky work situations with the right diskarte based on their strengths. Gallup-certified strengths coaches undergo examinations and evaluations before they can offer coaching.
ADVERTISMENT - CONTINUE READING BELOW ↓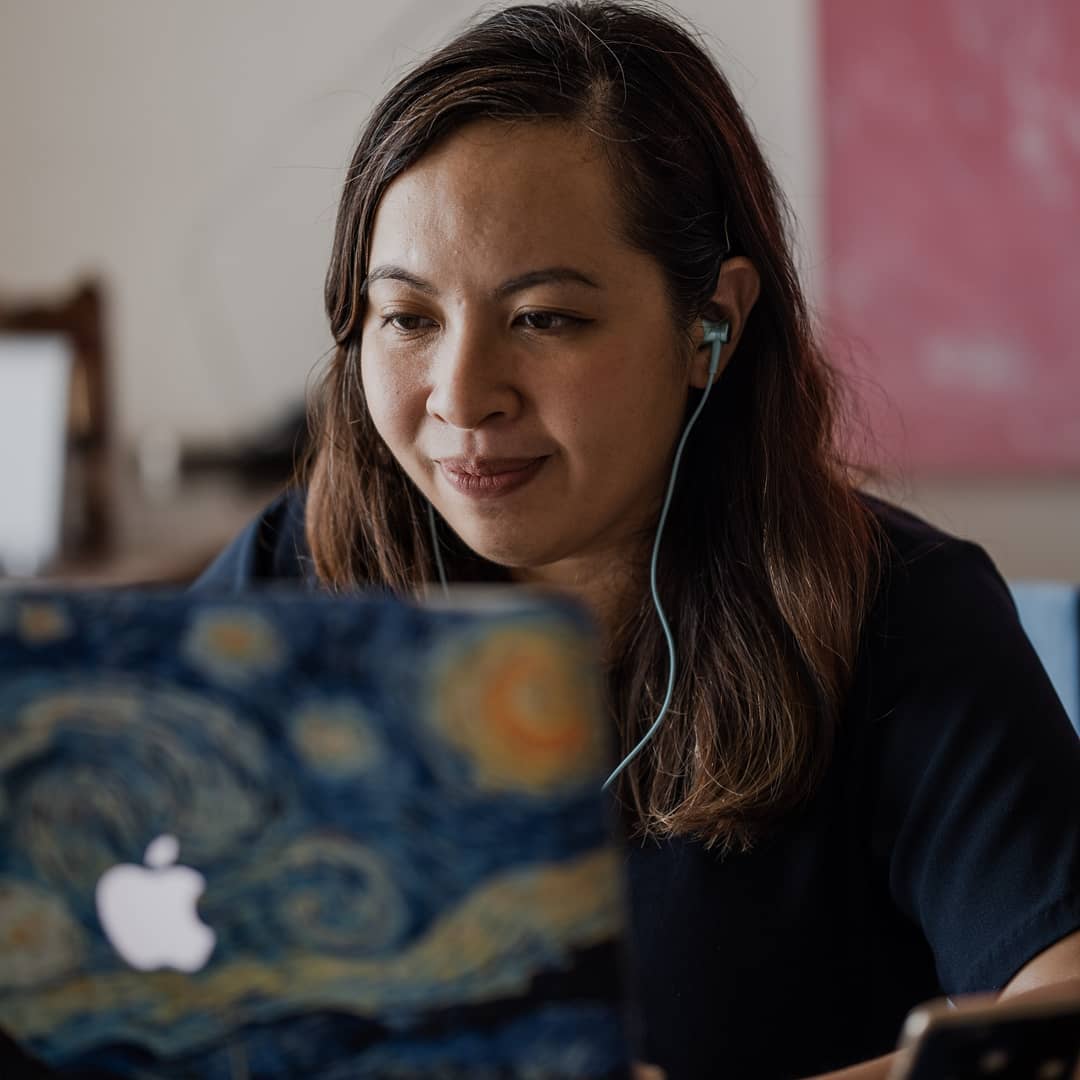 You can share the experience with others.
I did the program at the same time as my bestie and we were surprised at how my results were totally different from hers. It only explains how her strengths complement my weaknesses and vice versa. I wouldn't have known that if she had not given me an upgrade to my full 34 report. Soon, people can send workmanship coaching packages as gifts to their peers or partners, too.
ADVERTISMENT - CONTINUE READING BELOW ↓
There's a community waiting for you.
You can even join their Facebook group and connect with fellow Filipinas. See how others are reinforcing their strengths, attend online events, or share your own insights. Insider tip: An online community exclusive for workmanship coaching is in the works so you can transition from coachee to cheerleader!
What to expect from Workmanship Coaching 
You have to shell out some cash.
Inspired by the Parable of the Talents, Jjo built Workmanship Coaching to encourage Filipinos to discover and experience their passions through affordable packages. While it is not as expensive as the US rate—which can go as high as $250 or P12,500+ per hour, mind you—it's still not free. But hey, it's the best investment you can make in yourself! To make the most out of it, do the exercises seriously and don't hesitate to email your coach whenever if you have questions or updates.
ADVERTISMENT - CONTINUE READING BELOW ↓
For penny pinchers, you can get your Signature Themes (or your Top Five) as part of the Foundational Four package for only P520 (50 percent off). But if you're curious about how to manage or avoid situations requiring your weaknesses—which I found was very freeing—take the full CliftonStrengths 34 for P1,955 (25 percent off). If you are still iffy to commit to coaching, you can buy any of the assessments via Gallup at a regular price.
There's no room for shyness.
FYI, it's sorta like counseling wherein you discuss your past experiences and steps you can take towards self-improvement. (All in the context of career, of course! Relax. It's just you and your personal coach. Feel free to share whatever you're comfortable with.
You'll experience *a lot* of inspirational fluff.
Because the idea is to amplify your strong points, coaches are trained to shower you with encouragement as positive reinforcement. As someone whose self-assurance ranks low, I respond to this well. I dislike feeling attacked and I liked having someone to celebrate my achievements with, even small ones.
ADVERTISMENT - CONTINUE READING BELOW ↓
Prepare for some information overload.
I get it: It's tempting to squeeze in as many topics into the sessions. Be honest with your coach so they could adjust the pacing if needed. (Heads up: There are a few readings but I promise they're far from boring!)
Assignments are not often quick and easy.
You'll do one or two of the recommended actions to tap into your strengths, then share your thoughts in the next session. For example, I started doing morning meditation and journaling to practice intellection. To sharpen my focus, I prepared a presentation on role models I follow and how their achievements can inspire my own.
Over the course of coaching, you'll be told to invest time in your strengths everyday. Why? Because that's how you show up as your best self all the time. Makes sense when you think about mastering a new language or sport!
It doesn't tell you "the one job" for you.
Many turn to a coach hoping to get all the answers to their burning questions. Guilty! Although you'll be able to pinpoint some of the careers that utilize your talents, success is up to you. "We want to help you discover more of who you are, a very unique workmanship, so you can do more of what you were created to do," Jjo told me on the very first day.
ADVERTISMENT - CONTINUE READING BELOW ↓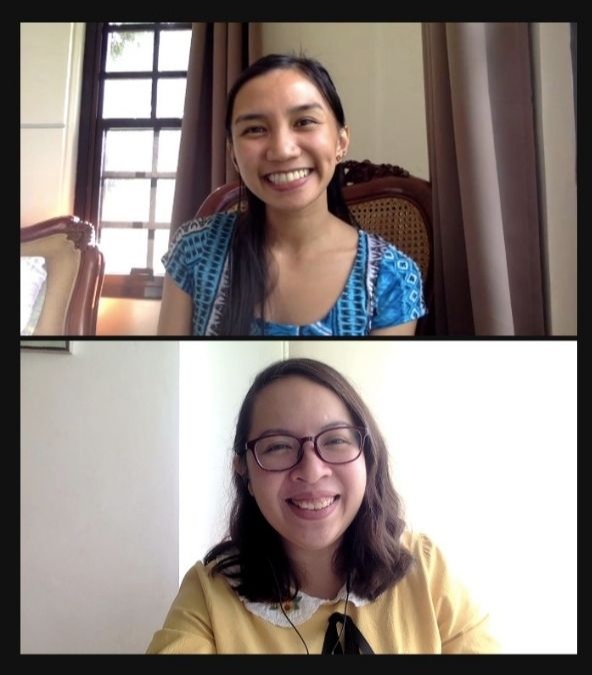 My key takeaways from Workmanship Coaching
Ultimately, workmanship coaching left me feeling empowered to go for what I want to be. I admit I glamorized being a writer that I assumed I was a failure when I wasn't one. But careers are no longer linear as they were generations ago. Even if you do have a dream job, company culture or clients can turn it into a nightmare. I could be a journalist tomorrow, an editor in five years, and retire as a multipotentialite. Maybe. Today, I am content as a freelancer doing some writing, among other things.
ADVERTISMENT - CONTINUE READING BELOW ↓
Since we're living in times of uncertainty and work changes, our strengths have taken on a renewed importance. Knowing what I'm good at rekindled my faith in myself and shifted my mindset. Now I try to think about what strengths I could bring to a project, the new skills I can take from it, and how it can move me closer to my ultimate career goals. After all, no career decision is fatal. Missteps only occur to people without a strategic plan—and that's what career assessments and coaching are for.
Workmanship coaching left me feeling empowered to go for what I want to be. 
I suppose I could've saved myself the trouble if I just asked others what my best assets are, started a work diary, or compared job descriptions. I didn't have it in me to do them. If you've reached this far, chances are you don't, too.
Having an expert say something is a good idea and having them check in with me gave me the push I needed. In those two months, I learned how to cultivate transferable skills—such as those involving relationship building, problem solving, and taking initiatives—that are valuable for any career path. In my opinion, it's the opposite of being generic; you show up as you. It's been three months since my last session, and the daily habits I've developed have made me more productive and proud of my work, which no one else can do but me. 
ADVERTISMENT - CONTINUE READING BELOW ↓
If you're looking for advice on what career you should have, only you can tell. But if you want to do your best at whatever you try, workmanship coaching will show you how.
***
Cosmopolitan Philippines is now on Quento! Click here to download the app and enjoy more articles and videos from Cosmo and your favorite websites!
Follow Annicca on Instagram.
READ MORE CAREER GUIDES HERE:
How To Answer This Tricky Job Interview Question: 'Why did you leave your last job?'
Ok, But What's The Difference Between A Resume & A CV?
EXPLORE COSMO