Decluttering, organizing, and basically getting your life together isn't always easy. But hey, the good news is it can be done. Small actions can already go a long way (like plotting events on calendars and listing important to-dos on your planner). For me, it really helps if everything's written down. I get to physically write (or better yet, design) my goals, plans, and even ~feelings~ on paper. I've also considered trying the *digital* route by looking into apps and tools that'll help me work better. Lately, I was going through my social media accounts and noticed that a lot of my peers have started using the productivity app Notion. And because I'm *so* curious as to how it all works, I asked my colleague Erika, a video team leader at a media agency who uses Notion, for all the details of what it's like to use the app. Read on to know more about her experience.
ADVERTISMENT - CONTINUE READING BELOW ↓
What made you download the app?
E: "Notion is like an online daily planner. It's very convenient for people who want to go paperless for life. For me, I downloaded it basically for work. It's what we use as our master database and I felt like I also needed to create a personal account to maximize all its features. So aside from the work pages that my bosses created for our team, I experimented on my own. I didn't know that it would be so addictive! As a true earth sign, I *love* organizing, lol. Notion is such a game changer! You can basically edit anything your cursor touches."
Here's how my personal homepage looks: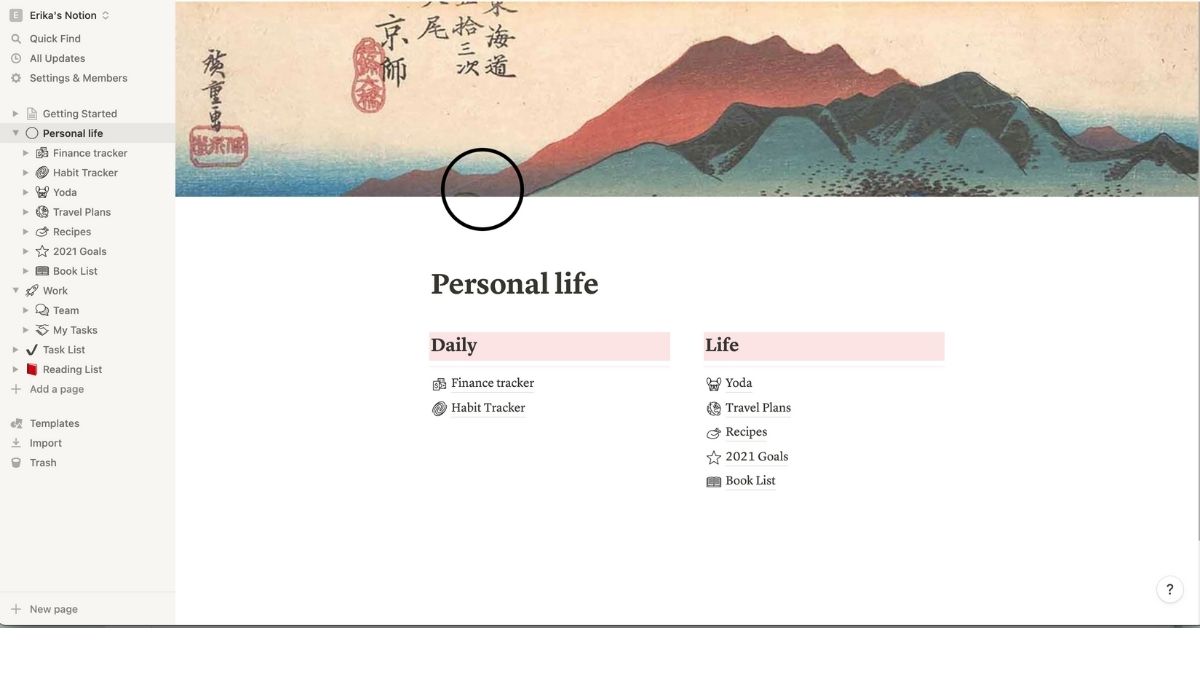 ADVERTISMENT - CONTINUE READING BELOW ↓
Recommended Videos
"It's not much and I'm still familiarizing myself with the app, but this gets things done. I've been using Notion for almost a week and I'm excited to explore the design features! I'm working on assembling and formatting how I like things at the moment. It surely intimidated me at first, but honestly, I think it's just a matter of getting used to."
What are some of the features available on the app?
E: "There's a Habit Tracker for my daily activities like yoga, meditation, journaling, and more."


ADVERTISMENT - CONTINUE READING BELOW ↓

"There's also a Finance Tracker that helps me monitor my income, savings, and total balance. It's actually the part where I really need to spend time on because there are some links and equations involved. In terms of difficulty, I'd rate this process as an eight over ten (with ten being the most difficult, lol). Initially, it was overwhelming but it's rewarding once you get it done. In my finance tracker I have Total Income - Savings - Expenses = Balance."


ADVERTISMENT - CONTINUE READING BELOW ↓

"The Travel Plan page is also a win! This is a workspace where I get to plan my future trips. There's an option to create a checklist, travel schedule, itinerary, budget, and more."
"I also set up a personal page for my dog, Yoda. Here, I can see his last vaccine, last intake of meds and all things a pawrent like me should know. I mean, how cute is that Frenchie icon!"


ADVERTISMENT - CONTINUE READING BELOW ↓

"My bosses also made this work homepage for our team and this is how it looks. You can see everything on a very clean page! Once you open it, it redirects you to a more thorough page of what you need to know."


"For me, the best part of Notion for work is the assets database. With this feature, I can see fonts, GIFs, and templates without having to download them. (Talk about efficiency!) Tbh, I think it's the coolest feature. I can always assist our team every time they need access to Google drive links or when they need to figure out where everything is."


ADVERTISMENT - CONTINUE READING BELOW ↓

"If it gets overwhelming, know that there are other options for you to view a certain workspace. For my work, we have the 'Graphics Team' and 'Video Team' view."


"Lastly, there's the Task Tracker, a detailed workspace that helps me plan and keep tabs on all my projects."


ADVERTISMENT - CONTINUE READING BELOW ↓

"For work, we have a specific workspace for each of our clients and I can easily access them on Notion. Here's an example of a project that I'm working on for SN podcast."


"Once I open our 'tiles' on Notion, I can immediately look at our checklist of to-dos and deliverables."


ADVERTISMENT - CONTINUE READING BELOW ↓
Who would you recommend this productivity app to?
E: "Overall, I would totally recommend this to anyone who wants to practice conscious living and have a database for work in a fun way! If you like using traditional hardbound planners but are now looking to go paperless and completely digital, then Notion would be perfect for you."
Watch the video below to know more about Notion.
**Answers have been edited for clarity.
***
Cosmo is now on Quento! Click here to download the app for iOS, Android, and desktop and enjoy more articles and videos from Cosmo and your favorite websites!
Follow Lou on Instagram.
EXPLORE COSMO